SUBMISSIONS OPEN THROUGH NOVEMBER 15
for a First or Second Book by a Woman
Prize: $1000 and publication
Here are some of our prize-winning books - your collection could be next!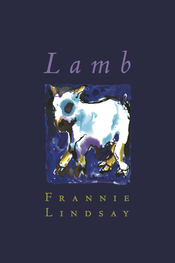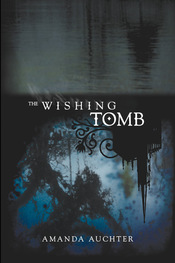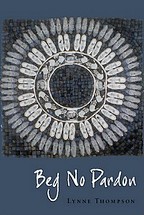 Check out this great interview just published in the latest issue
of
Plume
with Frannie Lindsay​ (author of the 2006 Perugia Press collection Lamb) on her latest book, the interplay of music and poetry, and how she learned, in writing, to "loosen [her] grip
on prettiness." Lindsay tells interviewer Nancy Mitchell,
"I 
quit 'frosting my cakes' so lavishly ... I [fell] in love with
tension and silence. So much happens in the great expanses
of page 
where the poem isn't. Where a little discomfort can
build 
its 
nest. Where the murmuring is."
MASSACHUSETTS BOOK LAUNCH EVENTS FOR
WINNER OF THE 2018 PERUGIA PRESS PRIZE
We had an amazing time celebrating the release of Girldom with events at Westfield State University, the Collected Poets Series at Mocha Mayas Café,
the Poetry Center at Smith College, and the Iconica Social Club. Students at Smith and Westfield State loved the chance to talk with Peak about her path toward book publication, the powerful poems she read, her work in college as
a literary journal 
editor, and the writing life. Here are a few highlights: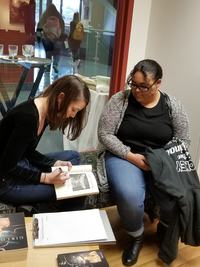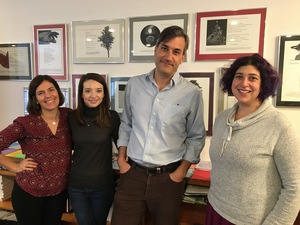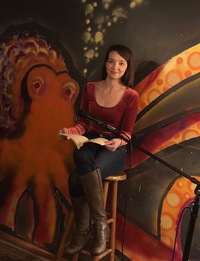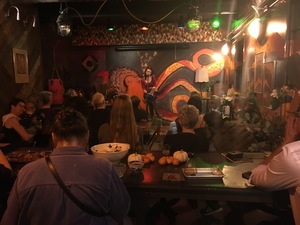 Top left: Megan Peak signing a copy of Girldom for Westfield student
Krystal Vazquez; Top right: At the Poetry Center at Smith College with
Perugia Editor/Director Rebecca Hart Olander, poet Megan Peak,
Poetry Center Director Matt Donovan & Poetry Center Administrative
Assistant Jennifer Blackburn; Bottom left: Megan Peak reading before
an awesome octopus backdrop at Iconica Social Club; Bottom right:
Girldom is already garnering praise in the press! Thanks to Katy Dycus
where Megan Peak will be reading on 11/14. 
Regarding one of Peak's poems, Dycus writes, "If there are so 
many ways of being emptied, are there equally
as many ways of being filled up again? Each person gets to decide how
to 
regain fullness. Poems, like photographs, with their edges as boundaries,
are great at showing just enough information to make meaning possible.
And that's precisely what Peak gives us in Girldom—
just enough
to make meaning possible."
PO Box 60364, Florence, MA  01062