Editorial:



This month marks the Offshore Artistic Communities inaugural Watermarks Open Studio. Some 40 artists will be exhibiting and discussing their works over the weekend of the 19th and 20th at 16 different locations around Scotland Island, Lovett Bay and Elvina Bay. Don't miss a dynamic group show by local artists at historic Tarrangaua. The house, previously owned by poet Dorothea Mackellar, is now home to Susan Duncan, author of Salvation Creek.

A special thanks to Gwyn for producing a great September calendar highlighting the 2 special days. The image in the calendar is taken from one of his works which will be displayed during the exhibition. You can download the calendar as usual by clicking the image below. He has also kindly provided an A4 sized copy of the actual image, without the calendar, you can download that here.

Unfortunately Watermarks does collide with our regular "Clean-Up", which falls on the Monday 21st. Watermarks organisers ask the community wherever possible to delay putting out rubbish until after 4pm on Sunday 20 September. For those who cannot delay, please approach your pile as imaginatively and creatively as possible.

Enjoy!


---
Contents:
---
Cartoon of the Month

Download a full version of this months calendar, ready for printing - click the calendar image to the right →

---
Scotland Island 'FIREWISE'
Bushfire Preparation and Prevention Program


Update


Since the RFS visited every property on SI on MAY 31, a lot has been happening and this is an update for all SI Householders.



Results of May 31 Visits


The summary of the visits from the RFS includes the fact that, of the 361 homes visited (about 200 householders were at home), about 20% were an EXTREME or HIGH risk, and 28% were a MODERATE risk – the balance of 42% were a LOW risk.

Shortly, a letter will be sent by the RFS to all the properties needing Hazard Reduction carried out, asking the Householders to carry out the HR within 28 days. Those that don't will be issued with a Section 66, which will give them another 28 days to carry out the HR. If the properties still require the HR to be carried out, the RFS will arrange for contractors to do the necessary work and the Householders will be charged the costs involved (refer letter from Mark Ferguson, GM Council, sent to all Householders 22nd April 2009).

This applies to Council Reserves as well.



33 Precincts


The Island has now been split up into 33 Precincts, each with a Coordinator (a Householder from each Precinct), who will coordinate the preparation of the Precinct to cope with a major fire, and act as a link between the Precinct and the SIRFS/RFS.



Survey


Your Coordinator will be conducting a short SURVEY to start this planning process and find out what Householders already have in terms of Firefighting Equipment and Materials.
This information will be the basis for negotiating special, once only, quantity prices for equipment and support materials which will be made available to individual Householders and Precincts who wish to purchase. (eg Householder group purchase of Fire pumps)



Equipment and Materials


We have been researching and selecting appropriate equipment and materials for bushfire fighting. These are very similar to those used by the RFS and we'll get their technical people to confirm that they suit our needs.

We are negotiating the best prices we can and as soon as we have confirmed them, we will advise the Coordinators who, in turn, can discuss with the Householders what is most appropriate for their Precinct.

The bushfire wise materials produced by the RFS (website below), also contains a comprehensive list – most of which are common household items.



Training


The RFS has prepared a four-hour bushfire awareness course. These courses will be conducted by the RFS – starting SEPTEMBER. It is hoped that all Coordinators and as many Householders as possible will be able to attend. The content will include the fundamentals of fire fighting, and include the operation of the portable equipment within the precincts.

Dates will be advised shortly through the Coordinators. It will not be necessary or practical for everyone to have completed this course before the start of the fire season on 1 October.



October 1 is the start of the Bushfire Season



With the official start of the bushfire season fast approaching, we all need to have a good look around our properties and take the required action to reduce the potential hazards.

As you would be aware, the RFS has already started controlled burns.

Controlled burning is an excellent way of reducing hazards. An application form for a Hazard Reduction certificate is available on line at the RFS website (details below) or from the Fire Station.

Once the fire season starts you can still burn but you also need to get a fire permit from the Scotland Island Fire Brigade. You need also to be aware of the increased restrictions during fire season: These include no-burn days because of strong winds and high temperatures; total fire bans and environmental restrictions to limit smoke build-up within the Sydney basin.

It is also the time to make sure that your FireWise plan is in place and understood by everyone and that your fire fighting equipment (pumps, hoses, knapsacks, rakes, shovels, personal clothing etc) is adequate and in good working order. If you need a 'FireWise' booklet, call into the Fire Station.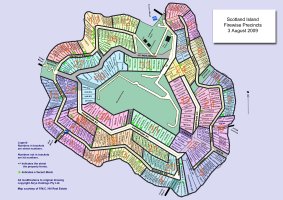 SI Map
The map showing the break-up of the Island into Precincts can be downloaded [here] or click the image.



Questions and More Information


SIRA
Greg Roberts: 9979 5228
Cass Gye: 9979 5853
Roger Corrie 9999 0804 RFS
Scotland Island Brigade:
www.sirfb.org.au
Tel: 9999 4404

RFS:
www.rfs.nsw.gov.au
www.bushfire.nsw.gov.au


---



Watermarks Open Studios collides with Pittwater Council Clean Up

!
The community is buzzing about the inaugural Watermarks Open Studios, September 19 -20.

You might have noticed too that this new event collides with the Pittwater Council Clean up.

Pittwater Council and Watermarks were unfortunately unable to reschedule the auspicious events.

Organisers kindly ask the community wherever possible to delay putting out rubbish until after 4pm on Sunday 20 September.

For those who cannot delay, please approach your pile as imaginatively and creatively as possible.

If you need help contact a friendly neighbourhood artist or do a spot of art history and google the work of Marcel Duchamp or check out local artist Florence Terrace Watermarks installations at
www.watermarks.net.au for more inspiration.

General enquiries call Claire 9979 4709


---
Kindy News




Preschooler Eyesight Screening


StEPS (Statewide Eyesight Preschooler Screening) program is visiting the island. This is a free population based vision screening program designed to identify childhood vision problems which cannot be detected by observation or behaviour. All children who are aged between four and five are invited to come to the Community Hall at 10am on Thursday September 10th to access this service.

For more information go to: http://www.health.nsw.gov.au/initiatives/steps/index.asp



Kindy update: August 2009


This month Parents and Staff enjoyed an informative workshop in the Community Hall presented by ECTARC (Early Childhood Training and Resource Centre) on Protective Behaviours. This session focused on age appropriate methods for preschoolers to keep themselves feeling safe, which involves developing an increased awareness of their feelings, their networks and their bodies. All participants felt it was a very useful session and essential information for all parents.

Also this month, the children have been introduced to three beautiful new puppets that the Kindy has acquired as part of the PALS social skills program that we are running over the following ten weeks. Through puppets, role play and song, the children are encouraged to interact with constructive ways to solve problems.

Other activities that have been popular with the children this month have included painting life size 'shadows' of themselves, creating rubbings of their names with sandpaper letters and playing 'hit the bulls-eye' outside with wet sponges.

Regards,
Shona Forsyth
Director


---
West Pittwater Rural Fire Brigade - Significant Dates
Just a few dates to share with everybody, with some notes. Put these in your diary.
Fireshed Dinner 2009 /2010 / 2011 (First Saturday of the Month):
Saturday, 3rd. October 2009 (Long Weekend) – We have volunteers for this. Between myself, Di and Karene, we'll be putting a mix of hearty food on. At the moment we're looking at an international mix of Chicken Tajine, Beef Bourguignion and Vegetarian Curry, with Dessert to follow. We'll get the full details out, before the event.
Saturday, 7th. November 2009 (Lovett Dinner)
Saturday, 5th. December 2009 (Xmas Dinner)
Saturday, 6th. February 2010
Saturday, 6th. March 2010
Saturday, 3rd. April 2010
Saturday, October 2nd. 2010
Saturday, November 6th 2010
Saturday, December 4th 2010
Saturday, February 5th 2011
Why is he planning so far ahead, you may ask? Good question. Well, as the licensee of the bar (and remember you better all behave.....), I have to apply for the selected dates for our limited, multi function, liquor license, so well ahead it is.

We're always looking for volunteers for our dinners, and if there isn't a name against a date, as far as I'm aware, it's free (please update me in the very unlikely event I am wrong), so let me know if you can cater for one of these dinners. Also be aware, we're always on the lookout for helpers with general logistics, for washing and tidying up. Just turn up on the night for those sort of things.



Training 2009 / 2010 (Third Saturday of the Month):



Saturday, 19th. September 2009 - Tarrangaua Art Exhibition - Community Education
Saturday, 17th. October 2009
Saturday, 21st. November 2009
Saturday, 12th. December 2009 (Back one week, otherwise too close to Christmas)
Saturday, 16th. January 2010
Saturday, 20th. February 2010
Saturday, 20th. March 2010
Saturday, 17th. April 2010
Saturday, 15th. May 2010
Saturday, 19th. June 2010
Saturday, 17th. July 2010
Saturday, 21st. August 2010
Saturday, 18th. September 2010
Saturday, 16th. October 2010
Saturday, 20th. November 2010
Saturday, 11th. December 2010
Kylie and I have plans to explicitly put out training scenarios against all the dates, within the next month, so you not only know the date, but the target training scenario, too. These will also be put on our website.



Committee Meetings (Second Monday of the Month, at 7:30pm)



Monday, 14th. September 2009
Monday, 12th. October 2009
Monday, 9th. November 2009
Monday, 14th. December 2009
Monday, 11th. January 2010
Monday, 8th. February 2010
Monday, 8th. March 2010
Monday, 12th. April 2010
Monday, 10th. May 2010
Monday, 14th. June 2010
Monday, 12th. July 2010
Monday, 9th. August 2010
Now I know these can seem a bit 'dry', but just to emphasise, that if you want to see democracy at its finest all members are welcome to turn up. If you have anything you want brought up, please let me know. We will be laying bare the slick, sharp and timely operations of the Brigade, for all to see..........

All these dates are also published on the Brigade website - http://www.westpittwater.rfsa.org.au/ - which has recently been updated, by yours truly. Take a look and let me know what you think.

Let me know if you have any questions.

Thanks,
Gaham Earl,
Secretary,
West Pittwater Rural Fire Service
Mobile: 0419 448 477
http://www.westpittwater.rfsa.org.au/


---
Yoga Classes Return to Island




A Historic Digital Collection




Thursday evening

yoga returning to the island!
Mino Francis is continuing her Anusara Yoga classes on the Island
Starting date: Thursday 3 September
Time: 7pm - 8:30: (try to be there a few minutes early if possible)
Location: Scotland Island Community Hall
Cost for class: $20 per class.
Yoga mat, blankets, strap and block hire: $2 per class

If you have any questions, call Carol Floyd on 9997 2035 or 0407 066 419 or Mino Francis on 0421 762236.

You can also check out Mino's style of teaching on
http://www.naturaltherapypages.com.au/therapist/2637


---

Local Council Notices

Council's Community Noticeboard


You can download the recent copy of Council's Community Noticeboard that appeared in Saturday's Manly Daily here.

It may be of some assistance to offshore residents who do not receive the Manly Daily.



Friends of Bungan Contenders for NSW Landcare Award


One of Pittwater's Bushcare groups, the Friends of Bungan, is one of three statewide finalists nominated in the 2009 NSW Landcare Awards to be announced on 10 September 2009.

The winners will be announced at an awards ceremony during the NSW Landcare and Catchment Management Forum at Port Macquarie.

Earlier this year the group won a Hawkesbury-Nepean Landcare–Coastcare/Estuary Community Award for their efforts in regenerating the Bungan Beach area with native vegetation.

Pittwater Council's Manager of Natural Environment & Education Mia Dalby-Ball said the Friends of Bungan had worked tirelessly over the past 17 years to clear approximately 60% of the 7-hectare reserve of weeds.

"The group has been established for more than 30 years and are always seeking new volunteers," she said.
Ms Dalby-Ball said the Friends of Bungan had been well-supported by government bodies such as the Hawkesbury-Nepean Catchment Management Trust and Coastcare because of their high standards.
"Through their efforts Pittwater has secured sizable grant funding to restore remnant rain forest and dune vegetation".

The Friends of Bungan are currently helping to organise a Bungan Beach Community Planting Day on Sunday 27 September in the dunes.

Those interested in attending the planting day, which runs from 9am to 1pm, should meet at the surf club and wear covered shoes, sunscreen and a hat and bring a drink. Pittwater Council will provide training, tools and morning tea.

The Friends of Bungan meet on the fourth Sunday of each month between 9am and 12 noon. To register interest in volunteering with the group or attending the planting day please contact the Council's Bushcare Officer, Ben Coddington on 9970 1367.

Media contact: Karin Nippard, Pittwater Council Ph: 9970 1363



HSC Help for Students


Pittwater Council is offering help to Year 12 students in the run-up to the HSC examinations in October, including a free meditation class to deal with exam nerves.

Library Manager Cathy Howie said the Council's website offered a range of online tutoring assistance under the library section and the library was also offering free tutorials on exam preparation and essay writing.

Free tutorials in Standard English and Modern History are on at the library during September.
The English tutorial is between 4.30pm and 6pm on Monday 7 September and the History tutorial is on Wednesday 23 September between 4.30pm and 6.30pm.

Bookings are essential as places are limited; phone 9970 1600 or book online at www.insidebreak.org.au

Ms Howie said the library also had an 'Ask a Librarian' link on its section of the Council website to assist students. "This can be accessed at www.pittwater.nsw.gov.au/library/homework_help", she said.

The free meditation class is being hosted by the library on Wednesday 7 October at 11am.
Ms Howie said students participating would be taught simple relaxation techniques with an experienced instructor. "Students will learn how to calm themselves through meditation that they can then apply at any time during the HSC exams," she said.

"We recognise that this is a stressful time for students and their families and meditation is a safe technique that can alleviate stress."

Bookings for the free meditation class are also essential and can be made by phoning the library on 9970 1600.

Media contact: Cathy Howie, Manager – Mona Vale Library Ph: 9970 1600



Doggy's Delight by the Bay


Pittwater Council will be hosting their popular event for dogs and their owners at Rowland Reserve Bayview on

Sunday 27 September between 10am and 3pm

.

The day will have a mix of fun doggy events plus talks on many interesting subjects relevant to dog owners.

Dog owners can see expert dog trainer Steve Austin offer training demonstrations, discuss aspects of canine behaviour and participate in a training session.

Outdoor activities will include agility demonstrations by members of the Manly & District and Northern Suburbs Dog Clubs.

Other fun activities will include the Canine Fancy Dress parade for the best dressed pet, with the popular 'Doggy Dash' races also run on the day.

Another highlight of the day will be the announcement of the Pittwater Dog of the Year photo competition at noon.

A live band performance will also feature, as well as a 'kiddies corner' with a jumping castle and other fun activities and a variety of pet-related stalls and food & drink stalls.

Brian Pickering and Kaye Browne from Pet Talk Radio will compere the event, with plenty of great prizes on offer.

All money raised by the event will be donated to local branches of the Animal Welfare League and the Guide Dog Association. Sponsors on the day will include pet food company IAMS.
There are also still places available if you are interested in being a sponsor, stall holder or a donator of a prize.

Entry and parking is free at Rowland Reserve. In the event of wet weather the event may be postponed. For more information contact Pittwater Council's environmental education team on 9970 1194.

Media contact: Rennae Projceski, Pittwater Council Ph: 9970 1194



Avalon Active Seniors Get Artistic


A new art class will be on offer through the Avalon Active Seniors Group from Monday 7 September. The Art group will run every Monday from 1pm until 3pm at the Avalon Recreation Centre.

The class is a self-directed art interest group where members can bring along a canvas and enjoy creative art in the company of others.

Avalon Active Seniors Group Inc (AASG) is for people over 55 years of age and provides physical, social and mental activities that benefit older people living in Pittwater.
Pittwater Council's Mayor, David James said groups such as Avalon Active Seniors assisted in combating the effects of social isolation within our community.
"Older people can participate in art, walking, dance, music appreciation and light-hearted discussion in an open and friendly environment." Cr James said

Council's Community Development Officer, Angela Boyle said the group membership was an annual fee of $10.00 plus additional costs depending on the activity.

"Some activities such as Soap-box, an informal discussion group costs as little as $2.00 a session, while other outings such as day trips may cost around $30.00.
If you are interested in joining the Art group or learning more about other activities on offer by AASG please contact Florence Bell on 9918 0044.

Media contact: Angela Boyle Ph: 9970 1199


---
Peninsula Music & Pittwater Community Arts Dates


Friday 11th September.




Peninsula Music Club's

next concert will be a piano recital by Phillip Shovk, who is considered to be one of Australia's foremost concert pianists, chamber musician, accompanist and teacher of National and International fame. He lives locally in Seaforth and will perform a varied program of favourite classical piano repertoire.

Starting at 8pm (doors open at 7.30pm) at Loquat Valley Prep School 1977 Pittwater Road Bayview.
Tickets $20, school students free, avaliable at the door.
Enquiries 9999-1937.



Wednesday 16th September.




Pittwater Community Arts

invites you to its second Open Meeting for 2009 to hear guest speaker John Webeck (of Bungan Castle) talk about "Crimes Scandals and Corruption in Pittwater", as part of 2009 History Week celebrations.

All welcome and supper will be served.

The talk will be followed by PCA'S open meeting which everyone is invited to stay for to hear about upcoming cultural events in Pittwater.

7pm at Avalon Recreation Centre 59a Old Barrenjoey Road Avalon.
Gold coin donation to PCA.
Enquiries Lorrie Morgan 9999-8079.


Saturday 26th September




Pittwater Community Arts

presents "Spring into Art".
Come and work with an inspiring teacher and create a beautiful work of art in a day. Choose from a range of media and celebrate spring by trying something new.

"Mixed Media" Jenie Clough: "Silk Ribbon Embroidery" Elaine Dewey: "Watercolour" Barbara McBurnie: "Relief Printmaking" Kate Wilkie: "Mosaic Mirrors" Marian Shapiro: "Acrylics- Impressionistic Still Life" Debbie Waters. 9.30am to 4pm, Avalon Recreation Centre 59a Old Barrenjoey Road Avalon.
For further information phone Lorrie Morgan 9999-8079 or lorriemay@bigpond.com.

Kind Regards,
Janice Tuynman,
President and Musical Director Peninsula Music Club
Committee Member Pittwater Community Arts.
28 Ross Street ,
Newport 2106
Ph 9999-1937


---
Author Talk@ Mona Vale Library




Forthcoming Events September - November 2009




September


Wednesday 9 September – Jim Macken "Crimes, Scandals, Corruptions" –- FULL
Thursday 17 September – Kelsang Dornying "Transform your Life" commencing at 7pm
Tuesday 29 Sept – Author - Perminder Sachdev "The Yipping Tiger and other tales from the neuropsychiatric clinic"



October


Thursday 8 October – Author - John Robson "Captain Cook's War and Peace"



November


Tuesday 17 November – Author – Susan Duncan "A Life on Pittwater" to be published in November

Bookings essential on 9970 1600 and payment within 3 days required to confirm bookings.

Cost $7.50, $5.50 – concession (Friends of Mona Vale Library/ Pensioner/student cards must be shown. Friends' subscription needs to have been paid. Light refreshments provided.

All talks will be held at Mona Vale Library, Park Street, Mona Vale at 6.30pm, WITH THE EXCEPTION OF KELSANG DORNYING ON THURS 17 SEPT AT 7PM



Buddhist Teachings to Transform your Life


Mona Vale Library will host a talk with Kelsang Dornying, resident teacher of the Mahasiddha Buddhist Centre, Sydney on Thursday 17 September.

Kelsang Dornying's talk will be based on the best-selling book Transform Your Life: A blissful Journey, written by meditation master Geshe Kelsang Gyastso.

Venerable Geshe Kelsang Gyatso is a fully accomplished meditation master and internationally renowned teacher of Buddhism. He introduced Buddhism to the West in 1977 and has thousands of students worldwide.

Kelsang Dornying, an English monk and senior student of Geshe Kelsang Gyasto, presents Buddhist teachings in a clear, inspiring and practical way.

Library Manager, Cathy Howie said that the event provides the perfect opportunity to be introduced to Buddhist concepts and the power of meditation.


Transform Your Life: A Blissful Journey has been described as a relevant and practical guide to help solve our daily problems and attain pure happiness from within.

The presentation will provide insights into this profound book, touching on issues such as: what is the real meaning of human life?; how to find the source of happiness; methods to solve our daily problems; and how to accomplish our ultimate goal.

Kelsang Dornying's talk will begin at 7.00pm at the library in Park Street, Mona Vale.

Books will be available for purchase.



Click Image to load Flyer



Bookings are essential and can be made by phoning 9970 1600.

Payment is required within 3 days of booking.
The admission fee which includes light refreshments is $7.50 or $5.50 concession (please show cards at the door).

Media contact: Catherine Buddin, Librarian Ph: 9970 1605


---
Offshore Bicycle Users Group (Offshore BUG)
Dear Keen cyclists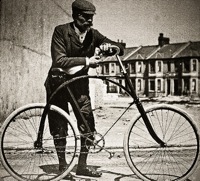 The

Offshore Bicycle Users Group

(or Offshore Bug) enjoyed its first outing a couple of weeks ago and I thought the turnout was fantastic. Unfortunately the other person who turned up for the event didn't feel the same way. By the time we made it to the top of the Elvina Track she'd decided to form a splinter group (The Offshore Road Bicycle Users Group) and headed off down the road, happy to be in contact with the tar, back to Church Point.

Active riders have doubled since the previous week. We had two takers for our ride out into the park last Saturday and at no stage was there talk of abandoning the ride for cups of tea at the nearest cafe.

Christine and I won't be riding locally this weekend as we're tossing the bikes in the truck and heading for the Southern Highlands. Don't let that stop you from enjoying another outing this Saturday or taking on your first ride with the offshore BUGS. We're all due for a ride out to West Head.

Saturday 1:45 at the Elvina Bay Fire shed is your meeting time and place every week.

Keep your eyes out for the Waratahs in bloom heading up the Elvina Bay Track.

Email me if you'd like to be included on the mail list and turn up if you'd like to go for a ride. The park flora is in full bloom at the moment but not for long. It shouldn't be missed.

Regards
Peter Cumming
PH: 9979 7674
MOB: 0402 112 642
FAX: 9012 0676
PO Box 319, Church Point NSW 2105 Email: pedro.c @bigpond.com


---
You Asked..




Request for Assistance..


Nila (30 Robertson Road) is just completing her training as a Professional Celebrant. For her final assessments she must conduct a mock funeral and a wedding while they are being filmed. Can you help?

She needs a film crew and still has some vacancies for main actors. The filming will take place on Sunday Oct 4th arriving 9.30 for a 10.00 start.

Sandwiches, cake, tea and coffee will be provided afterwards.

All offshore residents who take key roles will be offered reduced rates on a future Wedding, Wedding Anniversary, Funeral, Pet Funeral, Welcoming/Naming Ceremony, Commitment Ceremony or 18th Birthday Coming of Age ceremony.

Please ring Nila on 99992445 if you can help.
Thank you.



Commuter Berth & Parking


A Rare Opportunity to Secure Your Own Commuter Berth and Parking for 25 years.

Tony West from Quays Mariner is currently offering a limited number of transferable 25 year Sub-leases for seven metre commuter berths at The Quays Marina, Church Point.

Of the six to be sold, there are two remaining. These will be sold on a first come first served basis.
A single car space will be included in the reserved car park.

For details or to register your interest please contact Tony West on 9997 2800 or Claudio on 0418 460 345.



A Note to Dog Owners


I would appreciate if the people who walk their dogs on Scotland Island without leads would be aware of some of the impacts of this. We repeatedly have dogs coming into our yard and chasing whatever is around. This sometimes includes our chickens — which we let out of their yard late on some afternoons.

Two chickens have been savaged recently by dogs - one died and the other was found by a neighbour, with a lot of feathers missing. Other times the dogs come down to the house and frighten my young grandchildren who are visiting.

I know two of the dogs, a fluffy white one and a black one, and I have heard the owners calling them - so they are aware of what is happening. They know we have chickens as the shed and yard are quite visible from the road.

Please show some consideration for others when walking your dogs as it would be a shame if this matter had to be taken further.

Robyn Iredale
Waterfront house between Bell and Cargo Wharves


---
For Sale
If you have something for sale that you think locals would like - let us know and we will put a SINGLE line entry in the PON at the beginning of each month...
---
The Local Guide
Emergency Contact Numbers:
| | |
| --- | --- |
| ALL EMERGENCIES (Police - Fire - Ambulance) | 000 |
| Police Assistance Line & Information | 13 1444 or 9281 0000 |
| Broken Bay Water Police | 9910 7899 or 0412 162 093 |
| NSW Fire Service General Information 9265 2999 | 9265 2999 |
| Rural Fire Service General information | 9450 3000 |
| State Emergency Service, Warringah/Pittwater SES | 9486 3399 |
| National Parks & Wildlife Service: 000, general information | 9457 9322 |
| Dept of Community Services: general information | 9977 6011 |
| Sydney Water | 132 090 |
| Energy Australia | 131 388, (ah) 131 909 |
Airlines, Buses and Railways:
Weather:
---
Join SIRA

You can now join the Scotland Island Residents Association by

clicking here.

Please print the page and return the completed form to SIRA at this address: The Treasurer, SIRA, PO Box 70, Church Point 2105. Please NO CASH. Contact SIRA at

sirapittwater@gmail.com

Join WPCA

To join the Western Pittwater Community Association, contact Michael Wiener at

m2wiener@bigpond.net.au
---
Archived Newsletters:
A complete set of past electronic newsletters since May 2000 can be found and read at https://www.ymlp.com/pubarchive.php?sira or by clicking here

or by visiting the Mona Vale Library.
The Island website is at www.scotlandisland.org.au


---
Finally:


If you would like to contribute to this newsletter it's easy!. Send an e-mail to the editor by clicking here. Type your short contribution (100 words would be fine) and assuming it is of general interest to the community, does not include matter of a political nature and is not offensive to your neighbours, it will appear next month.

SUBSCRIPTION INFORMATION

:


To get on and off this newsletter, click here or got to: http://www.scotlandisland.org.au/signup . To change your address, click the 'modify' link at the bottom of this newsletter.



The views expressed in this newsletter are not necessarily the views of the Scotland Island Residents Association (SIRA), or the Western Pittwater Community Association (WPCA)

---