---
---
SIRA

NEWS
MCCARRS CREEK ROAD CLOSURE
Monday 17 October to Friday 21 October
RMS will be closing McCarrs Creek Road from Monday 17 October to Friday 21 October between 10 am and 3 pm to carry out emergency works. 
There will be no access between Church Point and Terry Hills between these times.
Work on McCarrs Creek Road, Ku-Ring-Gai Chase, Church Point from Monday 17 October
The NSW Government is funding this essential maintenance work 900 metres west of McCarrs Creek Reserve between West Head Road and Walkers Place to provide a stronger, longer lasting and safer road.

Roads and Maritime Services will carry out the work which includes repairing the rock bolting and investigating ground conditions. We have included a map to explain the work's location.

This work will take five shifts to complete between Monday 17 October and Friday 21 October, weather permitting. Our working hours will be from 10am to 3pm.

How will the work affect you?
There will be some noise associated with this work. We will make every effort to minimise its impact.
Traffic changes

Full road closures will be in place and will affect travel times. McCarrs Creek Road will be closed for five shifts with no access between Chiltern Trail and Walker Place from 10am to 3pm between Monday 17 October and Friday 21 October.

East and west bound motorists will need to divert onto Mona Vale Road at Terrey Hills and Ingleside, then onto Pittwater Road and Mona Vale to access Church Point. We have included a map to explain the diversion route. The detour for motorists traveling in either direction will add up to 30 minutes to travel times.

Please keep to speed limits and follow the direction of traffic controllers and signs. For the latest traffic updates, you can call 132 701, visit livetraffic.com or download the Live Traffic NSW App.

Contact
If you have any questions, please contact our delivery partner DownerMouchel by calling 1800 332 660 or emailing nsw_projects@downermouchel.com.
For more information on our projects, visit rms.nsw.gov.au
Thank you for your patience during this important work.



---
MONA VALE PLAN MEETING RE-SCHEDULED
Dear Community Member,

Please note that the date and time for the community meeting for the Mona Vale Place Plan has changed to

Saturday 29 October, 4-6pm to be held at the Mona Vale Memorial Hall in Park Street Mona Vale

.

We apologise for any inconvenience.

Best Regards,
Northern Beaches Council.



---
A Comedy Night at the Hall
Friday 21 October & Saturday 22 October from 7:30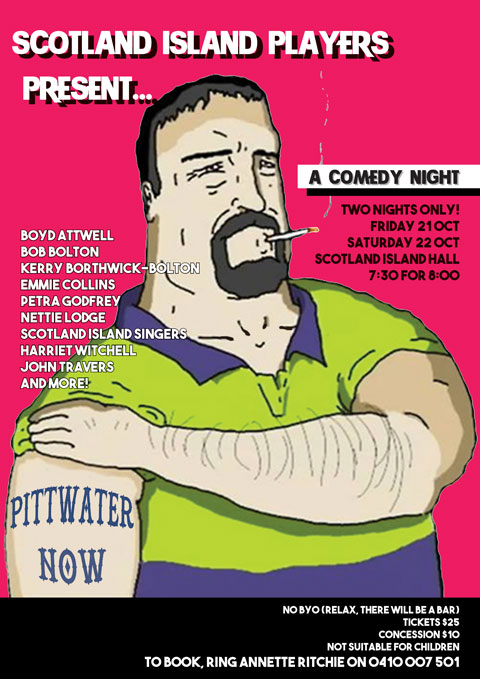 No BYO (

relax, there will be a bar)
EFTPOS machine available for purchasing drinks and food.
Tickets $25
Concession $10
SCOTLAND ISLAND PLAYERS COMEDY NIGHT INFORMATION
The night will be politically incorrect, full of in-jokes and bad language, barely rehearsed, slightly drunken mayhem.  Yes, proper Scotland Island fare!  It's filling fast!  Ring Annette on 0410 007 501 to book.  
There will be a bar.  
The kindy will be selling red/white/sparkling wine and beer, and serving tomato soup, sausages and cupcakes.
EFTPOS machine available for purchasing drinks and food.
CALL FOR HELP
The stage is normally set up on a number of milk crates that since the last production have all gone missing!  
Can you help by donating milk crates?  Any number from 1 upwards would be welcome!  
Leave it/them by the hall door, and call or text either myself or John to say it is there and we will collect:  
Petra Godfrey  0404 867 768
John Travers  0481 395 901
---
VINYASA YOGA ON SCOTLAND ISLAND



NEW TIME

8:30 - 9:45am SATURDAYS

NEW STUDENTS $25 FOR 2 CLASSES

NO BOOKINGS OR EQUIPMENT REQUIRED


JUST COME ALONG or GO TO WWW.CONSCIOUSLIFEYOGA.COM.AU FOR MORE DETAILS
 


---

Price Reduces...

Boat  $3,500 ONO
4 meter De Haviland tinnie
25 HP Yamaha outboard (2 years old)
Key start
Battery
Wooden oars
Yamaha petrol tank and spare tank
life jackets
fire extinguisher
nav lights
Bilge
Solid engine bar





Call/text Rachel 0406 239 946



---
Property Wanted to Rent or Purchase
Hi again. We are the same young family (thought we would spare you the photo this time) looking for a property to rent or purchase on the Island as our current tenancy agreement is unfortunately coming to an end in December.

Our preference is to stay on the Island and continue this fantastic experience and lifestyle. We are open to suggestions for renting properties both waterfront or not.  As far as purchasing is concerned our budget has its limits and therefore waterfront acquisition isn't an option.

Please feel free to call us for a friendly discussion. We look forward to hearing from you soon.
Luigi, Bénédicte & Matteo.

Luigi: 0431 086 936 Bénédicte: 0415 858 605




---
---
---
A complete set of past electronic newsletters since May 2000 can be found and read at https://ymlp.com/archive_gesgjgm.php  or by clicking here or by visiting the Mona Vale Library.

The Island website is at www.scotlandisland.org.au


---
To Contribute
If you would like to contribute to this newsletter it's easy!. Send an e-mail to the editor (editor@scotlandisland.org.au) or by clicking here. Type your contribution (100 words or so would be fine) and assuming it is of general interest to the community, does not include matter of a political nature and is not offensive, it will appear next month.
Subscription Information
To get on and off this newsletter,

click here

or got to:

http://www.scotlandisland.org.au/signup .


To change your address, click the 'modify' link at the bottom of this newsletter or send an email to the

editor@scotlandisland.org.au


---
Follow the PON
file
---
The Online Local Contacts Guide
Click HERE to load
---
The views expressed in this newsletter are not necessarily the views of the Scotland Island Residents Association (SIRA), or the Western Pittwater Community Association (WPCA)
---