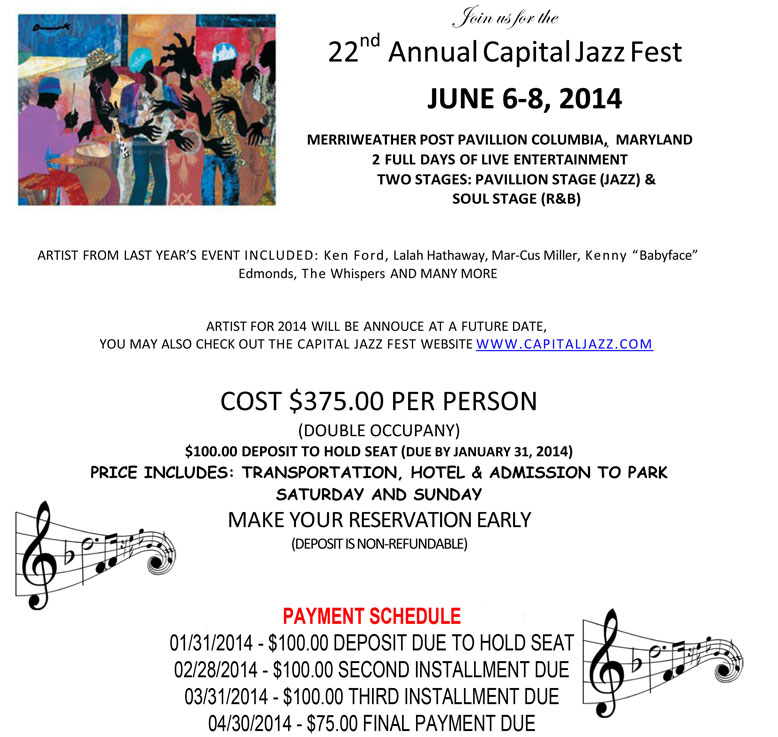 What is the Capital Jazz Fest?
Each year in early June, tens of thousands of music lovers from throughout the country flock to the suburbs of Washington, D.C. to attend this weekend of cool jazz and soul — The Capital Jazz Fest. Started in 1993, this multi-day, multi-stage outdoor music festival, which attracts music lovers from 44 states, is more than just a concert, it's an event! It's a place to people-watch, eat, drink, shop, mingle, relax, soak in the rays, and of course hear some of the coolest music performed by artists whom you won't see anywhere else in the Washington-Baltimore area this summer.
In-between musical sets, enjoy fine art and crafts at the Festival Marketplace, culinary treats at the food court, plus artist workshops and meet & greets. And after the show, check out the late night after-parties.

For more info or to reserve your seat contact:
Donna @ 412.708.0810
or
Sheila (She-She) @ 412.638.4956