Check out our past issues of Colorado Inn-Spirations!
Subscribe to our Monthly E-newsletter!
WELCOME TO OUR NEW BBIC MEMBER!
Frisco Lodge, Palisade, Colorado

Give the Gift of Hospitality This Holiday Season!


Order a FREE Colorado B&B State Guide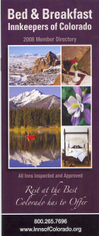 MEET AN AFFILIATE MEMBER
GRANNY'S TRAVELING CLOSET
- Nanna Ann is trained as an Early Childhood Educator in Canada. For many years she worked with children of all ages including her own. Granny's Traveling Closet offers you baby equipment rental, child products and toys rentals, and preschool activity package rentals complete with delivery and pick-up service so your travel time isn't so stressful and you can spend the time with your family.


Volume 1 Issue 7 2008
'Tis the season for Winter magic...Colorado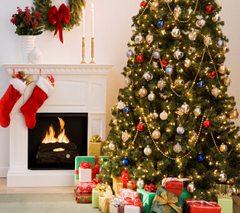 pines touched with snow, bustling shoppers, the scent of gingerbread wafting from the kitchen, evergreen garlands, bright lights, glittering colors, shining decorations and more. Whatever you prefer, your holiday, New Years or Christmas dream can be made a reality with a stay at one of our Bed & Breakfast Innkeepers of Colorado (BBIC) member inns. Our innkeepers stand ready to make your getaway something even Mr. and Mrs. Santa would enjoy after a long year of making toys and working at the North Pole.
Our distinct Colorado B&Bs are ready to welcome you with a friendly smile, personalized service, clean and comfortable accommodations and a delicious homecooked breakfast. Savor special delights, prepared by loving innkeepers. This month, try the Golden Muffin Award winning recipes for a taste of Christmas past. It'll be so tantalizing that you'll want to travel to one of our Bed & Breakfast Innkeepers of Colorado member B&Bs just to sample our breakfasts inn-style!
Look for new improvements to the BBIC website soon. Thanks to a Colorado Tourism Office grant, we'll be making it even easier to find a great Colorado B&B!
Front Range Special Packages
(Denver, Estes Park, Boulder)
Estes Park, Colorado
The Black Dog Inn (Carlos & Sheree Albuquerque) Email Website
Reservations: 866-786-0374 Local-970-586-0374 Valentines Sweethart package
Description: 2 nights stay in our Deluxe Suite. Half hour each Massage, chocolates & a bottle of Champagne or wine.
Dates: Febuary 9 -16th 2009
Cost: $495.00 + tax per couple

South Central Special Packages

(Colorado Springs, Breckenridge, Salida, South Fork, Alamosa)
Cascade, Colorado
America's Rocky Mountain Lodge & Cabins (Brian & Debbie Reynolds)
Email Website

4680 Hagerman Ave, Cascade, CO 80809
Reservations: 888-298-0348 Local: 719-684-2521 Plan early for your 2009 Colorado Family Reunion. Book your summer reunion by December 31, 2008 and save 10% off the Lodge rental. The Lodge can sleep up to 17 people and host up to 30 people. Also available are a Cabin and a Cottage within walking distance from the Lodge that will sleep an additional 13 more people. And while you're here there's something for everyone to do… you can visit Pikes Peak, where America the Beautiful was inspired, Garden of the Gods, Cave of the Winds, Focus on the Family, go horseback riding, hiking, biking, whitewater rafting, take an adventurous jeep tour, and even a hot air balloon flight. Visit our website for more about our facilities, or call us at 888-298-0348. We look forward to seeing you and your family!
Dates: by December 2008
Cost: 10% off Lodge rental if booked by December for Summer '08
Plan Ahead for Valentine's and President's Weekend Getaway -
Valentine's Day falls on 3 day President's Day holiday weekend in 2009, the perfect opportunity to whisk your sweetie away and remind them how much they mean to you. Stay with us for 3 nights in any of our facilities at America's Rocky Mountain Lodge & Cabins over the Valentine's Day holiday and receive complimentary roses and chocolate truffles. Consider adding on a massage or romantic dinner as well! Valid February 13-16, 2009 (Friday, Saturday & Sunday nights). Must request special at time of booking.

Dates: February 13-16, 2009
Cost: $375 - $675, depending on room of choice

Eastholme in the Rockies (Deborah Rice)


Email Website
4445 Hagerman Avenue, Cascade, CO 80809
Reservations: 1-800-672-9901 Local: 719-684-9901
2009 Colorado Family Reunion Special - Entire property rentals for your Colorado Family Reunion for advance bookings in 2009 at Eastholme. Bookings received by 1/31/09 are eligible for a 10% discount on your entire stay. Must mention you found us on the BBIC Specials in order to qualify. Valid for all dates excluding holidays and special events.

Dates: Now through January 31, 2009
Cost: 10% Discount on 3 nights - Entire Property Rental

Ultimate Affair Wedding Package - The all inclusive "Ultimate Affair Wedding Package" is designed for an intimate mountain setting for up to 50 guests. Exclusive use of the grounds for two days including accommodations for up to 26 guests. Everything you need is all wrapped in one package and all that is needed is the bride and groom. All advance bookings through 1/31/09 for a 2009 wedding will receive a $200 discount. Excluding holidays and special events.

Dates: Bookings through 1/31/09
Cost: $5795 All Inclusive Wedding

Colorado Springs, Colorado
Holden House 1902 Bed & Breakfast Inn (Sallie Clark)
Email Website


1102 West Pikes Peak Avenue, Colorado Springs, CO 80904
Reservations: 888-565-3980 Local: 719-471-3980 Holden House' Layaway Special for the Holidays - Reserve 3 nights and receive a $25 discount off your stay or stay 4 nights and receive one night absolutely FREE! (valid any days of the week) We'll take a full "Layaway" Deposit at reservation leaving the balance due of a perfect stay at check-in! (Some restrictions may apply and full amount of stay due when reservation is booked and non-refundable) Includes our delicious gourmet breakfast, all of our luxury business class amenities and afternoon wine social.
Dates: Through January, 2008
Cost: $25 off 3-night stay or stay 4-nights with 1-night FREE!
Ring in the New Year at Holden House - For just an additional $30, our Holden House New Year's special includes a beautiful suite with tub for two, fireplace, a specially prepared breakfast ensuite one morning and bottle of bubbly...French champagne for ringing in 2009. (Minimum stays may apply depending on dates booked)
Dates: Through January, 2008
Cost: $30 extra includes French Champagne & Breakfast ensuite!
Our Hearts Inn Old Colorado City (Pat Fejedelem)


Email Website
2215 West Colorado Avenue, Colorado Springs, CO 80904
Reservations: 800-533-7095 Local: 719-473-8684
2009 Welcome Winter Getaway Packages - Leave the deary and dark days of winter to come play in Colorado's Sunny days and cold winter nights. Snuggle by a fire at night after enjoying the sunny & warm Colorado days. Gambling, hiking, horseback riding, shopping, museums and entertainment await. Pikes Peak Mountain open year round!

Dates: January - March 2009 (black out periods apply/inquire)
Cost: $90 - $135/night plus tax and enjoy the best rates of the year. Extended stays discounted as well; $500 - $650/week plus tax.
Pikes Peak Romancing the Area and a Stay A Little Longer Discount - America's Pikes Peak Area the perfect Winter Destination for romance in the Rockies. Sunny warm winter days and a snow packed peak encourages your outdoor activities with most tourist sites open year round. Come stay November - December for a little longer lingering stay and enjoy your stay a little longer discount!

Dates: through December 30, 2008
Cost: $100 - $150 - $10 Discount on each Consecutive Day's Stay. Determine your Stay a Little Longer Discount!

Rocky Mountain Christmas - Rocky Mountain Christmas with all the lights, snow capped mountains, the many Holiday events throughout the famous Pikes Peak Region beckons you now! Reserve early to get your lodging choice. We can accommodate your stay in a cottage with full kitchen plus our other cozy B&B rooms as well. Curl up to a fireplace in each room and enjoy the season.

Dates: Discount rates (exception: Christmas & New Years Eve) thru all of December. Month of December (block out dates of Christmas & New Years Eve
Cost: $85 to $140 night/plus tax

Manitou Springs
Blue Skies Inn (Sally Thurston)

Email Website
402 Manitou Ave., Manitou Springs, CO 80829
Reservations: 800 398-7949 Local: 719 685-3899
Short and Sweet Wedding - Wrapped as a pretty wedding package, imagine a marriage that is stress-free and beautiful. As an innkeeper who is also an artist and gardener, Sally uses her skills to create beautiful weddings. From arranging the floral bouquet to photography to seamlessly co-ordinating the wedding, every detail is treated as Art. That the wedding is gentle on the Planet and economical are just lovely bonuses. Located at the base of Pikes Peak, Blue Skies Inn hosts weddings any day of the year.

Dates: Year round
Cost: $1695 plus two nights' stay at the inn

Woodland Park
Pikes Peak Resort (Jenn)
Email Website
943 Painted Rocks Road, Woodland Park, CO 80863
Reservations: 888-687-9777 Local: 719-687-9777
Weekender-Mender! Stay Friday and Saturday Night
starting September 1st, 2008 and continuing through May 14, 2009 and choose from one of the following free gifts:
1. Two Pikes Peak Resort T-Shirts
2. Bottle of Champagne and Keepsake Flutes(cider available upon request)
3. Chocolate Covered Strawberries
4. Vase of fresh flowers
5. Spa soak set
Dates: Valid through May 14th, 2009
Cost: Must stay Friday and Saturday night to redeem free gift. Must be redeemed at time of reservation.
San Isabel Bed and Breakfast (Dick or Cam Ziminski)

Email Website
15914 CR 260, Salida, CO 81201
Reservations: 866-361-1755 Local: 719-539-5432
Winter Stay and Play - Stay two nights or more and receive 25% off your stay. Two families (well-behaved children are always welcomed!) or couples booking the lower level suite for two nights or more also receive the same reduced rate. Discounts available for winter sports and equipment rental.

Dates: January 1st , 2009 thru February 31st, 2009
Cost: Two nights or more stay in one room - $67.50 per night. Lower level suite - $135 per night for two or more nights. (These rates do not include 9.9% applicable taxes.)

Salida, Colorado
North West Specials Packages
(Steamboat Springs, Grand Junction, Vail)
Carbondale, Colorado
Gailyn's Cross Country Bed & Breakfast (Glenn Nemhauser & Wayne Horak)

Email Website
211 Euclid Ave., Carbondale CO 81623
Reservations: 970-963-0537
Weekly Discount Rate - When you pay for 6 nights, the 7th night is free.


Dates: Continuous
Cost: $540/per room assuming occupancy by 2 adults Special Weekly rate discount. When you stay for 6 nights, the 7th night is free.
South West Special Packages
(Gunnison, Ouray, Durango, Pagosa Springs, Paonia)
Pagosa Springs, Colorado
Elkwood Manor Luxury Bed & Breakfast (Darlene Gonzales)
Email Website

85 Easy Street, Pagosa Springs CO 81147
Reservations: 970-264-9166
Lift Ticket & Lodging Discount - Why sacrifice the quality of your lodging experience to get lift ticket discounts? Elkwood Manor is now offering lodging discounts to all skiers. Just show us your lift ticket receipt and Elkwood Manor will take 10% of your lift ticket costs off your entire stay up to $50.00 per visit. Then enjoy our complimentary wine & appetizers or a soak in the Hot Tub under the stars. 2 day minimum stay required.

Dates: Entire Ski Season (through April 2009)
Cost: 10% of your Lift Ticket Cost applied to reduce your lodging expense, based on 2 nights stay up to $50

Eastern Special Packages
(Limon, Burlington, Trinidad, Pueblo, Sterling, Hugo)
Check Back Next Month for New Specials....

Heather Hidalgo, Assistant Innkeeper at both 1892 Victoria's Keep Bed & Breakfast and Holden House 1902 Bed & Breakfast Inn received the 2008 Bed & Breakfast Innkeeper of the Year from the Colorado Hotel and Lodging Association (CHLA).
GOLDEN MUFFIN AWARDS WERE FEATURED IN THE ESTES PARK TRAIL GAZETTE WITH A GREAT WRITE UP! SEE BELOW FOR THE AWARD-WINNING RECIPES!
BBIC PROCLAMATION: Estes Park, Colorado, Mayor Bill Pinkham personally proclaimed November 2008 as "Bed & Breakfast Appreciation Month". He recognized BBIC's efforts in providing educational opportunities for bed and breakfast innkeepers to increase business viability and continue the beneficial economic impact to the region and the state of Colorado. Pinkham also thanked the association for their efforts to increase tourism in the state, reflecting on Colorado's communities as "tourism related" for economic viability. "It's an honor to be with you this morning and it's an honor to recognize Estes Park's tourism-related industry, businesses, amenities and associations, which contribute so much to the development of this burgeoning B&B industry", he said.
MEMBER AWARDS: The conference included the BBIC Awards Dinner, which acknowledged the board of directors with "Certificates of Appreciation". Special awards were given for service to the bed and breakfast industry. BBIC President, Karen Cullen and Jay Rohrer of 1892 Victoria's Keep Bed & Breakfast received the "Clark Award", so named for Sallie and Welling Clark who founded the association in 1987. This award has only been bestowed three times in BBIC's history. Cullen and Rohrer were appreciated for their exceptional service and dedication to the association and the bed and breakfast industry. Wendy Goldstein and Sharon Smith of Two Sisters Inn received the "Longevity Award" for their long-time service, providing high innkeeping standards and supporting the association and the industry. Sallie and Welling Clark of Holden House 1902 Bed & Breakfast Inn were presented with the "Golden Globe Award" for their hard work and service as BBIC marketing chairs. Outgoing BBIC administrators Lynda and Howard Lerner of Manitou Springs were recipients of an "Appreciation Award" for their long-time service as former innkeepers and current administrators.
New Board of Directors Elected:
President- Karen Cullen and Jay Rohrer, 1892 Victoria's Keep Bed & Breakfast, Manitou Springs
Vice President- Sandee and Buzz Rogers, Rogers in the Pines, Monument
Treasurer- Bill and Annette Lyttle, The Dove Inn, Golden
Secretary- Melody Ann Hahn, Hahn's Haven, Nathrop
Legislation- Karen and Roger Steer, Anniversary Inn, Estes Park
Marketing- Sallie and Welling Clark, Holden House 1902 Bed & Breakfast Inn, Colorado Springs
Membership- Don and Shirley Wick, Old Town GuestHouse, Colorado Springs
Public Relations- Ron Pijut, Pikes Peak Paradise, Woodland Park
Publications- Kevin Abney, Avenue Hotel, Manitou Springs
*HAVE YOUR OR YOUR BBIC MEMBER INN BEEN "INN THE NEWS"? If you're a BBIC member and have recently been featured, send us an email and let us know. Your inn will be mentioned in the next issue of Colorado Inn-Spirations enewsletter.

GOLDEN MUFFIN AWARD WINNER!
BBIC Member Inns -Send us your recipes and you can be featured here!
Tasha's Cranberry Orange Muffins
Tasha Overmyer of Romantic Riversong
2 C. Sugar
3 Lg. Eggs
½ C. Evaporated Milk
1 C. Canola Oil
1/4 tsp. Salt
1 tsp. Vanilla
½ C. Peach Yogurt
1 T. Orange Zest
¼ C. Orange Juice
2 C. All Purpose Flour
1 ½ tsp. Baking Powder
1 Can (11 oz.) Mandarin Oranges
1 C. each Chopped Walnuts & Frozen cranberries
Raw sugar to top off muffins
Directions:
Preheat oven to 350°F (325°F for convection). Grease 12-count muffin tin. Combine sugar, eggs, evaporated milk, oil, salt, vanilla, yogurt, zest, and orange juice. Blend well. Add flour and baking powder, stirring just until combined. Chop mandarin oranges in thirds. Add to flour mixture along with walnuts and cranberries, again stirring just until combined. Pour tins 3/4 full and sprinkle each with raw sugar. Bake for 12- 18 minutes. Cool on wire wracks for ten minutes and remove to serving tray. Makes 12.

SILVER MUFFIN AWARD WINNER!
Best Blueberry Cake Muffins
Shirley Wick-Old Town GuestHouse Bed & Breakfast Inn
(Freezes very well) Makes 2 Doz.
4 C. yellow cake mix
½ C. Flour
1 ¼ C. Water
1 Egg
3 T. Oil
3 C. Blueberries (I use frozen)
¾ C.Whole Oats (optional)
Crumble Topping:
1 1/2 C. Whole Oats
¼ C. Flour
1 C. Brown Sugar
1 tsp. Cinnamon
1 tsp. Baking Soda
¾ Stick butter (melted)
Directions: Preheat oven to 350 degrees. Use baking cups sprayed with oil. Fill baking cups almost full - not heaping. Cover with Crumble Topping lightly pressed on-Bake for 25-30 minutes. Makes 24 muffins.

HONORABLE MENTION MUFFIN AWARDS:
Heather's Blueberry-Molasses Muffins-Holden House
Mocha Chip Muffins-Two Sisters Inn
Meema'o Breakfast Muffins-Rogers in the Pines
Pumpkin Apple Streusel Muffins-Gwenn David, Aspiring Innkeeper
Heather's Blueberry-Molasses Muffins
Heather Hidalgo - Holden House 1902 Bed & Breakfast Inn
Ingredients: 1 Box (Krusteaz) Wild Blueberry mix w/ Blueberries (drained)
½ cup Fresh Blueberries
1 Egg
1/3 C. Molasses
1/3 C. Milk
½ Tsp. Ginger
¼ Tsp. Nutmeg
¼ Tsp. Cinnamon
1/3 C. Oil
Directions: In a large bowl add all ingredients, except the blueberries. Mix together well.
Gently fold in the blueberries. Grease muffin tins with non-stick spray. Fill Muffin cups evenly with batter, about ½-3/4 full. Bake at 400 degrees for 18-20 minutes. Sprinkle with powdered sugar and serve with butter. Makes 12 muffins.
Mocha Chip Muffins
Wendy Goldstein and Sharon Smith - Two Sisters Inn-a bed & breakfast
1/4 C. Cocoa Powder 1/2 tsp. Salt
3/4 C. Strong Coffee 1 egg
3 lg. Very Ripe Bananas, peeled 3/4 C. Sugar
1-1/2 C. Flour 1/3 C. Uunsalted Butter, melted
1 tsp. Baking Powder 1/2 C. Chopped Pecans
1 tsp. Baking Soda 1/2 C. Chocolate Chips
Directions: Preheat oven to 375 degrees. Grease and flour muffin tin. Dissolve cocoa in coffee in a bowl and add bananas and mash. In a medium-size bowl, combine flour, baking powder, baking soda, and salt. Set aside. In a large bowl, slightly beat egg and sugar, then incorporate the butter and mashed bananas. Add dry ingredients to the egg mixture and stir just until moistened. Fold in pecans and chips. Spoon mixture into muffin tins. Fill to the top. Bake until toothpick inserted into center of a muffin comes out clean, about 18-20 minutes. Remove from tin and cool on rack. Makes 12 muffins.
Pumpkin Apple Streusel Muffins
Gwenn David, Aspiring Innkeeper
1 ½ C. Flour
2 C. Sugar
1 T. Pumpkin pie spice
1 tsp. Baking Soda
½ tsp. Salt
2 eggs
1 C. Pumpkin
½ C. butter
2 C. Peeled chopped apples
Streusel Topping
2 T. Flour
¼ C. Sugar
½ Tsp. Cinnamon
4 tsp. Butter
Mix Streusel Topping together in small bowl to resemble coarse crumbs
Directions: Pre-heat over to 350 degrees. Lightly grease 18 muffin tins.
In a large bowl, sift together flour, sugar, pumpkin pie spice, baking soda, and salt. In separate bowl, mix eggs, pumpkin and butter. Add pumpkin mixture to flour mixture; stirring just to moisten. Fold in apples. Spoon batter into muffin tins and sprinkle topping over muffin batter. Bake 25-30 minutes.
Meema'o Breakfast Muffins
Sandee Rogers-Rogers in the Pines
Dry Ingredients:
2 C. Flour
1/3 C. Sugar
1 tsp. Baking powder
½ tsp. Baking Soda
½ tsp. Salt
1 C. Grape-Nuts Cereal
Liquid Ingredients:
2 Eggs (beaten)
1 C. Orange Juice
1 T. Grated Orange Peel
1/3 C. Salad Oil
Directions: Mix dry ingredients together and then separately combine liquid ingredients together. Add liquid ingredients to dry ingredients, stirring until moistened. Fill greased muffin cups 2/3 full. Bake at 400 degrees for 20-25 minutes.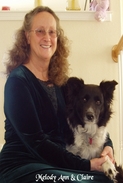 Melody Ann Hahn (& Claire)
Why did you decide to open Hahn's Haven? In 1984, my husband of ten years and I, found our dream home. We lived between two homes for fourteen years before he passed away in 1997 of cancer. I always knew that I would continue to live here, but I never ever thought I would turn it into a bed and breakfast.
It all began when I hosted two different Christian women retreats and after those, so many people came to me and said, "You should make your home a B&B", that I thought it might be a great idea. I'd never stayed in a B&B and the only way I knew of B & B's was from my sister. She had traveled all over the United States and stayed in many B&B's. So, I called her and asked her what she thought, and she thought it would make a fantastic B&B, the house as well as the location. So then started the process of looking at the home as a B&B.
What do you love about running a B&B? I can't begin to tell you what a joy it is to have this opportunity in my life to share this beautiful home with so many wonderful people. When they arrive they become a part of the family. Truly, I feel guilty for being paid for doing something that is such a joy. Getting to play house, make beds, make cookies, prepare their breakfast when they want it and seeing to all of their needs while they are here is beyond anything I ever imagined it could be. An added delight for me is having children of all ages and families with their dogs. I have three (dogs, that is), so what is a few more, as well as cats.
Looking back on my life, I shouldn't be surprised by this. I have been and a part of a life like this from the time I was old enough to hold a teacup and serve someone, which was about six. My great grandmother ran a boarding house in Casper, Wyoming and my grandmother ran a boarding home in Colorado Springs, Colorado. That is how my father and mother met in 1941.
Many of my guests say, "Your home is like a museum. We are so at home here, like staying at Grandma's." I find that such a great compliment. I remember fondly going to my grandmother's and helping with garden parties, church parties, tea parties, because that's what they did in those days. Everything in my home is a piece of my family history. Nothing is moved or put away so that it won't get broken. I enjoy sharing my family history with all of my newfound family members.
When BBIC Inspectors Rod and Carol came to inspect my home for the association, they were a great help. I didn't want to make or change my home with a bunch of signs or things that would take away and make commercial what I had. So they were wonderful to show me how I could do it without intruding on what was already here. Upon their departure, I was thrilled when they said, "Keep doing exactly what you have been doing, this is wonderful." Then I knew I would be doing this for as long as it would be physically possible for me to do so.
What is your greatest challenges of being an Innkeeper? My only challenge - considering this a business rather than a part of who I am and how I visualize my place in the world. Certainly I generate the funds necessary to keep the B&B open, but I imagine that I would do it for the sake of doing it if the money were irrelevant. I have the unmistakable joy of sharing the beauty of my surroundings with people who have changed me along the way. And what could be better than that?