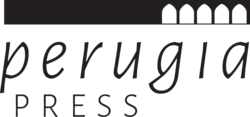 Happy Poetry Month 
from Perugia Press!
in Northampton 
on this Friday, April 5 from 5:30-7:00
for a reading with Gail Thomas and Jennifer Martelli.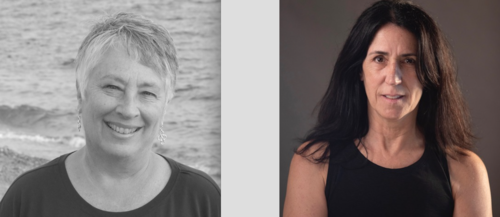 Gail Thomas has published four books: Odd Mercy, Waving Back, No Simple Wilderness: An Elegy for Swift River Valley, and Finding the Bear, which was the first title from Perugia Press. Odd Mercy, chosen by Ellen Bass, won the Charlotte Mew Prize of Headmistress Press, and Waving Back was named a Must Read by the Massachusetts Center for the Book. Her work has appeared in many journals and anthologies including The Beloit Poetry Journal, Calyx, The North American Review, Italian Americana, and Valparaiso Poetry Review. Individual poems have won the Naugatuck River Review's Narrative Poetry Prize, the Edward Hearst Prize, and the Pat Schneider Poetry Prize. Thomas was a fellow at The McDowell Colony and Ucross.
Jennifer Martelli is the author of My Tarantella (Bordighera Press), as well as the chapbook, After Bird (Grey Book Press, winner of the open reading, 2016). Her work has appeared or will appear in Verse Daily, The Sonora Review, Iron Horse Review (winner, Photo Finish contest), The Sycamore Review, Sugar House, Superstition Review, Thrush, and Tinderbox Poetry Journal. Her prose and artwork have been published in Five-2-One, The Baltimore Review, and Green Mountains Review. Jennifer Martelli has been nominated for Pushcart and Best of the Net Prizes and is the recipient of the Massachusetts Cultural Council Grant in Poetry. She is a poetry editor for The Mom Egg Review.
Perugia Press in Portland!
Thank you to all who stopped by our table at the AWP Bookfair to browse & buy books and chat about poetry. It was wonderful to see old friends and meet new ones. We are buoyed by our poetry community and love the chance to meet folks in real life to talk about the press and our poets and to personalize & demystify the submission process. It was great to have so many of our poets on hand for book signings and for our offsite reading at The Waypost. Thanks for making #AWP2019 such a sweet experience!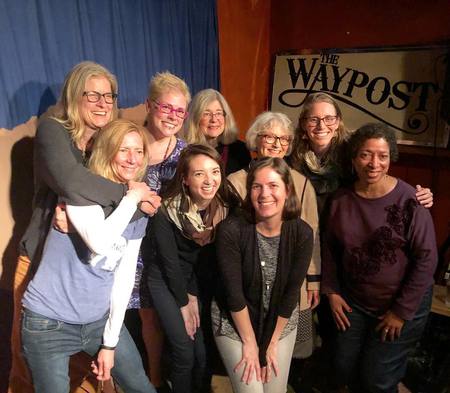 Back row:

 Lisa Allen Ortiz (Guide to the Exhibit), Abby E. Murray 
(2019 winner:
Hail and Farewell), 
Catherine Anderson (The Work of Hands),
Jenifer Browne
Lawrence (Grayling), and Corrie Williamson (sweet husk).
Front row: 

Nancy K. Pearson (Two Minutes of Light), 
Megan Peak (Girldom),
Editor/Director Rebecca Olander
, a
nd 
Lynne Thompson (Beg No Pardon)
.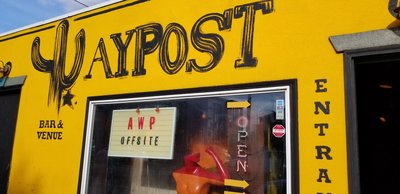 Check out the latest stellar review, this one by Seth Copeland in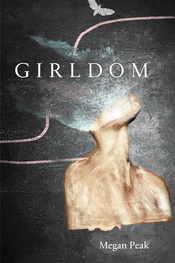 An excerpt from Copeland's review:
"Girldom is not the first great book of poetry about overcoming violation, but it is one of the wisest. Mark Doty once wrote of 'how the world gives luster as it falls apart,' but Megan Peak has shown us how it does the same while pulling itself back together again."
Winner of the 2019 Perugia Press Prize
Abby E. Murray's debut Hail and Farewell is a bold and unflinching examination of the intimate relationship between a soldier and a pacifist, bound together by choice. The collection reveals a wife's perspective during her husband's deployments to Iraq and Afghanistan, including the whiplash of infertility experienced between tours. Inseparable by heart, their marriage is also built on disagreement. Military spouses are often expected to express absolute patriotism, and to conform to gender roles shaped by sexist, archaic ideals. But these poems don't aim to accuse; rather, they call for compassion and community in the face of isolation. Capable of inserting levity into the most dire of circumstances, the poet never lets the reader forget what is at stake. Murray tears the idealized from the real, illuminating the brutality of battle and loss—traumas we tend to avoid in both military and civilian life. Hail and Farewell is an expertly woven treatise on love, war, and politics.
Abby E. Murray lives in the Pacific Northwest with her husband and daughter, where she teaches argumentation to army officers, creative writing at the School of the Arts, and poetry workshops around Joint Base Lewis-McChord. She edits Collateral, a literary journal focused on the impact of violent conflict and military service. She has an MFA from Pacific University and a Ph.D. from Binghamton University.
Hail and Farewell will be released in September 2019.
  is given annually for a first or second unpublished poetry collection
by a woman. The next deadline is November 15, 2019.
Perugia Press
PO Box 60364, Florence, MA  01062