---
Wild Weather Comments




A couple of special mentions.



Thanks to the fire brigade for shuttling passengers from Tennis back to Bells as Bells was temporarily unavailable due to live power lines being across the path.

Also, all the children are to be commended on their behaviour this afternoon. We had a horror trip, couldn't land at Carols, or Eastern. Bell's was out with the fallen tree and live main electricity wires. Carrie explained the situation to the children, and they all sat quietly. At the only stop on the island - Tennis, the older children took the younger children and arranged to walk them home. I was so proud of the way that they all pulled together and helped one another, and comforted those that were uneasy with the changed arrangements.

Josh and 'Corkscrew' (sorry - don't know his real name !!) were outstanding. They proactively went and sat amongst the children, and talked to them, explained what was happening. They helped ensure the children remained seated, quiet and calm. All the kids deserve a special mention - they were really well behaved on a very difficult afternoon.

Thanks to Julian and Brigitte for keeping everyone informed of the changing conditions !
Penny Gleen

Church Point Ferry Service


---
Well Done!


To whoever it was .. SES or Energy Australia or whoever did such a magnificent job of restoring power in such a short time in such weather conditions as we had today!

A candle-light night is not such an issue for me, but I'm sure sure Mums with bubs or small children were very grateful, as were all the computer-hooked residents!

Thanks to Penny for the info...hope the wind abates soon.
Liz Brand


---
Thank you !


Tuesday is usually quite a heavy day for me with a 8kg baby + 8kg milk + another few kilos of shopping + a baby bag ... with all that was going on, the ferry was only dropping at Tennis and we live just up from Bells so a long heavy walk was in stall for me...

I dont mind carrying heavy bags... but I WAS happy on this particularly longer walk on this heavier day was helped by a man Cal... or Cam? I am sorry I have forgotten your name but you told me you had moved over last year from Perth. Thank you so much for your help in carrying my heavy bags and for the boys who helped the power come on so quickly so my baby could have a warm bath and warm food and milk.

Many thanks from Ineka and Jarrah.



---
Looking for a lift from Tennis





Is there anyone who regularly takes their boat across from Tennis to Church Point on weekdays between 6:45 and 7:05 in the morning who could give me a lift

.

I would normally take the ferry, but the 6:40 from Bell's gets me to work an hour early and the 7:10 from Tennis gets me there just too late.

I'd be more than happy to help out with fuel money and would never hold you up. If I'm not there at the time we arrange then just go without me as I really don't want to put anyone out.

If you can help out please email: helen.webster@exemail.com.au



---
Queen's Birthday honours: The heroes among us
MANLY DAILY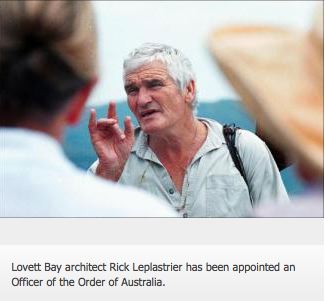 13 Jun 11 @ 12:10am by John Morcombe

THIRTEEN worthy residents of the peninsula have been honoured in the Queen's Birthday honours, including renowned Lovett Bay architect Rick Leplastrier, who has been appointed an Officer of the Order of Australia.

Among those honoured are high-profile figures including Manly councillor and former State MP Peter Macdonald but what many look for as they read the list of those honoured are the people they've never heard of and who are truly the unsung heroes finally getting their due.

Typical of those now being recognised are Tony and Carmel Smith, who have together given more than 80 years to helping others but whose modesty left them dumbstruck to learn they had been awarded the Medal of the Order of Australia.

``There are so many thousands of people who deserve recognition,'' Mrs Smith said.

Also honoured today are Wayne Gobert, of Collaroy, Ronald Cragg, of Forestville, Muriel McCabe, of Davidson, David Macintosh, of Collaroy, Dr John Lockwood , of Mona Vale, Richard Kenzie, of Seaforth, Joan Fisher, of Collaroy Plateau, Bill Worth, of Narrabeen, and Maureen Stephenson, of Bilgola Plateau.

Also honoured today are Rick Griffiths, of Newport, and Jeffrey Cree, of Davidson, who have been awarded the Australian Fire Service medal.

For the full story of the peninsula residents honoured, read tomorrow's The Manly Daily.

Thanks to Baynews



---
Saturday 18th June - Mark your diary !


Lets give Asparagus Fern the hiding it deserves !



Pittwater Council, National Parks and Wildlife Service and Pittwater Natural Heritage Association (PNHA) are inviting members of the local community to help remove Pittwater's worst weed, the noxious Asparagus Fern, at Barrenjoey Headland on Saturday 18 June.

In return,you will receive a voucher entitling you to a free tour of the historic Barrenjoey Lighthouse with National Parks and Wildlife Discovery Rangers to enjoy at a later date.

The campaign against Asparagus Fern is also being supported by DATS Environmental Services and the Hawkesbury Nepean Catchment Authority.

Volunteers should meet at 8.30am at the north end of Governor Phillip car park and wear gloves, long trousers, sleeves and covered footwear.

A free morning tea and a gourmet lunch are also included on the day. The event concludes with lunch served at 1pm.

Bookings are required for this event by phoning 9918 9170 or 0417 287 320.
Thanks Everyone !!

Peter Ziegler
Bushcare Officer
Pittwater Council
(ph: 02 9970 1367
mob: 0408 164 235
Êfax: 02 9970 7150
:email: peter_ziegler@pittwater.nsw.gov.au



---
Reminder from the Pittwater Offshore Wine Syndicate

This is a reminder that the Wine Tasting for our group, is to be held on Sunday 19 June from 3pm. The tasting will be held at Alan and Ruth Gaines lovely boatshed (red boatshed at Eastern channel marker; 71 Florence Terrace). The tasting notes and price list are not yet available, so this note is just to ask you to pop an entry in your diaries.

Please remember your GLASS and food to graze upon...

PLEASE: Print the tasting notes and order form and bring them with you on the day.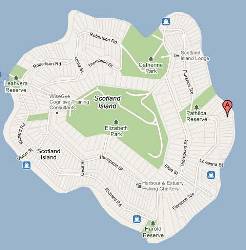 Click HERE for the TASTING notes.




Details:


Date: Sunday, June 19, 2011


Time: 3pm




Place: The Gaines

-

71 Florence Terrace

-

Scotland Island




Show on Google Maps
Google Maps

You can invite your neighbours by suggesting they visit www.wine.hostcell.net where they can sign up to receive our quarterly 'notice of tasting'



** Don't forget your Tasting Glass and some food for us all to share **



Best Wishes - your committee

If you want further information or directions, you could ring:

* George Gaal 9979 9141
* Alan Gaines 9979 2070
* Julian Muir 9999 4449
* Paul Purvis 9979 9667
* Greg Roberts 9979 5228



---




Local Council Notices


DECISION ON PITTWATER'S RATE VARIATION



Pittwater Council is expecting to begin work in the new financial year on a $38 million 10-year program of capital works and projects in Pittwater, following approval of its proposal for a rate variation by the Independent Pricing & Regulatory Tribunal (IPART).

The Council will give final consideration of the approval at its meeting on 20 June. IPART handed down its decision on Pittwater's application in a statement issued today.

General Manager Mark Ferguson said the rate variation would allow the Council to implement major capital works such as new roads, footpaths and drainage, as well as key community-based projects such as upgrades to surf clubs, car parks and sportsfields.

"We believe the decision reflects that we have a strong capital works plan based on sound financial modeling and transparent reporting," Mr Ferguson said.

"Historically Pittwater has suffered from a backlog of capital works that has built up over decades but this program will help us shift that backlog significantly."

"In addition this program will deliver important environmental works on the ground."

Mr Ferguson said the rate variation would replace the current 5% environmental infrastructure levy, which ends on 30 June this year. This levy was introduced in Pittwater in July 2005 and has funded numerous environmental projects, overseen by a community committee.

Funds generated by the new rate variation will also be overseen by a community committee and expenditure reported to the Council every six months.

The rate variation will see a cumulative increase of 7.8% in the 2011-2012 financial year; 7% in 2012-2013 and 6% in 2013-2014. This includes the annual CPI increase, currently projected at around 3%.

For the average residential ratepayer in Pittwater, it will mean an estimated increase of $41 a year in rates for 2011-2012; $85 in 2012-2013 and $86 in 2013-2014.

Pittwater was one of 23 councils in NSW to submit a proposal to IPART for a rate variation this year, with nine being successful, nine partially successful and three rejected.

Mr Ferguson said that the Council had weighed up the case for the variation carefully and had spent more than twelve months consulting the Pittwater community on the issue.

To view the capital works program to be funded by the rate variation visit www.pittwater.nsw.gov.au/rates To view the IPART decision visit www.ipart.nsw.gov.au

Media contact: Mark Ferguson, Pittwater Council, 9970 1105


---



FRIDGE BUYBACK TO GO ON IN PITTWATER



The NSW Government will extend the Fridge Buyback scheme for another year because it is so successful at saving energy and helping households cut their bills.

Up to $1.5 million will be allocated across NSW to the scheme for another 12 months, according to NSW Minister for the Environment Robyn Parker.

Fridge Buyback pays householders up to $35 to have the second fridge collected and taken away from their homes. Every fridge taken out of circulation saves one tonne of carbon pollution a year and about $225 on annual electricity bills.

Each fridge is professionally degassed and the metals recycled, meaning extra environmental benefits.

Pittwater Mayor Harvey Rose, a keen supporter of the program, welcomed the news.

"To date, 830 Pittwater households have got rid of fridges through the scheme and as a result, are saving over $185,000 on their power bills every year."

Fridge Buyback recently won in the United Nations Association of Australia's World Environment Day Awards in Melbourne in the Best Specific Environmental Initiative category.

Fridges to be collected must be working, in regular use, 250 litres or more in size and at least 10 years old. Conditions apply.

To participate, call Fridge Buyback toll free on 1800 708 401 or visit: www.fridgebuyback.com.au

Amanda Delaforce, Fridge Buyback Ph: 8966 9444



---
KNOW SOMEONE WHO WANTS TO TRY LIVING ON SCOTLAND ISLAND?



We have a 3 bedroom, fully furnished house for rent for 2 months during October/November.
Please contact Rowena on 9986 0401 or row@rowantz.com



---
The Online Local Contact Guide

Click HERE to load
The views expressed in this newsletter are not necessarily the views of the Scotland Island Residents Association (SIRA), or the Western Pittwater Community Association (WPCA)
---