---
---
Carols @ Tennis
Sunday 20 December from 5.00 pm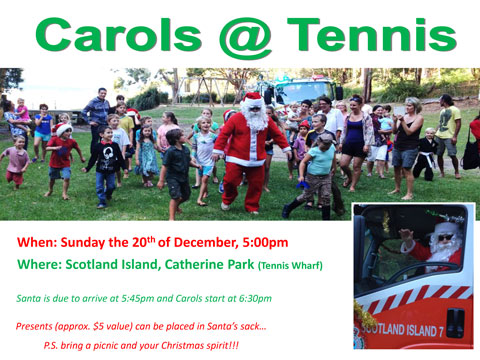 This year the Kindy will also be involved and are trying to raise some funds by selling soft drinks and donations for wine.
Santa is due to arrive at 5.45pm
carols start at 6.30pm
---
Floating Christmas Choir
Tuesday 22nd December
7.00pm at Frog Hollow
Everyone is welcome
Share the fun with family and friends .. bring along that silly hat, a picnic and the dogs.
To sing along you can get a copy of the words from here.
HERE in PDF format
---
Scotland Island Dog Race
It's on again!
Same time same place
Christmas Eve 6pm @ Church Point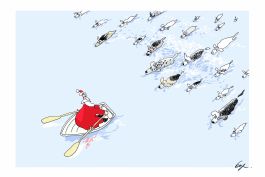 DETAILS:
Register your Dog from 2:30 to 5:30pm
Entry fee is 1 Longneck (Cold !) and 1 x Large Tin Dog Food
Official starting time 6pm (or thereabouts)
---
Community Vehicle Christmas & Boxing Day

Service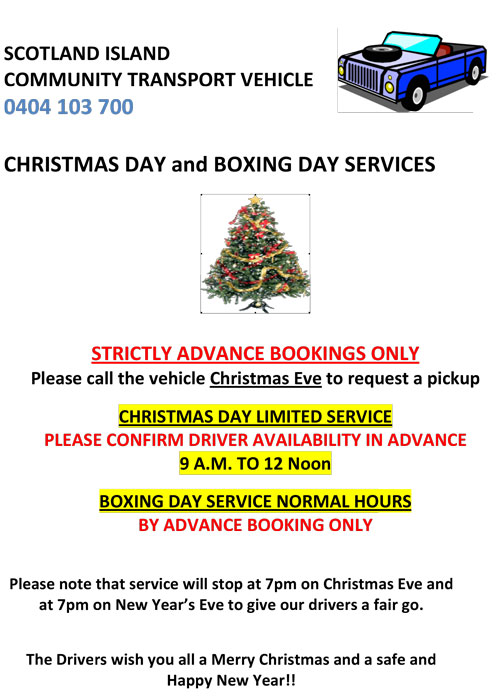 We welcomed two new drivers to the team: Lisa Francis and Branko Kristevic.
The arrangements for Christmas Day and Boxing Day are as per previous years with limited service on Christmas day from 9am to 12 noon (to be booked on Christmas eve) and normal service on Boxing Day subject to advance bookings.
---

NOTICES
---
NSW Government's plans for amalgamation





Earlier today the NSW Government announced its proposal to merge Pittwater and the suburbs of North Warringah to form a new council.


Pittwater Mayor Jacqueline Townsend said Pittwater Council is pleased that local MPs listened to the community on the importance of retaining local identity and local representation, and it welcomes the Government's support of its merger preference.

"Although the community wants to stand alone and retain independence in the first instance, a two council model would be a great outcome for the community," Cr Townsend said.

"With standing alone now off the table, two councils would maintain local democracy and local character and identity, issues that are at the heart of our community," she said.

The NSW Government has recognised that two more equally balanced and specialised councils will deliver more effective catchment management and economic development for the region, a structure that would provide for a strong sustainable new council.

"We are also pleased that the State Government has reconsidered the issue of population size and recognises that a population size of approximately 150,000 has the strategic capacity to deliver high quality services whilst remaining connected to our communities.

"The two equally balanced councils would lead to even better services, more infrastructure and downward pressure on rates.

The government's proposed relocation of Pittwater's boundary includes Terrey Hills, Narrabeen, Collaroy, Collaroy Plateau, Cromer, Wheeler Heights, Oxford Falls, Frenchs Forest, Duffys Forrest, Belrose, Davidson, Forestville and Killarney Heights.

The government is proposing the new council receive $10 million to cover the costs of merging as well as an additional $10 million from the Stronger Communities Fund for community infrastructure projects, across the new local government area.

"For the time being it's 'business as usual' for Pittwater, although we will be focused on connecting with our community and getting their input as well as working with our neighbours and the State Government during the next steps of the reform process," she added.

The NSW Government has summarised its proposals with accompanying maps, and has identified a 10 step process to create new councils. For details visit www.councilboundaryreview.nsw.gov.au/

For reform updates, please visit our website, subscribe to our e-newsletter aboutPittwater and follow us on Twitter and Facebook.

Contact: Community Relations
Phone: 9970 1119/1172



---




The West Pittwater Community Association is pleased to advise its new website is now live.



It is an online meeting place for the Western Foreshore's long-standing residents and newcomers alike.

The site provides our community with an easily accessible place for engagement and interaction where you can find local events, critical news items, discussion forums, WPCA Minutes, community projects, a noticeboard, service directory and information vital to those living offshore.

Wayne and Sandra Lazarides, members of our community, donated their time and energy to designing and building the site with the support of a working committee. Their generous contribution is greatly appreciated.

The site is funded through WPCA membership. If you are not a member, please consider joining us. You can do so online.

I invite you to explore the new site, visit it regularly and use its resources. Your contribution will make it lively and relevant, and establish it as an integral community asset.

Regards,
WPCA Committee



---
Travelling Australia Mick's Way
Longtime Offshore Resident Mick Miller's inspiring journey
---
For Sale
Great Xmas Gift - Free to anyone.

Kids Cubby House, very sturdy ,loads of features, , firemans pole, slide,, 2 storeys, flag pole, tyre climb.


Must be dismantled by you.


In Towers Bay.


Call Rowena 0406046256







---
---
A complete set of past electronic newsletters since May 2000 can be found and read at https://ymlp.com/archive_gesgjgm.php or by clicking here or by visiting the Mona Vale Library.

The Island website is at www.scotlandisland.org.au


---
To Contribute
Although the PON is a monthly newsletter, usually notices are sent out once a week on Sunday evenings. So please make sure your contributions are sent well beforehand.

If you would like to contribute to this newsletter it's easy!. Send an e-mail to the editor (editor@scotlandisland.org.au) or by clicking here. Type your contribution (around 100 words or so would be fine) and assuming it is of general interest to the community, does not include matter of a political nature and is not offensive, it will appear.

Subscription Information
To get on and off this newsletter,

click here

or got to:

http://www.scotlandisland.org.au/signup .


To change your address, click the 'modify' link at the bottom of this newsletter or send an email to the

editor@scotlandisland.org.au


---
Follow the PON
---
The Online Local Contacts Guide
Click HERE to load
---
---
The views expressed in this newsletter are not necessarily the views of the Scotland Island Residents Association (SIRA), or the Western Pittwater Community Association (WPCA)
---
---