AFRO PALESTINO CUBANO SOLIDARITY SALSA DANCE PARTY
Join the Embassies of Cuba and Palestine together with BDS South Africa and others at an Afro-Palestino-Cubano Salsa Dance event and solidarity party on Friday 23 March at 7pm. The event, in solidarity with the Cuban revolution and the Palestinian liberation struggle, will take place at Sawubona Lounge (305 Fox Street, Maboneng Precinct, Joburg)
. Entrance is free (and includes a free salsa dance lesson) but please RSVP by sending an email to info@bdssouthafrica.com. The event forms part of this year's #IsraeliApartheidWeek. Click here for the full #IsraeliApartheidWeek schedule.
STEVE BIKO FOUNDATION TO HOST SCREENING ON ISRAELI RACISM AGAINST AFRICANS
CRICKET GAME FOR PALESTINE
Crescents Cricket Club, BDS South Africa and the Embassy of Palestine together with others are hosting a cricket game on Saturday 17 March at 07h30 at the Zoo Lake Cricket Fields. To particiapte in this #IsraeliApartheidWeek event or for more info call 0712786744 Click here for the full #IsraeliApartheidWeek schedule.
NEON NIGHT RUN FOR PALESTINE
The community of Robertsham in Johannesburg have organized a 3km Neon Night Walk for Palestine as part of this year's #IsraeliApartheidWeek. The event, starting at 35 Giles Street, will take place on the 17th of March at 19h30. Call 0784568670 for more info or to book a spot (R30). Click here for the full #IsraeliApartheidWeek schedule.
CONGOLESE CULTURAL EVENT FOR ISRAELI APARTHEID WEEK
ZIMBABWEAN SOLIDARITY EVENT FOR ISRAELI APARTHEID WEEK
JOIN BDS SOUTH AFRICA'S EMAIL MAILING LIST
To join BDS South Africa's email mailing list (& receive these newsletters) send a blank email message to alerts@bdssouthafrica.com
SOUTH AFRICA'S RULING PARTY CONDEMNS ISRAEL'S RACISM AGAINST AFRICANS - #ISRAELIAPARTHEIDWEEK
South Africa's ruling party, the ANC, in a statement backing this year's #IsraeliApartheidWeek campaign, has condemned concern at Israel's "increased racism against Africans".
The ANC statement reads: "These oppressive tendencies confirm the importance of the ANC's 54th National Conference resolution for the 'immediate and unconditional downgrade of the SA Embassy in Israel to a liaison office'. 
The ANC joins the over 100 South African organisations, our Alliance partners, the PYA, the BDS movement and thousands of activists and members of the public who will participate in the week's events across the country to express South Africa's solidarity and internationalism. Israeli Apartheid Week is perhaps one of the best examples of South Africa's unity in diversity and the vibrancy of our civil society." 
Click here for the full ANC's press release on #IsraeliApartheidWeek.
TV COVERAGE OF THIS YEAR'S ISRAELI APARTHEID WEEK - INTERVIEW WITH PALESTINIAN AUTHOR ALI ABUNIMAH
SABC TV News carried an in depth interview with Palestinian author and activist Ali Abunimah discussing the 14th annual #IsraeliApartheidWeek campaign. 
Click here to watch on YouTube.
Abunimah is currently in the country as a guest of the UCT PSF, Palestine Museum and others, speaking in various cities and towns, as part of this year's 2018 
#IsraeliApartheidWeek. Later today he will be presenting at a school learner workshop organized by Equal Education at the Isivivana Center 
in Khayelitsha
.
AFRO-PALESTINIAN SKETCH FOR ISRAELI APARTHEID WEEK BY CAPE TOWN ARTIST DRAKE WOLFE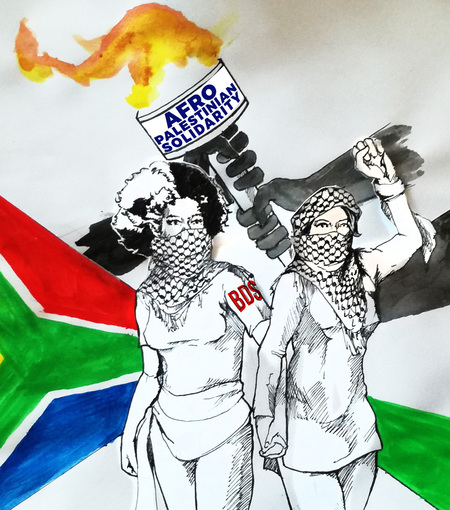 Above is an "Afro-Palestinian solidarity" sketch by Cape Town artist Drake Wolfe which will soon appear as graffiti murals in and around the Mother City. 
With "Afro-Palestinian solidarity" as this year's theme for #IsraeliApartheidWeek, the campaign is focusing on both Israel's apartheid policies against the Palestinians as well as the regime's discriminatory policies against Africans.
Israel is currently expelling thousands of Africans, giving them an ultimatum: leave by 1 April 2018 or risk indefinite imprisonment. Israel has offered one hundred thousand rands in bonuses to civilians who aide in forcibly deporting African asylum seekers. Israel has portrayed non-Jewish Africans as a threat to Israel's Jewish character calling them "infiltrators" with Prime Minister Benjamin Netanyahu repeatedly calling for their expulsion saying that Africans "threaten the social fabric of society." Israel's Minister of Interior, Eli Yishai, has said that African immigrants "think the country doesn't belong to us, the white man." And the Israeli Minister of Culture and Sport, Miri Regev, has compared Africans to "a cancer". In 2013 Israel was revealed to be forcibly sterilising African women without their consent.
Click here for more info on Israel's racism against Africans.
In a 2009 report commissioned by the South African government, the Human Sciences Research Council (HSRC) concluded that Israel is guilty of apartheid. This position was then confirmed by the Russell Tribunal on Palestine, which sat in Cape Town in November 2011. Again in 2012, both the United Nations Committee for the Elimination of Racial Discrimination as well as the Human Rights Council made similar findings. A 2017 report by the UN Economic and Social Commission for Western Asia detailed how Israel has established "an apartheid regime that oppresses and dominates the Palestinian people as a whole". At the UN's January 2018 Universal Periodic Review, South Africa slammed Israel as "the only state in the world that can be called an apartheid state". Amnesty International, Human Rights Watch and various other legal and human rights organisations have issued similar reports and called for action to hold Israel accountable.
Click here for more info on #IsraeliApartheidWeek.
BDS SOUTH AFRICA

BANK: First National Bank
NAME: BDS South Africa
NUMBER: 62273997943
BRANCH NAME: Rosebank
BRANCH CODE: 253305
SWIFT CODE: FIRNZAJJ
 
BDS SA, is a registered Public Benefit Organisation (PBO) with Section 18A tax-deductible status. This means that any donations made to us can be used to apply for tax exemptions. Kindly send copy of proof of payment to finance@bdssouthafrica.com / 0866664995 for receipt.