PRESS STATEMENT:
Brazil rejects Israeli Ambassador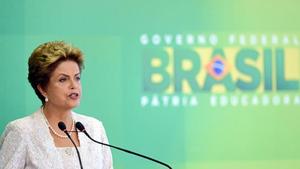 Brazil has objected to Israel's appointment of Israeli Ambassador Dani Dayan because of his former role as the head of an Israeli settler movement in the occupied Palestinian West Bank and his continued residence in an Israeli settlement. Israel's settlements are considered illegal under international law.
In response, Israel has threatened Brazil that it will downgrade diplomatic relations unless it accepts Dayan, an Israeli settler, as its ambassador. Relations between the two countries have been tense since 2010. They soured further last year when Brazil withdrew its ambassador from Israel in diplomatic protest against what it called the "disproportionate use of force" by Israel in its attacks on the Palestinian Gaza Strip.
Click here for a BBC article on the issue.
-----

Earlier this month, the leadership of BDS South Africa (BDS SA) held a successful bilateral meeting with Pedro Charbel, the Latin America BDS representative and coordinator. BDS SA shared South African BDS successes, victories and campaigns. In addition, Charbel briefed BDS SA on BDS developments and successes in Brazil and Latin America. Some of the latest BDS boycott of Israel victories and successes in Latin America include:
1.The Brazilian province of Rio Grande do Sul, in December 2014, cancelling its collaboration with the Israeli military company Elbit Systems.
(Brazil)
2. Argentinian authorities in Buenos Aires suspending, since March 2014, a $170 million water treatment deal with the controversial Israeli state water company, Mekorot.
(Argentina)
3. In October 2015 four Colombian film festivals joining the cultural boycott against Israel.
(Columbia)
4. The largest trade union in Uruguay (PIT-CNT), two major Argentinian trade unions, and Brazil's largest trade union (CUT) all endorsing the BDS boycott of Israel and calling for the regional economic bloc, Mercosur, to end its Free Trade Agreement with Israel. (Uruguay)
5. The Student Federation of the University of Chile (FECH) endorsing the academic boycott of Israel and subsequently withdrawing its support from university events sponsored by the Israeli Embassy.
(Chile)

6. Latin America's largest university, the University of São Paulo (USP) ending its partnership with Israel's Ariel University, preceded by its students' higher representative congress endorsing the BDS boycott of Israel. Similar academic boycott of Israel endorsements in Argentina by over 100 faculty members, associations and Departmental Boards.
Inspired by the successful boycott against Apartheid South Africa, in 2005 Palestinian civil society issued a call for boycotts, divestments and sanctions (BDS) against Israel until it meets its international law obligations. Today the BDS movement is active on various continents and countries. A recent United Nations report
found
that between 2014 and 2015 Israel lost 46% in Foreign Direct Investments (FDI) due to, amongst other things, international boycotts.
BDS South Africa, as a South African partner of the international Palestinian BDS movement, is motivated and encouraged by developments in Latin America and elsewhere across the
globe
.

ISSUED ON 30 DECEMBER 2015 BY KWARA KEKANA ON BEHALF OF BDS SOUTH AFRICA.
Pedro Charbel (BDS National Committee Coordinator, Latin America): +5511976035014
Kwara Kekana (BDS South Africa): +27 (0) 74 054 3826
BOYCOTT, DIVESTMENT AND SANCTIONS AGAINST ISRAEL in SOUTH AFRICA (BDS SOUTH AFRICA)
10th Floor | 23 Jorisson Street | Braamfontein Centre | Braamfontein | Johannesburg
PO Box 2318 | Houghton | 2041 | Johannesburg
T: +27 (0) 11 403 2097 | M: +27 (0) 74 054 3826 | F: +27 (0) 86 650 4836
BDS South Africa is a registered Non-Profit Organization. NPO NUMBER: 084 306 NPO
BDS South Africa is a registered Public Benefit Organisation with Section 18A status. PBO NUMBER: 930 037 446