Notices for Offshore Residents of Pittwater, Australia


---
Australian architect recognised for contribution to sustainable design

Acclaimed Australian architect, Richard Leplastrier

http://www.ozetecture.org/oze_NEW_portfolio_richard.html has been awarded the Dreyer Foundation Prize of Honour 2009. Leplastrier is recognised for his "understanding of the true meaning of sustainability".

The Melbourne-born Architect studied at the University of Sydney and worked closely with Jorn Utzon in the late 60s, before relocating to Kyoto to study traditional Japanese architecture and working under Professor Kenzo Tange.

Leplastrier returned to Sydney in 1970, establishing his own practice and has since received an array of accolades including the 1999 RAIA Gold Medal and The International Spirit of Nature Wood Architecture Award in 2004 for his outstanding contributions to sustainable design.

Renowned for utilising materials sourced from close by, Leplastrier favours wood in his projects – preferably recycled and veneer.

Dryer Foundation board member Lene Tranberg explains "The legacies of Jørn Utzon, Kenzo Tange, and the classic Japanese building tradition are continued in the most beautiful way [in Leplastrier's work] – creating human experiences of exceptional elegance and simplicity.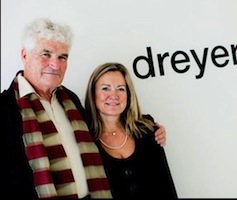 "Within the realm of architecture, he has imbued the term 'sustainability' with a deeper meaning through the ideas expressed in 'Let's cultivate less!'."

The Dreyer Foundation aims to promote initiatives within architecture and law that further the professions within society. Since 1982 The Dreyer Foundation of Honor each year has awarded around $90,000 to an architect and a lawyer who have made a significant contribution to their field.

The 2009 focus of the awards was on climate and sustainability and also honoured Danish Lawyer Birgitte Refn Wenzel (pictured below).



The recipients of the Dreyer Foundation Prize of Honor '09, Richard Leplastrier and Danish Lawyer Birgitte Refn Wenzel

-

Photos: Carsten Snejbjerg



---
For Sale




If you have something for sale that you think locals would like - let us know and we will put an entry in the PON at the beginning of each month...





Boatshed Sale


Start Time : 9am Saturdy 7th November
Location: Blue boatshed - 3rd jetty South of Cargo Wharf
Bob La Forest


---