---
New One-Way System announced for Scotland Island





Pittwater Council, SIRA and the RTA have announced

the immediate implementation of a one-way system for Scotland Island at the special meeting held on Friday evening. Effective as of this morning,

all vehicles are to travel in a clockwise

(looking down from above) or "widdershins" direction along Richard Road, Robertson Road and the part of Thompson Street that joins the two on the East side. All vehicles travelling from Bell to Tennis must go via Cargo, Tennis to Bell is via Carols. The Southern part of Thompson Street is to be travelled in a generally West - East direction and vehicles may go UP Hilda Avenue and DOWN Cecil Street.

The Bush Regeneration group have hailed the announcement saying that this eliminates the need for passing places and will allow for more vegetation to flourish at the roadside. The Rural Fire Service have also welcomed the scheme as it will allow them to get to anywhere on the island in a predictable time frame without having to worry about meeting Jack in his truck hurtling towards them. There was a small objection from Scotland Island Lodge as guests who leave the lodge will have to circumnavigate 95%
of the island in order to get to Tennis. Fares for the community vehicle will rise from $14 to $15.25 to compensate for the extra fuel needed to get to, from and back home for a journey.

Once the scheme has become established it will be extended to include Florence Terrace where vehicles will be allowed to travel North (i.e. towards Tennis) during odd hours and South (away from Tennis) during even hours. Similar regimes are being devised for the fire trail.

A spokesman for the RTA said that the scheme prepares the way for the bridge over from Church Point to where Vivian Street joins Richard Road. Furthermore, it will eliminate the need for 79% of the car park at Church Point which will be turned back over to a picnic and dog exercise park.

SIRA is now looking for volunteers to man the roads for a short time to ensure users are circulating correctly. For more information, please click here:
http://www.scotlandisland.org.au/newsletters/PON_April_followup.html



---
Contents
---
Gwyn's Drawing




La Tour de McCarrs Creek Rd.

To download a full version (A4 size) of the drawing, ready for printing, just click on the calendar image.

You can contact Gwyn Perkins by email at g.perkins@gwyn.com.au


The file is quite large and in PDF format. To view PDF documents you will need the Adobe Acrobat Reader installed on your computer.

To download Acrobat Reader please

click here

---
Thompson Road Rehabilitation Works
Please be advised that rehabilitation works to repair the land slip on Thompson Road will commence next week April 2 and will continue until the works are properly completed. This should take up to 3 weeks.



Please do not park any vehicles in the area at the intersection of Richard Road and Harold Avenue

, above Carol's Wharf, to allow passage around this corner for Council vehicles and equipment. Please ensure your vehicle is parked elsewhere from Tuesday, April 3 to Thursday, April 5 and Tuesday, April 10 to Thursday, April 12 inclusive between the hours of 7:00 a.m. and 4:00 p.m.

Thank you for your co-operation.
Roy Einarsen
Principal Engineer - Works
Pittwater Council



---
Pittwater Offshore Wine Syndicate
TASTING TODAY from 3pm-5pm

At last! The tasting notes and the price list for our

next tasting on April 1st

. No fooling!
Passing my expert eye over the notes (and the prices) leads me to want to order all of them, but sensibility has cut in, my wallet is thin and my manager is looking darkly....

Winter is traditionally a time of roasted meats and full wines, so take a special look at the Ballast Stone Shiraz - sure to be fabulous!

So: The tasting is to be held on

Sunday April 1st from 3pm

at the cellars, I mean

home, of Julian and Nathalie Muir, 58 (Lot 172) Richard Road

. If you are new to our tastings, the map below will show you the Muir residence.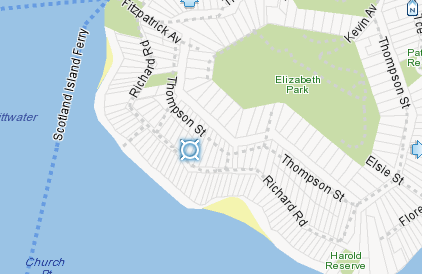 The list of wines and the tasting notes can be accessed by clicking HERE

Bring a tasting glass, some food to share and a good friend.

In the meantime, please remember to make a note in your diary, ask your neighbours and friends to keep the date in mind and clear out your cellar ready for the next offering from the Wine Syndicate!



If you want further information, you could ring:



George Gaal 9979 9141
Alan Gaines 9979 2070
Julian Muir 9999 4449 <- Tasting to be held here
Paul Purvis 9979 9667
Greg Roberts 9979 5228

And You can invite your neighbours by suggesting they visit pittwaterwine.net46.net where they can sign up to receive our quarterly 'notice of tasting'



---
Pasadena: Site lost to developers
MANLY DAILY
30 Mar 12 by Kathryn Welling
PITTWATER Council tried to buy the Pasadena waterfront site for the community and bid up to $2.3 million, but it has been sold to developers for $2.4 million.

General manager Mark Ferguson was at yesterday's auction and authorised staff to bid up to $2.3 million of ratepayers' money for the former wedding venue and restaurant, which has been empty and the subject of court cases and development indecision for some years.

"The acquisition would have contributed to the overall outcomes contained within the Church Point plan of management and would have provided a community hub for Church Point," Mr Ferguson said after the auction.

Once the council dropped out of the bidding, there was only another $100,000 made in bids at the auction before the hammer fell at $2.4 million, with local developers the new owners.

Real estate agent Jack Elsegood, of Domain Residential, said eight parties fought for the prime site, right next to the Church Point wharf and post office.

It consisted of 632sqm of land and for decades was a prestigious function centre and waterside restaurant.

The sale brings to an end the long-running saga of Giuseppe and Mary Romeo who had owned the site for decades, before being caught by debt and seeing the once-renowned venue taken over by receivers.

Several years ago the couple tried to develop the site with three $4 million apartments offered off-the-plan. There were also plans for four shops, a terrace and a 13-car basement. Then they offered it for sale as a development site in July 2010.

Last year the couple were ordered to repay more than $3m million to a relative after ``crippling'' debt had blown out from $5.5 million to $15 million.

At the time Supreme Court judge Justice Sackar said Mr Romeo had been ``prepared to say anything that comes into his head which he considers helps his case, however objectively absurd it is''.

The Romeos had been in disputes with the council and the Land and Environment Court over developing the site.

END OF AN ERA

1980s: Pasadena was a popular restaurant and function centre
2009: Romeos decide to develop the site and get approval for three luxury apartments on the site
2010: Family decide to sell the whole site but can't find a buyer
2011: Supreme Court orders Romeos to repay relative more than $3 million after debts mount up
2012: Receivers take over and site sold at auction to a local developer



---
Kids Art Workshops
WEDNESDAY 11TH APRIL
9-11AM - MAKE YOUR OWN PAPER - $30
12-2PM - OWLS AND THEIR ENVIRONMENT - $30

THURSDAY 12TH APRIL
9-11AM - PET TEA LIGHT CANDLES - $30
12-2PM - TOTEMS - $30



Click image to load flyer

For more details please contact TRACY SMITH 0400311157
tsmith@estudioeditions.com.au



---
Pittwater Council Equipment Removed

Council's blower was removed from the storage area under the Kindy (old Café area) sometime between the afternoon of Friday, March 16 and the morning of Monday, March 19. It is a STIHL, large model, and is identified with Council's engraving on the body of the equipment.

If anyone has borrowed it or has any information as to its whereabouts, please contact cassgye@spin.net.au or leave phone message on 9979.5853 or return it to the space under the Hall that leads to entry to Toilets for Council staff to collect.



---
International Women's Day


International Women's Day was held this year in the Elvina Bay Fire Shed thanks to Lisa Atkin's initiative.



It was hosted by the Off Shore Grameen Group ( OGG) & more than 50 guests arrived, undaunted by cold & rain, for a 7:30 breakfast.

With the help of Elvina Bay and Lovett Bay friends & neighbours Lisa provided a delicious 4 course breakfast. Nila Chambers gave an inspiring & informative talk about the plight of the World's poor & how microfinance loans help women to set up businesses & educate their children.

Generous Raffle prizes were donated by The Pittwater YHA, Susan Duncan, Denise Leith, Nathalie Muir & Kath Scanlan.

$900 dollars was raised, enough to provide loans for 6 Women.

A huge THANK YOU to all who volunteered & all who came.

If you'd like information about our group Email < amberellis@bigpond.com> or PH: 9997 3078



---
Mona Vale Public School's mystery time capsule



30 March 2012





Mona Vale Public School's missing time capsule

is the stuff of a ripper mystery movie with the principal of the time taking the exact location of burial to his grave leading to an extensive hunt using a metal detector and builder's X-ray.

This year marks the school's centenary and as part of the calendar of activities, staff and students were hoping to remove the time capsule buried in secret in 1975 by principal Tom Le Sueur.

MVPS' relieving principal Greg Jones said, "As all other avenues have been exhausted, the school is making a final attempt to see if anyone in the community might have information or the latest equipment that might lead us to the time capsule's location.

"It would be a wonderful addition to our centenary year if we could finally solve the mystery."

It is believed the capsule was buried near the school's front gate or interred in the sandstone ornamental wall at the Waratah Street entrance. Principal Le Sueur organised the time capsule to be buried and staff and students were not privy to the location.

The school's historian and longtime teacher, Bev Lewis, has spoken without success to former staff and parents from the mid 1970s and those involved in the wall's design and construction. She has also visited the groundsman at the time, Archie Homer, however he wasn't able to shed any light.

Lewis and Year 5 teacher, Melissa Stevenson, have spent a significant amount of time and resources trying to locate the missing capsule and its unknown contents. Stevenson had a builder X-ray the wall while Lewis has tried to locate the capsule with a metal detector, to no avail.

Ms Lewis recalls, "I remember the burial in 1975 and feeling bothered that my Year 5 class were not allowed to put anything in the capsule, as it was too small, and also not being allowed to see where it was interred.

"Within the community there maybe someone with information or who owns the latest style of metal detector and be an expert in its use," she added.

Celebrations for what is a very significant milestone will go ahead at MVPS with or without the 1975 time capsule.

As part of the centenary activities the school's students are currently working on items for a time capsule that will be dedicated at the April 27 special assembly, one of the events planned to mark the school's 100th anniversary. This capsule will be removed and opened in 50 years' time, in 2062.

"The school has learnt an important lesson and we will make it more widely known where we are burying the time capsule this time around," added relieving principal Jones.

If you have any information on the location of the 1975 time capsule, please email the centenary committee via mvpscentenary@gmail.com or phone the school office on 02 9999 3481.

Media information:
Greg Jones (MVPS relieving principal)
m. 0425 225 587 or greg.jones@det.nsw.edu.au

Lisa Ratcliff (OCC/Centenary PR advisor)
m. 0418 428 511 or lisa@occ.net.au



---
Bodhasara discussions with Swami TV

Grahame and I launched our book 'Bodhasara' at the "Gone Fishing Gallery' last year.

We are holding interactive discussions on Bodhasara at our Island home at 24-26th April this year.

Everyone interested is welcome.



Swami Tattvavidananda (or Swami TV) is a great scholar full of warm humility. Born in a small Indian village near Hyderabad, he loves poetry, and particularly loves Bodhasara. He has already given some classes on Bodhasara in the USA and plans to give more in India and the USA. He has a PhD in both Chemistry and Sanskrit and prior to becoming a Swami lived the life of a professional university academic.

www.bodhasara.com gives some info and insights into our book.



Venue:

111 Florence Terrace, Scotland Island (5 houses South of Eastern wharf – next to 'wave' house)


Dates:

April 24th 2-5pm, April 25th 9-12, 3-6, April 26th 9-12, 3-6 (times may change)

Please contact me by email, 0409 560008 or 02 95606713 (9997 8724 over Easter) if you would like to find out more.

We need to know numbers so please let us know if you are interested in coming.

See you there,
Jenni and Grahame Cover



---
Scotland Island Community Garden Update

Last Friday fortnight we had seven adults with a lovely bunch of children show up to lend a hand in the community garden. The children discovered many treasures playing in the soil, some even saw a baby lizard been born. The community spirit was buzzing and most of the veggie patch was cleared



How can you be involved?

We are accepting donations from the community such as garden supplies that you may have lying around; a bag of mulch fertilizer or even guarding tools would be of great use.
We have had a worm farm donated already and could do with another one!

A reminder to every one that would like to be involved we meet at 4.30 to 6.30 Friday afternoons. We would love to see you there, or if you would like to show some support another way please contact Tamie on 0402 583 230



---

AUTHOR TALK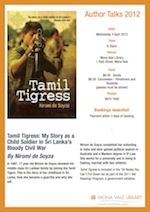 Tamil Tigress: My Story as a Child Soldier in Sri Lanka's Bloody Civil War




By Niromi de Soyza



The book tells how in 1987, two days before Christmas, Niromi finds herself in an ambush as part of a small platoon of militant Tamil Tigers fighting government forces in the civil war that engulfed Sri Lanka for decades.

With her lifelong friend Ajanthi, also aged 17, the teenagers become part of the Tamil Tiger's first female contingent, equipped with little more than a rifle and a cyanide capsule.

Niromi's group managed to survive on their wits in the jungle, facing not only the perils of war but starvation, illness and growing internal tensions among the militant Tigers.

She then recounts how events erupt in a way that she could no longer bear.

The book sheds light on how this well-educated, mixed-race, middle-class girl from a respectable family came to be fighting with the Tamil Tigers.

Today Niromi lives in suburban Sydney with her husband and two young children. She speaks fluent Tamil and Sinhalese, but writes beautifully in English. For many years she has worked for the Red Cross in Sydney.



Author Talks 2012




Date:

Wednesday 4 April 2012


Time:

6.30pm


Venue:

Mona Vale Library
1 Park Street, Mona Vale


Cost:

$8.00 Adults
$6.00 Concession - Pensioners and Students (passes must be shown)


Phone:

9970 1600
Bookings essential!
Payment within 3 days of booking


Click image to load flyer




---
Tarrangaua Open House for Palliative Care at Mona Vale Hospital




by




Susan Duncan




Rotary Club of Pittwater




Church Point Ferry Service




March 24th 2012, Lovett Bay




Susan Duncan and Bob Story have experienced, like so many Australians, losing loved ones through the horrendous ordeals of cancer. Every second year they affirm their commitment to do their bit towards helping others by having an open house to raise funds for worthwhile projects. This year they nominated the Palliative Care center at Mona Vale Hospital as what they would support and the Rotary Club of Pittwater, who have an ongoing project to raise funds for MVH Palliative Care's 'The Cottage' as the volunteers and co-presenters thanks to Dianne Elliott, wife of Rotarian Doug, asking Susan to at a recent book signing.


Tarrangaua, the home they open to visitors, holds a special place in the hearts of many as it is the classic house built by poet Dorothea Mackellar in 1925 as a summer retreat. Mackellar, author of the iconic poem "My Country", became locally famous as an occasional resident, reclusive and eccentric.

Situated above the clear green waters of Lovett Bay, its name is no accident. The words "high, rough hill" translate into the Aboriginal language as Tarrangaua, the name given to this home by Dorothea Mackellar. Tarrangaua has recently become famous in Susan Duncan's award-winning memoirs - Salvation Creek (2006) and The House at Salvation Creek (2008) - and her gorgeous pictorial book A Life on Pittwater (2010). To visit this wonderful residence and its beautiful grounds was a little like going for a romp with this Australian poet over soft green lawns beneath tall gum trees in what is Autumn splendour.



There is a house on a high, rough hill that overlooks the tawny green waters of Lovett Bay. It is pale yellow, with three chimneys and a red tiled roof spattered with lichen. An elegant verandah, with stately columns and polished wooden floors, stretches from end to end and on a still summer evening it is quite magical to dine there, watching the light fade and the birds fly home.




- Susan Duncan, Salvation Creek: An Unexpected Life



On the ferry over deckhand Roz pointed out the points, landscapes and homes of more iconic Australians such as Chips Rafferty's old home, whom Dorothea is said to have visited on occasion, swimming across the bay. Those on board look one way then another as old buildings, old ferries and water courses are described. We disembarked at a blue boatshed and climbed the stone steps to the lawns surrounding Tarrangaua and went looking for Dorothea… Susan and Bob.

The current lady of the house was busy in the kitchen. Susan has gained a reputation for excellent food with offshore folk and would brook not one toe over the doorway. Tall, bubbly, with keen eyes behind her glasses, this lady was clearly enjoying speaking with and feeding all who came and willingly autographed books that had been brought and posed for photographs. Her generous spirit is palpable. Husband Bob had thrown open his men's shed so the great artists from Gone Fishing Gallery could contribute to the day by displaying paintings, prints, photographs and more with a portion of all sales going towards the Palliative Care Centre at Mona Vale Hospital. Bob, like all volunteers on the grounds, was working hard to ensure all who came felt at home and comfortable in the building and grounds. Those we saw seemed quite settled on chairs, benches and the grass, glasses of wine and food in hand.



In a study off behind the kitchen Margaret Molloy, offshore lady for more then four decades, was reading some of Dorothea's works and giving insights into their creation. Some of Mackeller's personal possessions could be seen, including Dorothea's lovely flowing handwriting.

At the top of the stairs from the Lovett Bay jetty the magnificent view back across the bay past Rocky Point towards Church Point gave visitors pure Pittwater at its sunshine best. Behind the house rises the unspoilt Ku-ring-gal Chase National Park, a magnificent 154 sq km expanse of wilderness encompassing diverse vegetation, sandstone escarpments and picturesque waterways. First inhabited by the Garigal people, it became a national park in 1894.

It would be a waking vision to return to another Tarrangaua Open House and flit with Dorothea across the lawn, dwell under the towering gums and hear her voice, and the wordsmith who breathes there now, murmuring among the brilliant eucalyptus shimmering leaves. This place is special. You feel it as soon as your foot touches its earth. To be able to visit for such a great cause doubles your happiness.


Special thanks are due to the following who all gave their time, selves, services and products to support this great day; Susan Duncan and Bob Story, Rotary Club of Pittwater members, volunteers and supporters, Church Point Ferry Service (Amelia K and L.Duck were running; Penny on shore, Roz and Tim were on ours as deckhand and Ferry Master respectively), HammondCare (Stewart James, CEO), Kennards Hire, Mona Vale, Max Value Pharmacy, Centro Warriewood, MyShuttle Pty Ltd Avalon, (David Cosgrave) Pittwater Council, Pittwater High School, Pittwater YHA, Broken Bay Lighterage (Toby Jay and Dave Shirley) Waterfront Cafe, Church Point, Lisa Atkins, the Gone Fishing Gallery Artists and all the offshore community that gave of their time and themselves with such joyful generosity. Wild mushroom, garlic and beef sausages were from Janet at the Wingham Butchery.



Michael Mannington's Volunteer Photography's Public Gallery:

HERE

Further:
Susan Duncan: http://www.susanduncan.com.au/
Church Point Ferry Service: www.churchpointferrys4ervice.com
Rotary Club of Pittwater: www.rotarypittwater.com
Gone fishing Gallery: www.gonefishinggallery.com.au.



Story and photos Courtesy BayNews




---

Local Council Notices

EASTER HOLIDAY FUN



Bookings are now open for

Pittwater Council's Vacation Care program

running from Tuesday 10 April until Friday 20 April inclusive.

Council's vacation care program offers a wide variety of activities for children from kindy to year seven, with the centre operating between 7.30am and 6pm.

The vacation care is based in the main hall of Narrabeen Sports High School on Namona Street, North Narrabeen.

Pittwater Council's Children's Services Manager, Merron Howard, said children would have plenty to choose from to keep them amused these holidays.

"As well as our popular movie and pyjama day, we've also organised a trip to the Easter Show, Taronga Zoo, The Quarantine Station and a paddling/kayaking trip on Narrabeen Lake," said Ms Howard.

For full program details visit www.pittwater.nsw.gov.au/children

The cost for vacation care is $57 per child per day, which includes all excursions. Rebates are available through the Family Assistance Office. Parents are reminded that a late fee does apply to bookings made after the closing date.

Bookings can be made online or in person at Council's customer service centres at Avalon and Mona Vale. Bookings close on Wednesday 4 April 2012.

Media Contact: Merron Howard Ph: (02) 9970 1167



---
FUN APRIL HOLIDAY ACTIVITIES FOR KIDS



Pittwater Council's Coastal Environment Centre (CEC) has announced the release of its exciting autumn holiday program for kids.

Kids on the Coast offers healthy and fun outdoor activities for 5 to 12 year olds from Tuesday 10 April to Friday 20 April.

Activities include Art Rocks by the Sea, Reptile Romp, Bush Creature Creations, Coastal Capers and new activities such as Aboriginal Heritage & Song, Hermit Crab Mania and Crazy about Cetaceans.

Council's Natural Environment & Education Manager Mark Beharrell said the program encouraged children to explore beaches, rock platforms, headlands, bushland, wetlands and the Narrabeen Lagoon foreshore.

"Kids on the Coast is the ideal school holiday experience. The program gives children the chance to learn about our natural environment in a fun and interactive way," said Mr Beharrell.

Two hour sessions are held from 10am to 12pm and 1pm to 3pm. The cost is $22 per child per session, with full-day sessions available from 10am to 3pm at $55 per child (for standard activities), which includes supervision between sessions (BYO lunch).

Working parents who require extended care for their children can also take advantage of a 9am to 10am session and/or a 3pm to 4pm session. These sessions are an additional $10 each.

The CEC is located at Pelican Path, Lake Park Road, North Narrabeen, only 300m from the North Narrabeen beach entrance.

Book online at www.pittwater.nsw.gov.au/ceckids or call 1300 000 CEC (232). For further inquiries please call Bianca Springford on 9970 1313 or email bianca_springford@pittwater.nsw.gov.au

Media contact: Bianca Springford, Coastal Environment Centre Ph: 9970 1313
23 March 2012



---
HAVE YOUR SAY ON WARRIEWOOD VALLEY





The public is being invited to comment on the future development potential of the Warriewood Valley on Sydney's northern beaches.



A report prepared by Pittwater Council and the NSW Department of Planning and Infrastructure has recommended a variety of residential densities across the Warriewood Valley, in addition to some commercial development and land for recreation and open space.

The report is based on four independent studies by consultants, commissioned as part of the joint Warriewood Valley Strategic Review, which is being undertaken in a partnership between Council and the department. An independent probity advisor has also been engaged to oversee the strategic review.

The four consultant studies on hydrology, urban design, strategic transport and economic feasibility, as well as the strategic review report and interim probity report, are being publicly exhibited from Saturday 24 March to Friday 18 May 2012.

From today, the draft review report and supporting documents can be viewed from 20 March on the Council's website at www.pittwater.nsw.gov.au and the Department's website at www.planning.nsw.gov.au

A community information session is also being held at Pittwater RSL Club on Tuesday 3 April from 6pm, where staff from Council and the department will be available to answer questions and explain the strategic review.

The key outcomes of the draft strategic review report include:

Proposing an additional 269 dwellings, which would result in a total of 2,544 dwellings across the Warriewood Valley Release Area;
A recommended increase in density of up to 32 dwellings per hectare for some individual land parcels; and
A concept plan for the area known as the Southern Buffer, which proposes a range of land uses including open space, recreation, a new mixed-use development and residential development. The Southern Buffer extends from Boondah Road through to Jacksons Road, Warriewood.
The report also identifies flooding constraints and emergency evacuation issues in some parts of the Warriewood Valley and the need for further analysis of these issues.

Pittwater Mayor Harvey Rose said it was important for the local community to make their views known on the changes proposed by the draft report.

"This review is a far-reaching one which will shape future planning for the Valley in the decades to come," Mayor Rose said.

"The key factors for residents to consider are the changes proposed for Boondah Road and the increase in housing density for land that's currently undeveloped."

The department's Director-General Sam Haddad also encouraged the community to provide their feedback on the draft strategic review report.

"This joint strategic review is the result of significant co-operation between the department and Council, and these investigations have examined a variety of important issues which will help shape future planning for the precinct," Mr Haddad said.

"This strategic review is not a rezoning proposal – rather it identifies the key issues, and proposes
increased residential densities in some areas of the Valley.

"Public comments will be taken into consideration in finalising the strategic review, and the report may then be used as the basis to inform future planning proposals to rezone land in the precinct or development proposals. Either of these processes would involve a further opportunity for public consultation before any changes could be made to the development controls that apply in the Warriewood Valley."

The public exhibition period for public comments on the strategic review runs from Saturday 24 March to 18 May 2012 at www.planning.nsw.gov.au/onexhibition and www.pittwater.nsw.gov.au/warriewoodreview.

The documents are also available to view during business hours at:

Pittwater Council – Mona Vale and Avalon customer service centres and libraries; and
Department of Planning and Infrastructure – Information Centre, 23-33 Bridge Street, Sydney

Submissions can be:

Lodged online via the interactive community mapping tool at www.pittwater.nsw.gov.au/warriewoodreview;
Emailed to pittwater_council@pittwater.nsw.gov.au;
• Submitted on the comment form available on the Council and department websites, council customer service centres and the department's information centre; or
Posted to General Manager – Pittwater Council, Warriewood Valley Strategic Review, PO Box 882 MONA VALE NSW 1660.
Council media contact: Steve Evans, Pittwater Council, (02) 9970 1133
Department media contact: Laurel-Lee Roderick, (02) 9228 6128 or 0429 153 139



---
SUPER SENIORS DIRECTORY




A massive directory for all northern beaches seniors is hitting the streets for Seniors Week.



The Services, Activities & Housing Directory 2012-2013 is a one-stop-shop for all northern beaches seniors thanks to a successful partnership between Warringah, Pittwater and Manly Councils.

"We have a vast array of services available for seniors on the northern beaches and now, for the first time, they're all in one, easy to read publication," said Warringah Mayor, Michael Regan.

Mayor Harvey Rose said the directory contained everything from information on retirement planning to fun ways to keep fit. "It's a handbook on healthy ageing," he said.

"It's a collaboration between the three councils on the Northern Beaches, so wherever you reside from Manly to Palm Beach, there are contacts in the guide for your social and everyday needs" said Manly Mayor Jean Hay.

The directories can be found at Council's Customer Service; Libraries, Community Centres or online at the council websites.

If older people with mobility problems have difficulty assessing the directory - contact Aged Services and you will be sent a copy.

29 March, 2012
For more information please email media@warringah.nsw.gov.au or call 9942 2678


---
For Sale




Buffet Cabinet


In very good condition. all offers considered.
Kelly 0415 900 508


---
Dinghies


DE HAVILLAND RUNABOUT 4m LONG aluminium
&
Aluminium runabout 3.40m long

Price for each $500 ono
9958 6383 or 0451821461 evenings



---
The Local Guide
Community Information
Scotland Island Web Site

www.scotlandisland.org.au

What's On in Pittwater - Self Editing Event Calendar

click to go to the Calendar

Scotland Island Community Vehicle -

0404 103 700
Number, Usage & Charges

Scotland Island Rural Fire Brigade -

9999 4404
http://www.sirfb.org.au

West Pittwater Rural Fire Brigade

- 9997-3795
www.westpittwater.rfsa.org.au

Offshore Photo Gallery

http://picasaweb.google.com/offshoregallery/
Scotland Island Residents Association (SIRA) Membership Application

- click here to download
West Pittwater Community Association (WPCA)

- http://www.wpca.org.au
Scotland Island Water


SI Emergency Water Contacts and Guidelines for water: click here for information and contacts
Scotland Island 'Water Agreement' - click here to download
Scotland Island Children's Centre

- (SIOCS - Scotland Island & Offshore Childrens Services)
Catherine Park (Long Day Care Service) 7.30am - 5.30pm (Tues, Weds, Thurs & Friday)
Other services include: School Holiday Programme / Facility & Equipment Hire
For information call 02 9979 7856 or email: siocs@comcen.com.au
Scotland Island Community Hall Bookings:

Kez on 9999 4092 or kezborthwickbolton@gmail.com
---

Transport
---
Real Estate
---
Services, Clubs & Accommodation
---
Island Classes (Fitness, Dance, Art etc)
Pilates, Meditation and Group Fitness with Patrice

- 0406 483 036 patrice.corrie@gmail.com
Anusara Yoga

- Thursdays - 0421762236 dominiquemarill@gmail.com or floydcbg@ozemail.com.au
Art with Max

- Watercolour classes. Phone Max on 9997 4527
Art Classes

- drawing and painting in oils, acrylics and mixed media- Marion 9979 3993 or 0431 457 431
@ Nathalie's Table - Cooking Classes

- Mediterranean cooking fortnightly - Nathalie - 9999 4449
Dru Yoga

- Tuesday evenings - Phone Katya on 0414 187 916
---
Groups
Gurdjieff / The Forth Way

- Call John on 9979 5584, Marion on 9979 3993 or Anne on 9999 3478
Island Kinesiology Clinic

- Mondays on SI Phone Jen Cudmore 0425 212 849
Green Group For Catherine Park

- Run by SIOCS - Emmie Collins on 0405 330 781
WOW - Women on Water

- second Wednesday of the month - contact Nila on 9999 2445
Parents & Kids Groups Playgroup

- Run by SIOCS - email Emma trysemz@tpg.com.au
Scotland Island Players

- contact Bob or Kez on 9999 4092
Catherine Park Bush Care Group

, 2nd Sunday @ 9.30am, Sharon Kinnison @ 9997 6017
Elizabeth Park Bush Care Group

, 1st Saturday @ 9 am, Bob Bolton @ 9999 4092
Island Thinking Group -
Roy Baker, 9999 6891, roybaker99@yahoo.com
Offshore a capella choir

– Saturdays at 2:30 pm, SI Community Hall. Call Gordon on 9997 2035.
---
Government Organisations
---
Airlines, Buses and Railways
---
Weather
Scotland Island Tides, Moon phases, Sun rise & set
Local Weather Forecast

Radar weather for Sydney (128k circle)
---
Emergency Contact Numbers
ALL EMERGENCIES (Police - Fire - Ambulance)
000
Police Assistance Line & Information
13 1444 or 9281 0000
Broken Bay Water Police
9910 7899 or 0412 162 093
Marine Rescue Broken Bay - Weekend

(02) 9999 3554 - (02) 8411 1121

Marine Rescue Broken Bay - VHF Radio channel

VHF Radio Channel: VHF 16
27MHz Radio Channel: 86 or 88

Scotland Island Rural Fire Brigade
9999 4404
NSW Fire Service General Information 9265 2999
9265 2999
Rural Fire Service General information
9450 3000
State Emergency Service, Warringah/Pittwater SES
9486 3399
National Parks & Wildlife Service: 000, general information
9457 9322
Dept of Community Services: general information
9977 6011
Sydney Water
132 090
Energy Australia
131 388, (ah) 131 909

---
Join SIRA
You can now join the Scotland Island Residents Association by
clicking here.
Please print the page and return the completed form to SIRA at this address:
The Treasurer, SIRA, PO Box 70, Church Point 2105.
Please NO CASH.

Contact SIRA at
sirapittwater@gmail.com
Join WPCA

To join the Western Pittwater Community Association, contact Michael Wiener at
m2wiener@bigpond.net.au
---
Archived Newsletters


A complete set of past electronic newsletters since May 2000 can be found and read at https://ymlp.com/archive_gesgjgm.php or by clicking here or by visiting the Mona Vale Library.

The Island website is at www.scotlandisland.org.au


---
To Contribute


If you would like to contribute to this newsletter it's easy!. Send an e-mail to the editor (editor@scotlandisland.org.au) or by clicking here. Type your contribution (100 words or so would be fine) and assuming it is of general interest to the community, does not include matter of a political nature and is not offensive, it will appear next month.

Subscription Information


To get on and off this newsletter,

click here

or got to:

http://www.scotlandisland.org.au/signup .


To change your address, click the 'modify' link at the bottom of this newsletter or send an email to the

editor@scotlandisland.org.au


---
Follow the PON
---
The Online Local Contacts Guide
Click HERE to load
The views expressed in this newsletter are not necessarily the views of the Scotland Island Residents Association (SIRA), or the Western Pittwater Community Association (WPCA)

---