---
Pittwater Waterway Review: Our Waterway Future

Dear Community Member,

It is very important that the Offshore communities participate in Pittwater Council's current Waterways Review.

This review will provide information for a Discussion Paper and engagement with the community prior to the release of the draft Pittwater Waterway Review: Our Waterway Future.

This review is being undertaken to improve the management of the Pittwater waterway now and into the future.

Amongst many questions the review will consider:

Management of pollution from sewerage, stormwater and sediment run-off
Transport access for Offshore communities; parking and public wharf facilities
Public access to foreshore; protection of visual and aesthetic qualities
Boat tie-up facilities; demand for dinghy storage
---
Gone Fishing Christmas Sale
'Top Room' on Saturday afternoon 28th November 3 - 6pm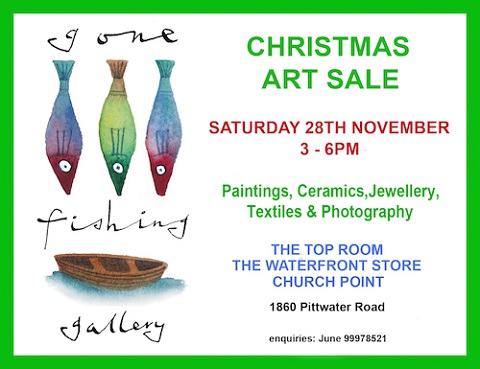 Please join us at the Top Room on Saturday afternoon 28th November 3 - 6pm


An opportunity to see and buy some beautiful and unique artworks from your favourite local Artists.


Carole Corie
Paul and Tracy Smith
Diane Watts
Michelle Ball
Nettie Lodge
Ellie Shore
Marion Van den Dreisschen
June Lahm
Eunice McAlister
Visa or Mastercard payments available.



---
---
The views expressed in this newsletter are not necessarily the views of the Scotland Island Residents Association (SIRA), or the Western Pittwater Community Association (WPCA)
---
---