Are you a Colorado Innkeeper? Bed & Breakfast Innkeepers of Colorado is the only Bed & Breakfast Association in our state exclusively representing bed and breakfasts. We will be updating our state guide in Spring and would be pleased to include your inn as a new member, so hurry and join now! We send guests directly to your official website and distribute print brochures to all Colorado Welcome Centers. Our quality standards assure guests of a comfortable stay and provide marketing opportunities. Click here for Membership Information, an online application and self-evaluation checklist.
---
Springtime Parsley Deviled Eggs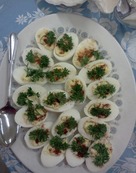 3 T mayonaisse or salad dressing
fresh parsley, washed and chopped
Directions: Place eggs in a large pot and bring water to a boil. Boil eggs uncovered for a minimum of 15-20 min. Immediately remove pot from heat and rinse with ice cold water. Let stand in cold ice water for approximately 15 minutes (you can also add ice to make the water colder as this will make them easier to peel). After cooled, peel eggs and cut in half lengthwise.
Separate yolks from the whites and mash yolks in a bowl. Add mayo, pickle relish, sugar, yellow mustard (spicy mustard can also be used), vinegar, salt, and pepper to the egg yolk mixture and mix until smooth. Spoon yolk mixture or use pastry bag to pipe into the egg whites. Arrage on an egg tray or attractive plate, sprinkle with paprika and chopped parsley. Refrigerate until chilled, at least 1 hour and serve. Makes 24.

Enjoy more Recipes from Bed & Breakfast Innkeepers of Colorado! Order our Bed & Breakfast Innkeepers of Colorado Cookbook and take a taste of Colorado inns home with you! Special price of only $15 with FREE shipping. Colorado Culinary Inn-Spirations Cookbook Order Online.
---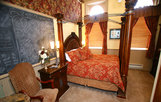 Carr Manor is offering a March Special of 10% off weekend nights. March is upon us and the Carr Manor has a sweet deal you can take advantage of any weekend in March. You may be working on your taxes, celebrating St. Patrick's day, dealing with March Madness basketball or celebrating a Birthday or Anniversary. Whatever your reason, take a day or two and escape to the Carr Manor in Cripple Creek. Call 719-689-3709 and ask for the March Friday or Saturday night Special of 10% off your stay (excluding executive suites).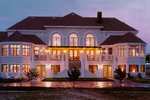 Claremont Inn and Winery located in Stratton, offers Cooking Classes and coming up: March 21st – Pasta 102: Expand your knowledge and techniques in preparing dishes using fresh pasta dough, homemade sauces, fresh herbs and more. April 11th - French – Essentials of Provencal Cooking: Provence is a gastronomic paradise were French techniques meet Mediterranean elements like garlic, basil, olives, lavender and honey. Throughout this enchanting class you will learn essential techniques to make simple and aromatic dishes that burst with flavor. April 18th - Hand-made Filled Pastas: Nothing beats the rich flavor and texture of handmade pasta. In this class we will create some rich fillings and learn how to stop ravioli, tortellini and cannelloni.
Spring Murder Mystery - April 25, 2020:
Are you ready to be a star? Or at least a ham? A starring role in a Claremont Inn & Winery Murder Mystery Dinner Party is the perfect place to test your chops. You'll get to dress up, act up and just possibly get away with murder! Visit the website or call 719-348-5125 for more information.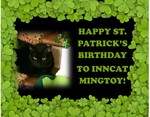 Holden House 1902 Bed & Breakfast Inn Celebrate the Luck O' the Irish with two save some green discounts through March! Stay 3 get 3rd free any day of the week or Stay 2 get 2nd 50% off Sunday-Thursday. Must be booked directly on the inn's official website to take advantage of offer and special cancellation/deposit policy required. And, to top it off, wish InnCat Mingtoy a happy St. Patrick's Day birthday in March and receive a free breakfast ensuite Romance Package one morning of your stay ($15 value). Just say "Happy Birthday Mingtoy" when you reserve online or mention when booking with a personal innkeeper at 719-471-3980 anytime for a stay during the month of March.
Visit our member websites and you'll
be assured high standards when you
Did you know if you #BookDirect you can save time & money?
#BOOKDIRECT
AND SAVE!
~
with direct links to our bed and breakfast association members in Colorado
In This Issue
Quick Links:
~
Let's Get Social! Join us on
Social Media
~
Miss a newsletter? Check out our
Archive
of past