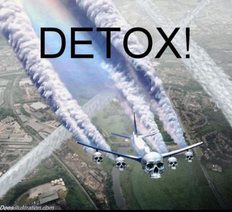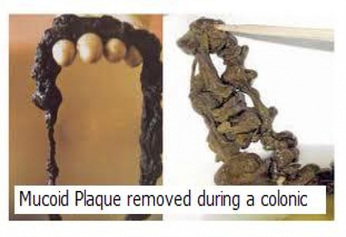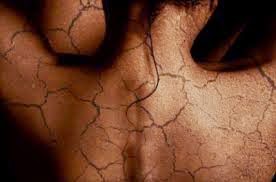 Mucoid Plaque is a thick rubbery residue (shown above) that coats the walls of our intestines, blocking our ability to absorb nutrients from the food we eat and the supplements we ingest, and it MUST be REMOVED or our immune system is SERIOUSLY COMPROMISED putting us at risk of getting Morgellons disease from the weaponized parasites being sprayed on us via chemtrails!
In this Alert I will explain how you can easily REMOVE this toxic Mucoid Plaque as I have, increasing your energy level by 70% as I did, you'll be glad you did! Along with taking sulfur twice a day, removing your mucoid plaque and constantly detoxing is the best way to prevent getting Morgellons disease and being biologically microchipped by the weaponized parasites being sprayed on us for population control purposes!

This foul smelling plaque putrifies inside your body acidifying you, driving your ph down below 7.3-7.4, impairing your cells ability to absorb oxygen, wrecking your immunity, making you very prone to every sort of degenerative disease you can name: cancer, heart disease, diabetes, depression, it causes brain fog, makes you far more susceptible to getting colds and flues and if you want to increase your energy level by 70% as I did when I jettisoned mine, you CAN!
Please watch this short youtube to see first hand what this stretchy rubbery mucoid plaque looks like and I feel sure you'll want to REMOVE YOURS as I did so that you can properly absorb the nutrients from the food you eat and the supplements you take (otherwise most of those expensive supplements are just passing right through you and into your toilet!)
YOU MUST FIGHT BACK! WE ARE UNDER ATTACK BY BILLIONS OF TONS OF
AEROSOLIZED HEAVY METALS, TOXIC CHEMICALS, AND WEAPONIZED PARASITES BEING SPRAYED VIA GEOENGINEERING! YOU ARE BREATHING THESE IN WITH EVERY BREATH!
German Biologist Harald Klaus Vella risked his life to make this video/lecture in which he shows us the weaponised parasites being sprayed by chemtrails. They've been tweaked using nanotechnology to target and weaken specific organs in our bodies. Please show this to everyone you know! Most people don't realize the danger we're all in!
With every breath you take, you are breathing in weaponized parasites such as calembola that has been tweaked using nanotechnology in a bioweapons lab at Stanford University as you can see in this video.
If you fail to do sufficient things to detoxify yourself, you will get sick and will put yourself at risk of getting full blown Morgellons disease which you don't want! Every day I have calls and emails from people who are really struggling to function due to this horrible disease which causes horrible itching, brain fog, depression, and which makes it very hard to earn a living. It kills people. Once you have it, your life becomes a living hell. If you have it, you need to especially do the things I'm recommending here to detox, but if you don't have it, you need to do all in your power to strengthen your immune system!
HOW TO JETTISON THE MUCOID PLAQUE FROM YOUR COLON SO YOU CAN PROPERLY ABSORB THE NUTRIENTS FROM THE FOOD YOU EAT AND THE SUPPLEMENTS YOU TAKE!
Three years ago I had a colonic every week for 5 weeks from one of my sulfur wholesalers who is a colon hydrotherapist. I thought from this that I "must have the world's cleanest colon, but I was wrong!
My girlfriend said "how do you know you're not being ripped off?" "How do you know that herbalist Richard Schulze's bowel detox protocol wouldn't work BETTER and for a LOT LESS MONEY than those expensive colonics you've been bartering for?"
I really didn't know, but I THOUGHT the colonics were the answer because he had state of the art equipment and I felt an increase in energy from doing them, so at first I wasn't very eager to try the herbal detox protocol of Dr. Schulze, but my girlfriend talked me into it.
"O.K." I said, "I'll try it, but I'm not expecting much." I was WRONG!! First I read Dr. Schulze booklet "The 5 Day Bowel Detox", then I read his "Quick Start Guide" (which explains the dietary component to the cleanse.)
I followed Schulze's program EXACTLY, doing his most ADVANCED version because I really wanted to TEST IT, just in case it really worked.
I had to RUN from the bathroom while hitting the switch for the FAN as I FLED from the room it smelled so bad, but my ENERGY LEVEL shot up by 70%, and I started feeling the boundless energy that I hadn't felt since I was 11 years old in my late 50s!
All of this helps the sulfur work that much better for opening up cell membranes allowing oxygen to flood into the cells! After doing the Bowel detox, I went on to detox ALL my organs of elimination: liver/gallbladder, kidneys and blood.
We take better care of our cars by going to Jiffy Lube for regular oil changes than we do of our bodies, and then we wonder why we get sick!
The ruling elite want this planet for themselves. They want to turn us all into non reproducing cyborgs and they're doing it via weaponized parasites that are tweaked using nanotechnology and they're spraying our biosphere with Billions of Metric tons of this stuff!
You will never see this information on the controlled media, so please forward this email to friends, family, coworkers, everyone within your sphere of influence after first remembering to DELETE the unsub link at the bottom, otherwise someone you forward it to might click on it and that would unsub you!
Sulfur open up cell membranes allowing oxygen to flood into the cells. It helps you have an optimal ph of 7.3-7.4 counteracting the effects of the mucoid plaque which acidifies you. Oxygen counteracts the acidified condition in which the weaponized parasites thrive!
Anyone can sign up at no charge to receive these FREE e-alerts by going to this link, scroll down to the sign up menu! Please alert more people, and please repost this email to more websites!