Dear industry professionals,
In a recent report the United Nations reveals that each week the urban population is increasing by 1.3 million people. By 2050 it will probably reach two thirds of the world population.
This reality makes us to reconsider the future vision of cities and transform them into more sustainable systems with less traffic, cleaner air, greener space - saving energy and resources.
The realization of the
10
th
edition 'Energy Efficiency & Renewables' and 'Smart Cities' showed the great progress of many countries in the smart urban development by applying the concept of zero-energy building, automation and control and mobility solutions. The high energy efficiency and diversification of the energy mix will be among the targets of the next programming period 2014-2020, as the focus will be on bio energy, wast

e-
to-energy and PV systems on roofs and facades. Bulgaria has a great hydro potential as 50% of it has been utilized.
The 'EE & RE' and 'Smart Cities' 2015 will be held from 11 to 13 March.
Early Bird Discount is till 1st October 2014
In the present e-newsletter we introduce:
●
Intelligent transport projects in two Bulgarian cities;
●
Japan is interested in investing in RES Bulgarian market;
●
New credit lines support Macedonian economy

;
●
KNXtoday – event media partner.
+ 359
32/512 900
, 960 011, office@viaexpo.com www.viaexpo.com
---
Modernization of vehicles and traffic has started
in several cities
Varna
The first new trolley Škoda 26 TR Solaris arrived in Varna few days ago. There will be 30 new vehicles by the end of September, which will modernize the fleet of public transport. The electric equipment is located in a container on the roof of the vehicle. The trolleybus can be also equipped with an auxiliary diesel generator which is located in the rear part of the vehicle and which makes it possible to drive even in places lacking trolley lines. Škoda 26 TR Solaris features significantly low energy intensity and CO
2
emissions. A system of heating and a clear information system improves the comfort of passengers. A procedure for introducing a traffic control system for notification and ticketing system has opened.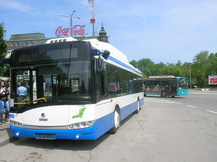 Plovdiv
The project 'Modernization and development of sustainable urban transport' has to be finished
by the middle of June 2015 in Plovdiv. An introduction of electronic fare collection, intelligent traffic management, information boards and GPS systems and bike lanes building are a part of it. The Provdiv Municipality has announced also a competition for choice of a consultant which to identify new investment opportunities and to propose a strategic guidance in the field of transport for the period 2014-2020 and 2025.
---
Japan shows an interest in investing in renewable energy sources in Bulgaria
Bulgarian Vice President Margarita Popova, who was on a visit to Japan, met on 23 May Masaaki Yamazaki, President of the House of Councillors at the Parliament of Japan.
According to the two officials, education, science and culture are the most successful and promising spheres of cooperation between the two countries.
Margarita Popova and Masaaki Yamazaki emphasized on the necessity of expanding business contacts between Bulgaria and Japan.
"

We are interested in investments in the field of renewable energy sources", Masaaki Yamazaki said at the meeting.
---
EBRD loans to boost energy efficiency and support competitiveness of Macedonian companies
New credit lines via NLB Tutunska banka support Macedonian economy
The EBRD has teamed up with Macedonian bank, NLB Tutunska banka, to increase the competitiveness of the Macedonian private sector and to promote energy efficiency in the country with a €6 million financing package.
The EBRD will provide two loans of €3 million each to NLB Tutunska banka for on-lending to small and medium-sized enterprises (SMEs).
One loan will be used to finance energy efficiency improvements and small renewable energy projects. The second €3 million loan will support SME investments necessary to comply with EU health and safety, environment, and product safety and quality standards.
The loans come under the Western Balkans Sustainable Energy Financing Facility II (WeBSEFF II) and the Private Sector Support Facility for Western Balkans (PSSF) respectively.
It is expected that the WeBSEFF II funds will lead to energy savings in both the private and public sectors, helping to modernise businesses, as well as municipal buildings. PSSF funds will meet demand for longer-term financing from local private SMEs to bring their business practices into line with EU regulations.
---
KNXtoday is an online trade magazine for the KNX home and building control standard. It comprises an online magazine and email newsletter and offers news, articles, case studies, videos and resources, an events calendar and much more.
KNX is the worldwide standard for home and building control. KNX is approved as an International Standard (ISO/IEC 14543-3) as well as an European Standard (CENELEC EN 50090 and CEN EN 13321-1) and Chinese Standard (GB/Z 20965). This means that KNX products made by different manufacturers can be combined – the KNX trademark logo guarantees their interworking and interoperability.
KNXtoday is an essential resource if you are involved in the building automation market, and you can get a free subscription to the newsletter by completing the registration form
here
.


News from KNXtoday
---
Find us on social networks: