---
Church Point Parking Permits Due Sept 1, 2011




Pittwater Council has advised that Church Point Parking Permits are due for renewal on September 1st, 2011.



Here is the link to view information about the Church Point Plan of Management and to download the 2011-2012 Church Point Parking Permit Application Form:

http://www.pittwater.nsw.gov.au/local_services/parking/parking_permits/church_point_reserve_and_church_point_precinct_parking_permits



The Church Point Parking Permit is currently issued annually for a fee of $283.00 ex GST.



This fee is based on Council proceeding with a proposed decked carpark along McCarrs Creek Road opposite the Commuter Wharf, as outlined in the Church Point Plan of Management (CP POM). If this proposal does not proceed, fees for a parking permit may increase to $575 as outlined in the CP POM.

Please note that a survey will be circulated shortly to residents to assess the Offshore Community's views regarding the proposed addition of the decked carpark for this new parking area (see images below).




Without Decked Option...




Proof of Residency must be provided when purchasing the parking permit or 10% GST will apply (increasing the parking permit price to $311.30).

The fee may be revised annually through Council's Fees and Charges as adopted in Council's Delivery Plan.

Should local residents elect not to purchase an annual parking permit, parking tickets will need to be purchased through the pay and display parking machines located through the precinct.

The short term parking area adjacent to the Pasadena and general store will not require permits. Parking permits will be required throughout the precinct which includes Church Point Reserve through to McCarrs Creek Road, above Holmeport Marina.

Replacement permits will incur a fee of $20 and require a copy of the initial receipt and original permit number.

Download the Application Form HERE



---
Clear Out – Monday, August 29
PLEASE READ COLLECTION GUIDELINES ATTACHED BEFORE PUTTING YOUR MATERIAL OUT!
The total quantity per household should not to exceed 3 cubic metres (3m x 1m x 1m)
UNACCEPTABLE ITEMS
Asbestos, batteries and household chemicals
Building materials – wall linings, gyprock, studs, timber beams, tiles, concrete
Car, motor and boat parts, rubber tyres – rims are accepted
Food, full gas bottles (open valve), glass including windows, panes, mirrors, panels, shower screens, picture frames, liquid paints, oils, fuel, soil, earth, fill, bricks
Recyclable materials – paper and cardboard, soiled wrappings, vegetation, plants
Unacceptable Items will not be collected



IMPORTANT NOTE: NO ASBESTOS TO BE PLACED OUT FOR COLLECTION




Asbestos is extremely hazardous to everyone's health. This includes what is known as "fibro" which is an asbestos based product.
URM is legally bound and reserves the right to close down the collection should any asbestos be found thrown out for the Clear Out
ACCEPTABLE ITEMS
Appliances such as stoves and fridges – remove doors; frames with glass removed – break glass into newspaper, wrap securely and put in household garbage
Paint tins and fuel containers – with the lid off and no liquid
Manageable quantities of: delivery pallets, wooden stairs, decking, gates, fencing, guttering, down piping, iron sheets and water tanks – cut down to 1.2 metre lengths and able to be lifted by one person; nails must not stick out – please hammer down; hot water systems – emptied
Metals to be kept separate, where possible, to be taken to Kimbriki Recycling & Waste Facility for re-processing and re-use
Place metals in a separate pile to other general clean up materials




---
WORKSHOP POSTPONED

WALKING IN THE SHOES OF AN
ARRERNTE WOMAN ELDER
Regrettably the September Workshop presented by M.K. TURNER OAM has been postponed till later in the year.
---
GASLAND film Screening at Scotland Island Community Hall
Friday, September 2 at 7:30pm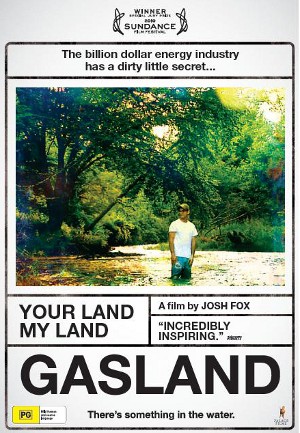 This is the film that woke Australians to the danger of coal seam gas exploration. Farmers, caretakers of the land and folk, like offshore dwellers, who love the bush and countryside are uniting behind organizations like 'Lock the Gate' to protect land and waters.



Part vérité travelogue, part exposé, part mystery, part showdown, GasLand is a compelling and emotional first-person story of discovery and, ultimately, empowerment.

In September 2006, theatre director and part-time banjo player Josh Fox received an unexpected letter in the mail: a natural gas company offering him $100 000 for permission to explore his family's upstate New York property, in the lush Delaware River Basin area.

Rather than join many of his neighbours in signing on the dotted line, Josh's curiosity saw him asking questions. He soon discovered that in the race for 'cleaner', greener & more efficient energy sources, the largest natural gas drilling boom in history is sweeping the globe, and in the US, the Halliburton-led drilling technology of hydraulic fracturing (or 'fracking') has unlocked a "Saudi Arabia of natural gas".

So Josh picked up his camcorder, and set out on a journey across America's heartland. His personal concerns quickly uncover global ones, as the citizens of 'GasLand' testify to what's been happening around them. It becomes evident that the multi-million dollar business of fracking has contaminated the water supply, the corporate giants are in cover-up mode, and the PR-spun government has not only turned a blind eye, it has regulated itself out of the picture…

Rough-hewn yet poetic, the film is a desperate plea for scrutiny of a powerful industry that has now turned its eyes on a new, massive and (for now) largely unexplored territory: Australia.

GasLand was awarded the Special Jury Prize for Documentary at the 2010 Sundance Film Festival, and voted the best competition film of any section by indieWIRE's Sundance Critics Poll. It has recently received a 2011 Academy Award nomination for Best Documentary Feature.

A Palace Films release.

Come to the film and share in discussion.



---
Manly Arts Festival 2011
2 - 18 September 2011 | www.manlyartsfestival.com | 9976 1421
Dear All

As off shore residents we have worked for many years to get recognition of our creative community.

Watermarks began as a teaser to this major event.



Please accept an invitation to the Launch of the 2011 Manly Arts Festival and the opening of the exhibition ' Offshore: Artists of Scotland Island & Pittwater's Western Foreshore ' on Friday 2 September 2011.



It is important to realise that this is a celebration of our entire community, not just the off shore community. All the programmes are important, not just ours, so please support as many events as possible.

For more information about the 2011 Manly Arts Festival, telephone either 9976 1418 or 9976 1417 or go to the Manly Arts Festival website: www.manlyartsfestival.com and for a pdf of the programme : http://manlyartsfestival.com/festivalprogramme.htm



Click the image above to download the complete Festival Programme





---
Want to Rent


We are a local family on Scotland Island looking for a home to rent. Long lease /permanent would be great.
The rental we are in now has been sold so we are looking for a new one.
We are responsible and reliable people who take pride in there home. We are clean and fastidious about our surroundings.

We have good references and any inquiries are welcome.
Please ring 0418253870 and ask for Esther


---
The Online Local Contact Guide

Click HERE to load
The views expressed in this newsletter are not necessarily the views of the Scotland Island Residents Association (SIRA), or the Western Pittwater Community Association (WPCA)
---