---
Contents
---

---

---
SCOTLAND ISLAND RURAL FIRE BRIGADE
FIRE BRIGADE MATTERS
Your Brigade

The Towlers Bay fire which broke out on Friday 18th January this year is a reminder of how vulnerable we are to an ember attack from a bushfire in the National Park. Within an hour or so the wind had changed to a strong southerly pushing the fire away from the populated areas of the bays, and alleviating the threat of an ember attack on the island.

A brief history of bushfires on Scotland Island emphasises the need for continuing vigilance in preparation and prevention. In 1939 a spotfire from a bushfire in Ku-ring-gai chase caused by blown embers started a fire that burned most of the island (and some of Church Point), with only a few houses on the waterfront at that time and the cleared grazing land the loss of property was avoided.

In 1967 a camp fire below Florence Terrace got out of control quickly burning up the steep slopes before it was brought under control.

Many residents remember, in January 1994 when fires in the National Park sent burning embers across the island, many houses where lost in Lovett Bay, and when the wind changed direction Coasters Retreat was under threat. The smoke reduced visibility on the island to a few metres, the embers carried on the strong winds where extinguished by the vigilant residents out in force night and day.



The threat of a bushfire on Scotland Island is real and we must be well prepared.





ACT PREPARE SURVIVE



Please refer to the RFS website for good information regarding preparing your property in the event of a bushfire www.rfs.gov.au you can also check the latest status of a local bushfire if you go to 'current fires and incidents' on the same website.

We are seeking new active members if you think you can make the commitment contact any member of the brigade or the contact below, we hold brigade training sessions on the first Sunday of the month between 9.00 and 12.00 call in at the station at 9.00 and see what we do.

The photo is of the bushfire burning above Lovett Bay in 1994

David Wardman SIRFB
9999 5944
david@wardman.com.au


---
Fire Brigade Invitation to Islanders


Scotland Island Rural Fire Brigade would like to invite interested Islanders to join us for fire brigade training on Sunday 3rd February from 9am till noon.

There will be a free barbecue afterwards and partners and children are welcome to attend.

See you there!

Ian White
Captain SIRFB



---




FARE SCHEDULE 2013




Church Point Ferry Service



Good news! We're are keeping the heavily discounted 13 trip (Frequent Floating) Yellow and Green passes at the same rate as we have since 2008 (when we bought the ferry service), so that we can try to keep prices as low as possible for our regular users.

If you are eligible for a pensioner or senior citizens concession card then you are also eligible for an all day trip ticket of only $2.50. See your driver for details.

Transport for NSW, in line with the recommendation from IPART (Independent Pricing and Regulatory Tribunal), has increased One way and return fares effective 1st February 2013. The fare increase amounts to 10₵ for children and concessions and 20₵ for adults.

As a result our new fare schedule, from 1st February 2013, is as follows:


| | | | |
| --- | --- | --- | --- |
| Adult | Single $7.40 | Return $14.00 | 13 Pass $59.00 ($4.54 per trip) |
| Concession/Child | Single $3.70 | Return $7.00 | 13 Pass $42.00 ($3.08 per trip) |
| Child under 5 | Free | | |
| PET | $2.50 | | Green 13 Pass $60.00 |

If you would like to support the ferry service and keep fares low, please encourage your friends and neighbours to try the step on, step off, convenience of the ferry.

Ferry Master 0408 296 997
Admin 0433 038 408



---

Local Council Notices




Small Boat Sale at Council Depot





The public will have the opportunity to buy impounded and unclaimed dinghies, kayaks and other small boats on Saturday 2 February.



The craft for sale can be viewed on the day between 8.30am and 10am at Pittwater Council's Depot at 1 Boondah Road Warriewood.

The sale takes place by sealed bids in even dollar amounts placed in a specially marked box. Bids will be opened from 10.30am and the highest offer accepted.

Payment is required on the day and can be made by cash, cheque or credit card, with Visa and Mastercard payments attracting a 1% surcharge.

Items purchased must be taken away by 12 noon on the day.

The Council's Reserves & Recreation Manager Les Munn said the sale was held after the Council went to considerable lengths to trace the owners of unclaimed boats.
"If no-one claims them we retain them for a further month before offering them for sale," he said.

Mr Munn said that under state law, the Council could offer impounded craft for sale if they were unclaimed.
He said residents wishing to keep a small boat or kayak near the water had several storage options.
"For a small annual fee there are 14 storage facility locations located throughout Avalon, Bayview, Church Point, Newport and Palm Beach.
Details of these locations can be found on our website www.pittwater.nsw.gov.au/dinghy_storage," added Mr Munn.

For enquiries about storage facilities or the sale contact Tanya Carmont on 9970 1353 during business hours.

Les Munn, Pittwater Council Ph: 9970 1354


---
Pittwater Australia Day Award Winners Announced





The winners of the 2013 Pittwater Australia Day Awards were announced at an awards reception on Australia Day Eve, Friday 25 January.



There were five award categories under which nominees were selected; the Pittwater Citizen of the Year, Australia Day Award - Senior, Young Citizen of the Year, Sportsperson of the Year and Community Event of the Year.

The awards were presented by Pittwater Mayor Jacqueline Townsend at an awards reception at the Inch Café, Mona Vale.



Eric Martel

from Newport was selected as Citizen of the Year for his many years of volunteering. As a member and president of the Pittwater Apex Club, Eric coordinated several successful charity fête days. As an active member of the Uniting Church, he helped run a monthly youth session attracting on occasions up to 70 young people. Since joining Rotary in the 1980s he has worked tirelessly on many projects, including helping to set up fish farms in remote Thailand to ensure community members could enjoy high protein meals. Working closely with Council, Eric was the primary instigator of the construction of the skate park at Avalon, going on to run a number of skate board competitions as part of Avalon Market Day. Also a founding member of Pittwater Community Arts, he has been described as someone who 'gives selflessly of his time and talent…and always with a smile on his face!'



Beryl Driver

from Palm Beach received the Australia Day Award in the senior category for her tireless fund-raising for the children's charity Variety. For many years Beryl has taken part in the Variety NSW Bash which sees her and her friends drive close to 6000 kilometres from Sydney to Broome, WA raising money for special needs children. Next year when she becomes an octogenarian it will be her 15th Variety Bash! Described as the epitome of a 'good Australian person' she is always prepared to go out of her way to assist others less fortunate than herself.



Pittwater's Young Citizen of the Year is 11 year old Amelia Warde

from Elanora Heights. Just one of 10 youngsters from around Australia, Amelia is an anti-littering ambassador for Keep Australia Beautiful. Part of the 'Leading Integrated Taskforce Tackling Litter Everywhere' or LITTLE taskforce, she is has set herself the task of reducing litter by 10% in Pittwater over the next five years.

This year the award for Pittwater's Sportsperson of the Year has been shared between two recipients.

Daniel Fitzgibbo

n from Mona Vale has raced sailboats since his childhood. After a sailing accident left him a quadriplegic, he continued with his passion winning the 2004 Disabled Sailing World Championship and winning the Australian Sailor of the Year with a Disability in the same year. He was also made 2004 Queensland Sailor of the Year, which he took particular pride in winning, given he was judged above able-bodied sailors Daniel's dream of winning a Paralympic medal came true in Beijing with a silver medal – yet for Daniel this was not quite enough! Paired with crewmate Liesl Tesch in London last year and despite the tragic passing of Liesl's mother on day one of the games they came out on top, receiving the first ever Australian gold medal in this event.

The other joint winner in this category is

Jake Lynch

from Newport's Surf Life Saving Club. Jake created history after winning two individual gold medals at the 2012 World Surf Lifesaving Interclub Championships in Adelaide. Since joining the Newport club as a nipper at five years old, Jake has arguably become the club's most successful athlete in its proud 103 year old history, as well as being an exceptional volunteer surf life saver.



The winner of this year's Community Event of the Year is the Rotary Carols in the Park

. Held at Village Park, Mona Vale, this free community event always draws a large crowd. This Christmas saw over 3000 locals enjoying the music provided by 80 children from the Sacred Heart Choir and Band, the Pittwater United Church Band and professional singer Samantha Shaw from Avalon. Pittwater Mayor Jacqueline Townsend, local member Rob Stokes and federal member Bronwyn Bishop joined the community in the singing of the carols and the arrival of Santa bearing gifts for the children.

Mayor Jacqueline Townsend extended her thanks to the individuals involved for their contribution to the Pittwater community. "I'm extremely proud of these great people whose involvement in our community makes a difference to so many," she said.

Contact: Community Relations
Phone: 9970 1172 or 9970 1114



---
Margaret Molloy - Parliament House
National Council of Women Australia Day Lunch
Margaret Molloy, one of our more luminous residents, seen at the (pre)Australia Day lunch in the Strangers Dining Room at Parliament House.

The event was hosted by the National Council of Women and Margaret was invited to be their guest speaker. Margaret was also asked to present the yearly awards and cheques to a number of post-graduate women students. These students were deemed to display excellence in their fields of research and were sponsored by a number of public companies and private individuals.

The theme for these annual lunches is usually "on being Australian" and in her all too short allotted time Margaret was able to give us a small insight into her long and interesting career. One comment overhead was "50 lifetimes in one".

The National Council of Women is a Government funded body whose aim is primarily to promote the interests and advancement of women. As well as representing women's interests at State and private level they are often consulted at Federal level

Although this reporter would like to claim the honour of the biggest hat, first prize must go to Marg's pretty little pink organdie confection.

Reported by an Offshore admirer



---
Island Vegetation Collection




Monday, February 18



Please put your material out as described below, and further in attached brochure and the Pittwater Offshore Directory – BY SUNDAY, FEBRUARY 17

A maximum of 2 cubic metres of vegetation for each household
Leaf litter, grass clippings and prunings TO BE PLACED IN HARD SIDED CONTAINERS
Branches to be no longer than 1.2m and BUNDLED AND TIED TOGETHER WITH TWINE
No plastic, hessian or nylon bags
No cardboard, foam or polystyrene boxes
No soil or untied bundles
Any material not complying with collection guidelines will be left on the road side for residents to arrange private collection.

Download Vegetation Brochure here (pdf format)



---
Letter to the Editor


Playground Clean Up



I recently wrote a letter (with pictures attached) to Pittwater Council asking them to tend to the playground's neglected state. I'm pleased to attach the letter I received from them this afternoon stating that it would be seen to by mid February.

Regards,
Caroline


Click image to load PDF


---
Towlers Bay Bushfire Images

A number of people have contributed great photos of last weeks Towlers Bay fire.

Head over to the Offshore Photo Gallery to see them.

https://plus.google.com/photos/114354168625817100487/albums/5838360236998304321


Many thanks to all those that sent in photos - keep them coming !



---
For Sale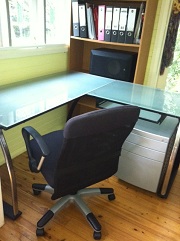 Desk for Sale


Glass top, metal frame, dismantles, easy to move
Dimensions: 1400 X1400

Contact: Mary
0438 632 855
mcfrey37@gmail.com

Desk Price $ 125.00
File Cabinet: $ 25.00
Office chair: $ 75.00


---
Classic Commuter Boat - $15,000


BERTRAM 18 FT

RECENTLY REFURBISHED

MERCRUISER V6 INBOARD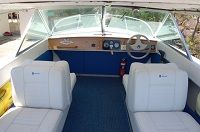 REGO TILL SEPT 2013

ANTI-FOULED.

NO TRAILER.



MICK MORRIS - 0412 061 811



---
Free


Free Bunk beds


We no longer need a set of tubular metal bunk beds and mattresses, all in excellent condition.
They can be viewed and collected from our boathouse at Elvina Bay.

Phone: Penny 0409417311



---
Birthday kisses from Cass to Mat....


---
---
The Local Guide
Community Information
Scotland Island Web Site

www.scotlandisland.org.au

What's On in Pittwater - Self Editing Event Calendar

click to go to the Calendar

Scotland Island Community Vehicle -

0404 103 700
Number, Usage & Charges

Scotland Island Rural Fire Brigade -

9999 4404
http://www.sirfb.org.au

West Pittwater Rural Fire Brigade

- 9997-3795
www.westpittwater.rfsa.org.au

Offshore Photo Gallery

offshore gallery
Scotland Island Residents Association (SIRA) Membership Application

- click here to download
West Pittwater Community Association (WPCA)

- http://www.wpca.org.au
Scotland Island Water


SI Emergency Water Contacts and Guidelines for water: click here for information and contacts
Scotland Island 'Water Agreement' - click here to download
Scotland Island Children's Centre

- (SIOCS - Scotland Island & Offshore Childrens Services)
Catherine Park (Long Day Care Service) 7.30am - 5.30pm (Tues, Weds, Thurs & Friday)
Other services include: School Holiday Programme / Facility & Equipment Hire
For information call 02 9979 7856 or email: siocs@comcen.com.au
Scotland Island Community Hall Bookings:

Kez on 9999 4092 or kezborthwickbolton@gmail.com
---

Transport
---
Real Estate
---
Services, Clubs & Accommodation
---
Island Classes (Fitness, Dance, Art etc)
Pilates, Meditation and Group Fitness with Patrice

- 0406 483 036 patrice.corrie@gmail.com
Anusara Yoga

- Thursdays - 0421762236 dominiquemarill@gmail.com or floydcbg@ozemail.com.au
Art with Max

- Watercolour classes. Phone Max on 9997 4527
Art Classes

- drawing and painting in oils, acrylics and mixed media- Marion 9979 3993 or 0431 457 431
@ Nathalie's Table - Cooking Classes

- Mediterranean cooking fortnightly - Nathalie - 9999 4449
Dru Yoga

- Tuesday evenings - Phone Katya on 0414 187 916
Dynamic Yoga

- Saturdays from 9am - 10.30am 0402 752465 nadineomara@gmail.com

---
Groups
Gurdjieff / The Forth Way

- Call John on 9979 5584, Marion on 9979 3993 or Anne on 9999 3478
Green Group For Catherine Park

- Run by SIOCS - Emmie Collins on 0405 330 781
WOW - Women on Water

- second Wednesday of the month - Jenny Frazer 0410533728 / 99994460.
Parents & Kids Groups Playgroup

- Run by SIOCS - email Emma trysemz@tpg.com.au
Scotland Island Players

- contact Bob or Kez on 9999 4092
Catherine Park Bush Care Group

, 2nd Sunday @ 9.30am, Sharon Kinnison @ 9997 6017
Elizabeth Park Bush Care Group

, 1st Saturday @ 9 am, Bob Bolton @ 9999 4092
Island Thinking Group -
Roy Baker, 9999 6891, roybaker99@yahoo.com
Offshore a capella choir

– Saturdays at 2:30 pm, SI Community Hall. Call CB on 9997 2035.
---
Government Organisations
---
Airlines, Buses and Railways
---
Weather
Scotland Island Tides, Moon phases, Sun rise & set
Local Weather Forecast

Radar weather for Sydney (128k circle)
---
Emergency Contact Numbers
ALL EMERGENCIES (Police - Fire - Ambulance)
000
Police Assistance Line & Information
13 1444 or 9281 0000
Broken Bay Water Police
9910 7899 or 0412 162 093
Marine Rescue Broken Bay - Weekend

(

02) 9999 3554 - (02) 8411 1121



Marine Rescue Broken Bay - VHF Radio channel

VHF Radio Channel:

VHF 16


27MHz Radio Channel:

86 or 88



Scotland Island Rural Fire Brigade
9999 4404
NSW Fire Service General Information 9265 2999
9265 2999
Rural Fire Service General information
9450 3000
State Emergency Service, Warringah/Pittwater SES
9486 3399
National Parks & Wildlife Service: 000, general information
9457 9322
Dept of Community Services: general information
9977 6011
Sydney Water
132 090
Energy Australia
131 388, (ah) 131 909

---
Join SIRA
You can now join the Scotland Island Residents Association by
clicking here.
Please print the page and return the completed form to SIRA at this address:
The Treasurer, SIRA, PO Box 70, Church Point 2105.
Please NO CASH.

Contact SIRA at
sirapittwater@gmail.com
Join WPCA

To join the Western Pittwater Community Association, contact Michael Wiener at
m2wiener@bigpond.net.au
---
Archived Newsletters


A complete set of past electronic newsletters since May 2000 can be found and read at https://ymlp.com/archive_gesgjgm.php or by clicking here or by visiting the Mona Vale Library.

The Island website is at www.scotlandisland.org.au


---
To Contribute


If you would like to contribute to this newsletter it's easy!. Send an e-mail to the editor (editor@scotlandisland.org.au) or by clicking here. Type your contribution (100 words or so would be fine) and assuming it is of general interest to the community, does not include matter of a political nature and is not offensive, it will appear next month.

Subscription Information


To get on and off this newsletter,

click here

or got to:

http://www.scotlandisland.org.au/signup .


To change your address, click the 'modify' link at the bottom of this newsletter or send an email to the

editor@scotlandisland.org.au


---
Follow the PON
---
The Online Local Contacts Guide
Click HERE to load
The views expressed in this newsletter are not necessarily the views of the Scotland Island Residents Association (SIRA), or the Western Pittwater Community Association (WPCA)

---