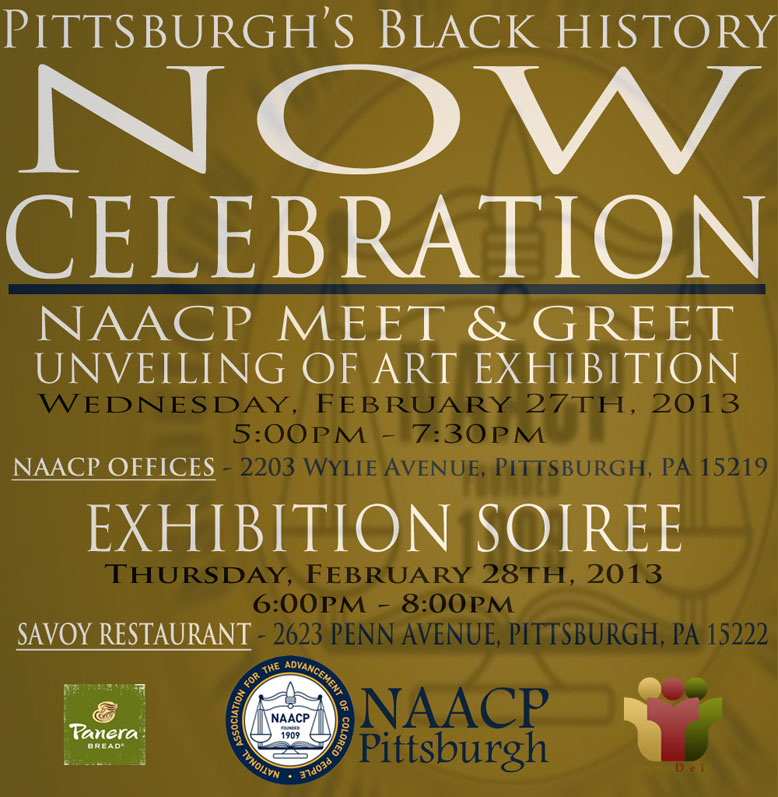 The Pittsburgh Unit of the National Association for the Advancement of Colored People (NAACP), announces the branches first Pittsburgh's Black History Now Celebration.
The NAACP movement began in 1909, and is the nation's oldest and largest civil rights organization. From the ballot box to the classroom, the thousands of dedicated workers, organizers, leaders and members who make up the NAACP continue to fight for social justice for all Americans.
This year the Pittsburgh Unit will host our first Pittsburgh's Black History Now Celebration on February 27th and 28th. The event is designed to develop and cultivate new membership and participation with our organization as well as bring attention to the importance of art and artistic expression in the African American Culture.
Our celebration program will include a meet and greet at the NAACP offices (2201 Wylie Ave., Pittsburgh, PA 15219) on Wednesday, February 27th from 5pm – 7pm, and a networking mixer at SAVOY Restaurant on Thursday, February 28th from 6pm – 8pm. During the meet and greet we will unveil 10 original pieces of artwork, commissioned for this occasion, that will be auctioned to benefit the NAACP Freedom Fund, which supports the educational aspirations of high school seniors in their pursuit of higher education.
The Pittsburgh's Black History Now Collection will be curated by local art guru, D.S. Kinsel.
K. Chase Patterson is serving as Celebration Chairman and Panera Bread is lead sponsor.
Unit President, Constance Parker says "We are excited to begin bridging the generational divide that we see in our local unit, and across the country. I am not under the illusion that the future of our organization is directly attributed to the cultivation of a new generation of members and leaders in the NAACP movement. With the sponsorship support of Panera Bread and the leadership of K. Chase Patterson and D.S. Kinsel, we are looking forward to an exciting event and organizational growth for years to come."
###
For more information contact the NAACP Offices at 412.471.1024