---
---
Congratulation Robyn Iredale
Australia Day 2020 Honours
Member of the Order of Australia (AM)
General Division
For significant service to people with an intellectual disability, and to education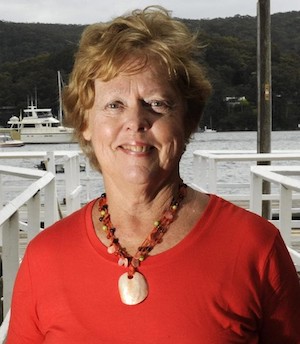 Congratulations to Robyn Iredale, former President of Fragile X Association of Australia, who has been awarded Member (AM) of the General Division of the Order of Australia for significant service to people with intellectual disability and to education.

Robyn has been a tireless advocate for the Fragile X community for more than 30 years - advocating for early diagnosis of Fragile X disorders, and advocating for the rights of people with Fragile X syndrome to have the appropriate supports and the right to inclusion.



---
SIRA

Notice
Reminder Bushfire Support
Fine Fuel and Vegetation Collection
GREEN WASTE COLLECTION - Monday January 27 (tomorrow!)
Council is working with URM who will be delivering a vegetation collection to Scotland Island.

What do you need to do?


3. Present your vegetation in tied bundles or a hard-sided container. Material presented in plastic, nylon, hessian bags, cardboard or foam boxes and untied bundles, will not be collected.

4. Place your vegetation in the road reserve outside your property for collection.

5. Pick up starts on Monday 27 January.


Please ensure a three-metre gap is left on the road to allow trucks to collect the vegetation.

Do not put green clean up materials in the bulka bags (which are provided for the fine fuels collection). 

Who can I ask for more information?

You can contact Scotland Island Residents' Association Cass Gye on 0418 220 107 or Northern Beaches Council David Munday on 9970 1248.

For more information about preparing for bushfire and for the latest updates, visit  www.rfs.nsw.gov.au

Kath Mckenzie
Executive Manager Community Engagement & Communications
Community Engagement & Communications

kath.mckenzie@northernbeaches.nsw.gov.au
northernbeaches.nsw.gov.au



FINE FUEL COLLECTION - Thursday  January 30
Fine fuel includes leaves, twigs and bark that can easily catch fire. Fine fuels are less than the diameter of your little finger.

What do you need to do?


1. Bulka Bags will be distributed from Thursday 16 January. Resident's will receive one large bag per household.

2.Clear your roof and rake up all the fine fuel around your house and tip it into the large bag which you should place in the road reserve outside your property for collection.


When is it happening?


Bag collection starts from Monday 20 January until all the bags are collected.

 


---
2020 Waste Collection Calendar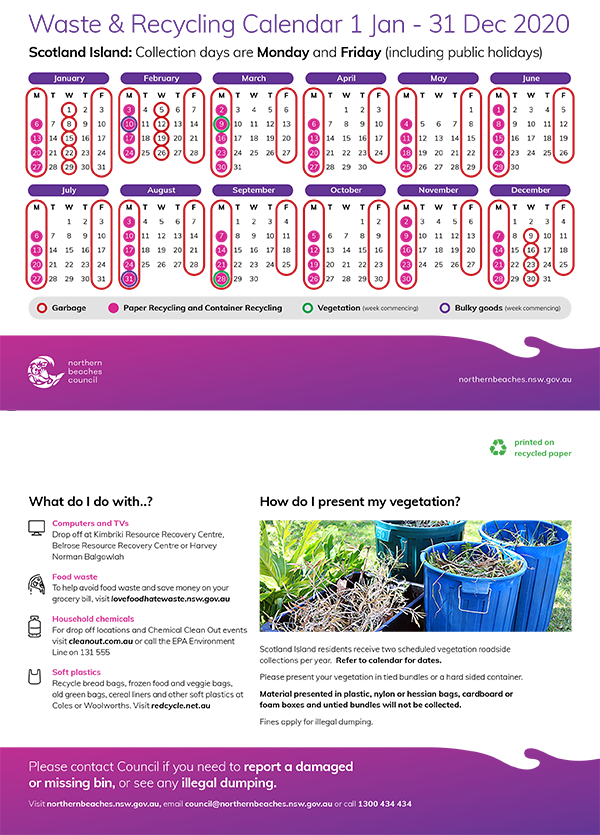 Click image to load pdf file
---
AUSGRID NOTICE
Ausgrid Scotland Island Reliability Project - Church Point carpark permit and cashback offer
As you are aware, construction is starting soon to install a backup electricity cable between Church Point and Scotland Island.

Parking changes from 7am Monday 3 February 2020
Parking in the southern part of the Church Point Carpark will be unavailable for approximately five months during construction.

Cashback offer
We are reminding residents with a Church Point Carpark permit about our cashback offer to relocate to Rowland Reserve during construction.

To thank volunteers, Ausgrid is offering a $350 cashback offer on your current permit plus extra financial support to travel between the carparks.

Apply for your Rowland Reserve permit (free of charge):

by 5pm on Monday 3 February 2020 to receive an extra $300 on your Visa Prepaid Card
between Tuesday 4 February and 5pm on Wednesday 4 March 2020 to receive an extra $200 on your Visa Prepaid Card.
This offer is available on a first come, first served basis, and will be limited to 70 Visa Prepaid Cards only.

To find out more about the offer, read our December 2019 community newsletter

You can change over your permit at the Mona Vale Customer Service Centre anytime during their normal business hours.

The centre will be open additional hours on Saturday 1 February 2020 between 9am-12pm, to assist residents who are unable to visit during the week.

Community information sessions
Ausgrid is holding two information sessions so you can chat with the project team and discuss any questions you may have. No appointment is necessary, just drop in.

The Waterfront Café, 1860 Pittwater Road, Church Point
Wednesday 22 January 2020, between 5:30 - 7:30pm
Thursday 30 January 2020, between 5:30 - 7:30pm
 
If you have any questions please call us on 1800 604 765 or email majorprojects@ausgrid.com.au.


 



---
Old Laptops Wanted
WANTED: Your old laptop. PC or Mac in almost any condition but preferably under six years old. I have taken nearly 50 of these devices to my other home in Fiji for distribution to needy students on the island of Taveuni.

I either format the existing hard disk and use software to wipe any trace of your data. I use DBAN, software that scrubs your hard disk and works on PC and Mac laptops..

I then take the laptops, four at a time, to Taveuni.

If you have a laptop that you no longer use and are happy for me to refurbish I would love to hear from you.

Paul Purvis - 0403442764



---
Free Dinghy
We have a surplus 8 ft fibreglass dinghy.
Free to a good home.


 
Please contact John
johnamorgan@bigpond.com or 0416 733 147.













---
---
A complete set of past electronic newsletters since May 2000 can be found and read at https://ymlp.com/archive_gesgjgm.php  or by clicking here or by visiting the Mona Vale Library.



---

---
To Contribute
If you would like to contribute to this newsletter it's easy!. Send an e-mail to the editor (editor@scotlandisland.org.au) or by clicking here. Type your contribution (100 words or so would be fine) and assuming it is of general interest to the community, does not include matter of a political nature and is not offensive, it will appear next month.
Subscription Information
To get on and off this newsletter,

click here

or got to:

http://www.scotlandisland.org.au/signup .


To change your address, click the 'modify' link at the bottom of this newsletter or send an email to the

editor@scotlandisland.org.au


---
Follow the PON
---
The Online Local Contacts Guide
Click HERE to load
---
---
The views expressed in this newsletter are not necessarily the views of the Scotland Island Residents Association (SIRA), or the Western Pittwater Community Association (WPCA)
---