11 April Liddington Village Hall.  Infomal meet with "Ask the Tutors
"
9 May – Liddington Village Hall,  Barry Dennington - the application of touch-less controls in vehicles using ultrasound
Went well! Planning another one for later in the year. Come back for details.
Skillshare

Bike Ride-Outs on the 3rd Saturday of every even numbered month and the 3rd Sunday of every odd numbered Month. Email will be sent out to Bikers and added to the Forum.
Do you have a topic you would like discussed, or know of an interesting speaker?  Please contact Les Brown at
speakers@wiltshireroadar.co.uk
Congratulations to the following members who have passed their Advanced Tests recently:
Please welcome the following to the Group
:
Don't forget that we have a range of clothing available to purchase. We also offer a range of books, such as Roadcraft, Motorcycle Roadcraft and the Highway Code, and these are available at discounted prices.

For more information visit the Merchandise page of our web site 
We are always looking for more articles, ideas and news for the newsletter. Have you been somewhere interesting recently that would make a good story? If you attend any group events then take a camera and send us your pictures!

Please forward all contributions to newsletter@wiltshireroadar.co.uk
We're now on
Facebook
AND
Twitter!
I am looking forward to meeting some of you at our first meeting for 2 years on 11 April .  We will take precautions to keep us all safe as covid infection rates are still high so please comply with the mitigation measures; wrap up warm as we will have the windows open. 
Seating will be suitable spaced and the
room
will be well ventilated
Request all those attending are fully vaccinated (we will not be checking but rely on individuals to make their own judgement).
Request masks are worn in the building unless speaking to the Group (or drinking)
Please also do not forget there is a change to win £50 off the Gary Franks track day experience (see the Driven Ohm update below).   
With the Clocks going forward and daylight lengthening we will all feel a bit better and hopefully more adventurous.  April is a time when we traditionally start to get more new members and I hope this is the case this year as well.  Many have been busy though and we have 3 new Bike tutors nearly completed their training, 2 new Advanced Bike tutors training with the Gloucester group in a joint effort and our car Advanced Tutors have been busy helping the Gloucester Group with tutor and Advanced tutor training.
I attended a Graham Feest workshop on reducing Casualties by Stopping Casualties.  An interesting day with some road safety experts; my report can be found in this newsletter.
There has been some more communication about the RoSPA diplomas.  I think it is safe to say it has not been well received by many Groups.  I will be replying on our behalf (having spoken to our diploma holders, Committee and the Chair of the Gloucester Group).  The message from HQ is reproduced below.  If you want the FAQ give the Chairman a shout.
We are working on having more speakers for our monthly meetings so keep an eye on the newsletter.  If you have any ideas or want to do a talk just let the Chairman know.
Stay healthy and safe
Bob
SkillShare restarts - April 2nd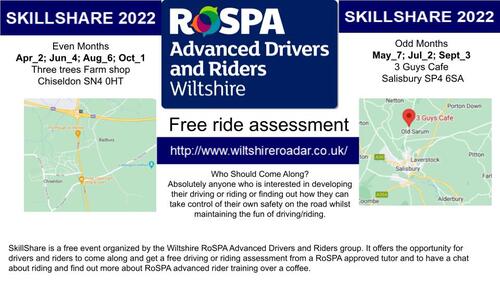 Reducing Casualties by Stopping Crashes – Bath, 28 Feb.
The Chair attended a workshop in Bath on 28 Feb with the
Graham Feest
consultancy.  A really interesting day which I would recommend attendance of a representative in the future.  Next year it will be in Cheltenham.  My big takeaways were as follows:
Much of road safety effort is to provide clarity for road users to help with their decision making – to assist the information part of the system of car and motorcycle control.

 

We should be already aware of the hazards but some of the ideas really do help.

T

he police like you to use a dashcam  - they are happy to use the evidence. Last year Avon and Somerset took in 400 video files resulting in 170 prosecutions; all of which were convicted.

If you are a motorcyclist, the police recommend you wear an air vest.

33% of journeys are made at night but night-time accounts for 50% of serious collisions

Vehicle ECUs are already gathering data on vehicle use and it is being used to improve road safety.

Hazard perception training for experienced drivers is being used of blue light staff; potential to expand this past just hazard identification for new drivers.

IAMSAFE is fundamental to safe driving/riding as it deals with the attitude – these factors, according to Wiltshire Police, are a major contribution to 90% of fatal crashes.
More details on each section of the day (the notes are mine, so this is my perception of what was said):
The Government is looking to improve
active travel
to both reduce CO2 emissions and improve the health of the nation.  Their safe systems approach looks at safer roads, safer road users, safer vehicles, and improved trauma care; all to reduce the number of serious injuries and deaths on the roads. 
Travelling on the roads is not a risk-free activity; there is a difference between absolute safety and relative safety.  The hard bit is educating people to take on new ideas.
Data comes from the analysis of collisions, but we need to learn from near misses as well – this is preventative, but data is hard to collect.  Interestingly the human body should survive an impact at 20 mph, and we are designed to cope with travelling at this speed.  We are travelling faster and have evolved to mentally cope with the speed sothis is now all about risk management as our bodies cannot cope with the increased trauma! 
There are 12 main factors being considered/used to reduce casualties/ promote active travel.  There is obviously a great deal of inter-relationship in here – we did debate these for a long time but offer no solutions; this is for information.
Road pricing

Reduce drink drive limits

E scooter use (350 injuries so far in the uk!)

Hierarchy of users (highway code changes!)

Home/internet shopping

20 mph limit in towns

Enforce the 12-point limit rule (there are an astonishing number of people with more then 12 points still driving!)

Restrict newly qualified drivers (there is a new digital license which is amber during probation)

There is a shortage of HGV drivers, and this is promoting some who would not normally have done so to drive HGV

The Growth in electric vehicles

Smart motorways
THINK! Is a Department of Transport website which is good for information - particularly about the new highway code changes.
Avon and Somerset Police provided some interesting statistics and thoughts
There is no statutory requirement for the Police to conduct road safety training.  They would like to do much more but also needs to increase deterrence; there is no fear of being caught for many motorists.  They do analyse trends and use this to help inform the necessary agencies and they have the data to hand.
Comment I will be asking Wiltshire Police if they have data as this will be useful to add context to our training
comment ends.
He reinforced how useful dashcams were for the police – particularly to help with the gathering of necessary data.  To support the impact of road traffic collisions he asked us all to watch the
Learn to live
video done by Harry, a serving Police Officer.
Some interesting stats from the past 12 months:
2

300 arrests for drink/drug driving – there is much more out there but there is a lack of police capacity.

3000 collisions which caused an injury

2500 Vehicles seized for no insurance – be aware automatic number plate readers (ANPR) are constantly scanning for vehicles with no insurance, MOT and tax.

75 abnormal loads

142 000 speeding offences (these pay for the police effort!)

40 000 community speed watch letters – this feeds the data but not the prosecution rate

400 dashcam files submitted leading to 170 prosecutions; all of which were convicted.
Avon and Somerset now have the technology to capture multiple speeders at once – hitherto it took nearly an hour for each ticket to be issued – you are warned!
Avon and Somerset Police priorities

Motorcyclist – they run a more practical version of BikeSafe called

raise your ride

.

Tram Line – using lorries to video vehicles from height – enables a better view of what is happening in the vehicle.

Top deck – the same but from a double decker bus

Close pass – looking at safe distances for passing cyclists and horses.

Trader – looking at unsafe vehicles (the numbers are staggering!)
They presented on simple things to make a big difference in road safety and mainly talked about road marking and route signage.  Their LED solar powered road studs (picture below) were a revelation.  They last up to 240 hours after a 4-hour charge and are used to replace cats' eyes.  They can be seen up to 900m whereas normal road studs reach 90m if illuminated by vehicle headlights.  Their use, they claim, has reduced night-time collisions by 70% (33% of journeys are taken at night but 50% of serious collisions happen at night)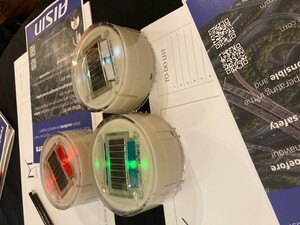 The LED road studs showed the route of the road and in areas where there is no street lighting (they showed a section of the A9 in Scotland give the driver an excellent view of where the road goes); improving the information available to the driver/rider.  Moreover, they give a better perception of speed at night as they remain illuminated as the driver passes them.  There is an improvement in braking and lane discipline.  The inclusion of smart studs at complex traffic light-controlled road junctions, which illuminate to show the lanes applicable to the green traffic light signal, helped with both traffic flow and a reduction in collisions.  These "smart studs" are also used to protect cyclists at junctions.
The use of LIDAR (Light Detection and ranging – basically RADAR using lasers) linked to smart signs also helped reduced collisions.  Signs reminding drivers and riders to obey the 2 second rule and warning of oncoming traffic at route constrictions increase the information available to the driver.
AISIN strap line is "we touch the future" they are combining data from car ECUs and linking it to high resolution images of roads collected by GAIST. 
Roads must be scanned for condition to see how they might affect a driver.  Some (because it is not mandatory) are also tested for skid resistance which relates to how drivers may experience a road surface.  Sadly only 40% of A , B and C roads are done each year (and C roads only in one direction ) so there is no realistic view of the condition of our roads.  There has been, hitherto, no measurement of near misses (link to the Approach section above which indicated it was not possible to analyse near misses!)
Using "connected cars" (85% of new cars in 2022 are connected) data is collected anonymously on the following:
Speed

Braking

Acceleration

Heading

GPS location

Exact speed
T
his data is linked to the environmental and road data to contextualise hard braking events to feed into road maintenance schemes.
Data is therefore collected from real time events and real cars (some 5.5Million currently on UK roads).  Analysing clusters of hard braking and linking this data to the condition of the road allows the prioritisation of maintenance at the most dangerous locations.  This may be something as simple as renewing worn road markings confusing drivers at certain junctions (numerous examples were provided and the analysis works in the view of the author).
Comment:   This was the first time this had been presented in public.  I did ask if this data could be used to analyse the impact of advanced driving and riding training and they thought it was a good idea (given we would have to override the anonymity of the ECU data).  We may be able to measure the before and after driving/riding habits of our training.  I am waiting to hear back from the presenters.  Comment ends.
ESITU presented on hazard perception tools to improve professional driver safety.  New drivers have to take a hazard identification test where they just have to identify what could be a hazard.  Many experienced and professional drivers fail this test as they identify the hazard to quickly for the marking system and have moved on before scoring.  Hence hazard perception training is required.  Hazard perception is a barrier for new drivers, so it is not a case of one test fits all.  Their evidence showed a reduction of 11% of non slow speed collisions using hazard perception training.
Hazard perception (none of this is news to advanced drivers and riders):

 

Search for the hazard – know where to look

Spot precursors – know what to look for

Monitor and prioritise the precursors – Assess the danger

Predict the hazard – chose your precursors wisely

Mitigate the danger – adopt position and speed

A

void hazard – choose a safe response.
Therefore, the test needs – Context, evidence and to be fair.  The scoring is changed from identify the hazard to "what happens next".  A test has been developed for Fire service appliance drivers which is run on a computer but uses video from an actual blue light run – there are plenty of different videos.  This allows the trainee to make mistakes, mitigate mistakes by error-based feedback and then demonstrate a mastery of the new skill.
The example used was a blue light run though a built-up area.  Many of us predicted a car to pull out of a junction but the real issue was a person on a mobility scooter crossing the road in front of the fire appliance.  I would claim here the resolution on the screen in the venue was not great but in truth I never predicted someone to be so suicidal in front of a fire appliance!
ESITU claim experienced drivers benefit from 20 minutes of training and their is no ceiling to the training level.
Note from Tracy Rudge, HQ, re diploma course
I'm writing to you to make you aware of some changes that are being made to the driver and rider coaching qualifications.
What is changing?
From April we will be introducing two new level 3 qualifications in coaching advanced drivers and riders, exclusively for RoSPA Advanced Drivers and Riders (RoADAR) members. These will replace the previous Diplomas in Driving and Motorcycle Instruction.
Having reflected on the current qualifications framework, we decided to consult with RoADAR members, and through this listening exercise we decided that the current structure could be improved, to reflect the differing needs of both drivers and riders. And in response to what members told us, we wanted to make sure the new qualifications were more flexible, while also being pitched at the right level. And following the feedback we received, we also wanted to make the routes for driver and rider training, clearer and more straightforward.
Over the past six months we have worked with a number of RoADAR members (Regional Senior Examiners, Regional Coordinators, Examiners, RoSPA colleagues and representatives from the RoSPA Advanced Drivers and Riders membership) and listened to their detailed feedback on how the current qualification structure could be improved. Also, along with working closely with RoADAR members, we decided to pilot both schemes to make sure that the content and delivery methods reflect the needs of candidates. The pilot has now been successfully completed. Both the feedback from our consultations and the user experience from the pilot has been built into the final products.
The new qualifications will be in place in April, however, for most RoADAR members the updated qualifications will not immediately affect them. Existing diploma holders will need to make a choice so that they take the right retest for them going forward. This given, we know that members may have some questions, so we have drafted some Frequently Asked Questions (FAQs) which you can find attached. Please take some time to look through these as we know that members may come to you for information/advice. Making you aware in advance is important to us.
We are providing this information to all Chairs, Secretaries, and Examiners etc. in advance, to place you in an informed position if you receive any questions as a group representative. From April you will also find information on websites www.roadar.org or www.rospa.com As an important group representative your help is greatly appreciated – as mentioned we are communicating the changes to you now, and wider membership communications will be published in the April edition of Care on the Road.
We hope that the new qualifications better represent the wants and needs of riders and drivers. If however, you have any particular questions that can't be answered by the FAQs please contact us by email furtherinfo@roadar.org or by phone 0121 248 2099.
Tracey Rudge MCIPD
Have you been up to anything to do with Riding or Driving lately? If so, then please let us know as we would love to include it here; photos would be great too!
April 2nd - South West Peninsula Spring Rally 
This is a road rally organised by Somerset Advanced Motorists which involves plotting a route throughout the South West Peninsula. It will require some navigational skills, mental dexterity and observational ability, but above all, it is designed to be an enjoyable event for all Riders on two or three wheels.
The Big Trip!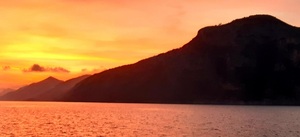 The Big Trip follows Peter and Sally Genet as they drive their VW T5 Campervan all the way from home down to sunny Athens - well that's the plan anyway. Keep up to date with their travels at this link: 
Training with Gloucester Group
We are also training some new Bike Advanced Tutors as a joint effort which is proving very beneficial to all concerned.  The sharing of ideas and resources is helping us improve our training and thus our tutor cohort. So, far, three classroom sessions have been well attended by our own Advanced and Group Tutors. 
Our car advanced tutors have also been busy helping the Gloucester Group train some new tutors.  This was an opportunity for the two Groups to share ideas and we also managed to train a new tutor for our Group as well.  Thanks to Dave Venman, Nick Carrington and Les Brown for their efforts.
Driven Ohm Racing were at the pre-season test on Saturday 26th March to shake down two of the cars ahead of the season. 
Gary was out in the main car #905, and Steve Waight was running in the new car #887- which he will race at the two double headers in April and June. Both cars are Supercharged Mini Cooper S, R53 models, and look fetching in identical livery.
As well as getting dialled back in, we did comparative tyre testing between Toyo and Nankang rubber. Our new tyre partner M4 Tyres Ltd on hand to assist there.
Tom and the team from TM Racing were great to work with as always. Tom was also running one of his Formula Ford drivers, so the team were busy looking after us.
Whilst Gary matched his previous PB, Steve managed to chop 3 seconds off his previous PB in the upgraded car. He felt comfortable with the extra speed and horsepower. We are looking forward to the season beginning in April.
Please look at the dates above and if you can come along to suport Gary please do and also take some fliers and business cards with you to hand out to the petrol heads  - this is a great opportunity to recruit more car drivers.
Driven Ohm Racing, has a car available for a track day experience on 20 May at Castle Combe if anyone would like to join them.  It costs £250 per person and this includes the car, fuel and all the necessary trimmings. All you need is your full driving license and clothing which leaves no exposed skin (Gary has helmets if you do not have your own).  You will need to bring a pic-nic or sample the delights of Bar-H in the paddock for refreshments on the day.  If you come to the Group meeting on 11 April there will be a raffle where you may win the chance for the Group to pay £50 towards your day.
Follow  progress on Facebook @Driven.Ohm.Racing.
Please check the series website for the lastest details:
Please let us know of any plans you may have; any road trips, any places to drive/ride to; maybe you have plans to unicycle the length of the UK - if you are planning this, please let us know as this would be great to read about!
A Threat to Public Access in the Countryside Starting with Green laning (Trail Riding and Other Motor Vehicles on Byways )


For those who use byways Consultation Deadline 8th April 2022 (please resopnd even if you do not!)

The Landscapes Review published by DEFRA was aimed at informing the government on how National Parks and Areas of Outstanding Natural Beauty can be better managed.

The government published its response to this review that includes further consultation that departs from the spirit of the report and its recommendations, for more inclusive "Landscapes for everyone" with the inclusion of some potentially damaging questions that could provide a platform for legislation that bans motorcycling and other motor vehicles on unsealed and minor tarmac roads.

Question 16
Should we legislate to restrict the use of motor vehicles on unsealed unclassified roads for recreational use, subject to appropriate exemptions?YES EVERYWHERE 

Anti public access activists have seized this as an opportunity to embark on a renewed campaign to distort public and governments perception on the issue. Motorcyclists, and more importantly, the wider general public need to take action to combat this type of discrimination. It's motoring and motorcycling this time, but who next - mountain bikers, horse riders, carriage drivers, fell runners, wild swimmers, climbers, canoeists  - if "they" don't approve you could be next on their hit list!

Actions speaker louder than words
It's time to stop ranting on social media and ensure your voice is heard by the people who matter in Government. In conjunction with the National Motorcycling Council and LARA we have developed information to help you do that which is here. YOU need to step up and be counted, you must not think that someone else will do this.

You also need to spread the word as you see more stories appear on the subject and make sure you share and comment, as well as encourage friends and family to respond to this important public access issue.

Do not delay take action today - Consultation Deadline 8th April 2022
Promotional activities
Skillshare - 2022 - see poster above!
We are starting Skillshare again this year and alternating between the North and  South of the County.  Our first event is on 2 April at Three Trees Farm Shop in Chiseldon.  Sadly the Haven in Salisbury has closed and we are moving to 3 Guys Cafe 2 Rhodes Moorhouse Wy, Salisbury SP4 6SA (just off the A345 north of Old Sarum, Salisbury) for the Southern version on 7 May.

Wiltshire Police have the follwowing proposed dates for BikeSafe:

We will be supporting Wiltshire Police with BikeSafe both with tutors to make up the instructor numbers and to help promote the Group.  We do this in conjunction with WABAM so it is a great way to reinforce advanced riding and to gather new members.
Calne Bike Meet - 30 July 2022

We have a stand at this huge event on Sat 30 July.  Please make a note in your diary as we will need plenty of people to help us promote our Group on our stand ( Car and Bike memebrs please!)
I

f you have any ideas for events, then please get in touch with the committee using the committee email address

:
Look forward to hearing and discussing your ideas.
A generic set of slides has been created for use if you are asked about Wiltshire RoADAR and have the opportunity to present. This could be at a local club, workplace etc. Please send a mail to committee@wiltshireroadar.co.uk  
and the slides will be sent over to you.
We also have flyers and business cards so ask for these via the same means.
The new highway code changes are  in detail
here
. These introduce a hierarchy of responsibility for the safety of all road users.  Reading through them they seem to formalise what advanced drivers and riders should be doing already but please be aware of these changes – they come into force in Jan 2022 and many will not read them properly if at all!  Remember ALL other road users are dynamic hazards!
The following is doing the rounds on Social media but please do read the complete list of changes at the link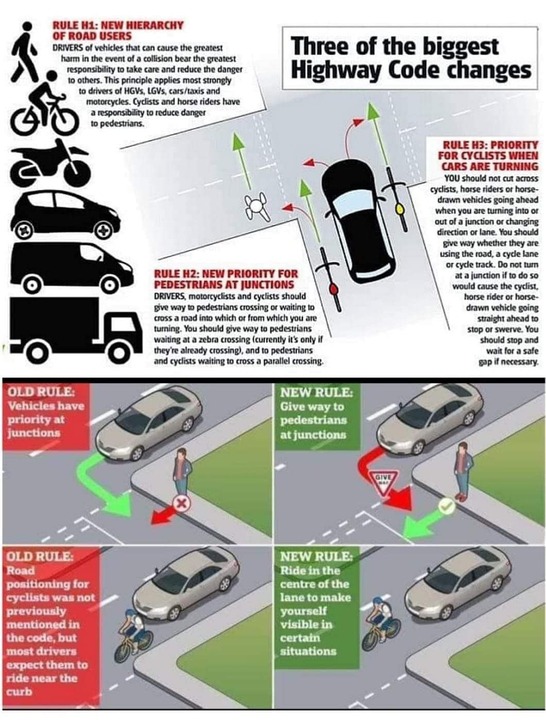 We continue to review these protocols at every Committee meeting and see no reason to change them at the moment for the next month.  Clearly with the changes in legislation some may feel these protocols are excessive; we continue to have your safety at the forefront of all we do - personal choice must lead the way.  From1 April we will no longer insist on a lateral flow test as these will no longer be free of charge.    The responsibility is on us all to do what we think is right for us and our loved ones.  The bottom line is if you do not feel safe doing something then do not do it!!

Wiltshire RoADAR COVID Secure Car Tutoring Protocol 
This is a voluntary activity and both parties (Tutor and Associate) must be content to be in the same car as each other (normally the Associate's car).  It is recognised each individual has their own circumstances and acceptance of level of risk.  There will be no judgement of individuals who do not wish to conduct car training.
Wiltshire RoADAR have a written risk assessment which is available on request.  The mitigation factors listed below are to minimise the risk of coronavirus infection for the Tutor and the Associate.  These are the absolute minimum required and if individuals wish to add their own factors the this is up to them.
Essential Mitigation Measures
No training if either party has displayed COVID 19 symptoms within 7 days or is self-isolating in line with Government guidance (including Test and Trace protocols).

Associate and tutor to have conducted a lateral flow test within 2 days of the training session.  A positive test should be treated as per Government guidelines and precludes training.

Face covering to be worn by both tutor and associate.  These must be in place prior to entering the vehicle.

Ensure hands are clean (washed for 20 seconds and/or alcohol gel as a minimum) prior to fitting face covering.

Tutor and associate must not touch their face when in the vehicle or prior to washing/sanitising hands/ or removing gloves if worn.

Vehicle ventilation system to be on and drawing air from outside the vehicle (NOT on recirculation). Ventilation enhanced by opening rear windows to allow air flow over tutor and associate to go out of the vehicle.

Avoid face to face activity and conduct discussions outside the vehicle where safe and legal to do so.
Recommended Additional Mitigation Measures
Tutor wears disposable gloves when in the vehicle.

Any equipment taken into the vehicle by the tutor to be sanitised post the session (alcohol wipes or a bleach solution)

Associate to ensure vehicle interior is cleaned with sanitiser prior to tutor entering the vehicle.
Wiltshire RoADAR COVID Secure Bike Tutoring Protocol

We must ensure the safety of both the Associate and the Tutor.  The following protocol is to be followed:
Both parties must be happy to partake in the tutoring session – there is no penalty for not wishing to partake provided communication is clear.

No tutoring if either the Associate or the Tutor have displayed symptoms within the last 7 days or are told to self- isolate by the

Government

Track and Trace protocol.

It is strongly recommended both the Associate and the Tutor conduct a lateral Flow test no sooner than 2 days prior to the session.  A positive test should be treated as per Government guidelines and precludes training.

All must follow Government guidelines on self-isolation and shielding.

Appropriate Social distancing must be rigorously applied. 

Follow Government guidelines for hand cleansing and personal safety – hand sanitiser useful at all times.

Avoid busy locations for meeting, follow the latest Government guidelines for the use of cafes and/or take own refreshments. 

Associates to be encouraged to bring their own copy of Roadcraft and the Highway code for ease of reference during briefing and de-briefing sessions.

Tutor explanations and diagrams to be suitable for understanding from 2 metres.
Advice will be updated as and when it is recieved. But, please follow government guidelines.
Books!

  These are the latest version of Roadcraft (been out for a while now).  Please ensure you are using the latest version to keep up to date with your skills.
Motorcycle Roadcraft is the police handbook for rider training. It's used by all the emergency services and forms a key reference for riding instructors.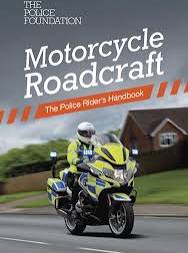 Updates for this new edition include a new overtaking chapter with separate sections on passing stationary vehicles, single stage overtakes, and multi-stage overtakes and new explanations of advanced concepts, such as limit points on left-hand bends. Guided by a working group of experienced instructors, Motorcycle Roadcraft is essential learning for police officers preparing for the demands of operational riding.

Roadcraft is the police handbook for driver training. It's used by all the emergency services and forms reference for driving instructors.
Updates for this new edition include a new overtaking chapter with separate sections on passing stationary vehicles, single stage overtakes, and multi-stage overtakes and new explanations of advanced concepts, such as limit points on left-hand bends.

Guided by a working group of experienced instructors, Roadcraft is essential learning for police officers preparing for the demands of operational driving.
Media coordinator - Help us to broaden our reach

To help promote the group we have a variety of online media platforms, FaceBook, YouTube, Instagram and Twitter. To help make the most out of the opportunities that these outlets provide, we could use some help from someone who has experience of using such tools. Drop me a line at secretary@wiltshireroadar.co.uk  if you would be interested in helping promote our group.
These are available from the Group Secretary if any member wishes to see them. If you are interested in reading the minutes, then please send a mail to the Group Secretary whom will promptly forward them onto you.
Forum
Please could all Members use the 
Forum
 on the Website which can be used for any purpose but particularly coordinating events, hints, tips and general conversation.  It is easy to register on the website so please do log on and chat away.
Test results 
Reminder to let the Membership Secretary and your tutor know when you have taken your Advanced Driving/Riding Test and result. This is so our database is kept up to date; there is no need or pressure at all to have the result published on the website or in this newsletter if you wish to keep your result confidential.