Dear Dutch Learner,
Last month's winner of the free Dutch lesson was Bridget Tapper. Gefeliciteerd Bridget! (The solution was "zie de maan schijnt door de bomen".) Bridget has received her free lesson already:
<![if !vml]>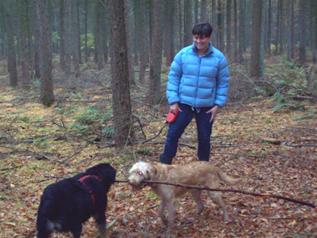 <![endif]>

Last week I met with Sylvia for my free Dutch lesson which I had won solving her riddle. In usual Sylvia form it was anything but textbooks and boring exercises.  I live in the middle of the Utrechtse Heuvelrug (a beautiful bit of forest near Utrecht) so Sylvia came to my house with Mister so that we could combine the lesson with a walk in the forest. We focused on word order, especially when I need to use dat or omdat in a sentence. I am not sure how we ended up talking about it but we got talking about Boer Zoekt Vrouw, so the entire exercise involved Sylvia questioning me on why I liked the program, why the boer needed a vrouw, why he chose that person etc etc. It was so much fun and I certainly learnt a lot...although I now think of Boer Zoekt Vrouw everytime I need to use dat or omdat in a sentence!!!  Thanks Sylvia for another great learning experience.
 
B

PS Something else for your newsletter....recommendation for a great cafe, with sensational coffee, in Utrecht - Broodnodig on the Mariaplaats (at the end of the Zadelstraat).
This month, you don't need to solve a puzzle in order to win something… You can win these wooden shoes (size 39) just by sending me an e-mail why you would like to win (in Dutch, English or German)
<![if !vml]>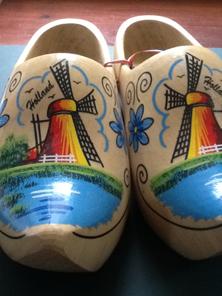 <![endif]>
I'll choose a winner in January ;-)
If you like to use your Dutch over the holidays, I can recommend the Dragon Dictation app (app store, free) for your pronunciation. Read a Dutch sentence out loud and see whether the app types out the same sentence. Fun to practise your "ui" and "eu" etc.
In case you prefer to practise your spelling, let the computer read a story for you. Make sure the text is available as well, so you can check your own spelling. See for example this site. You can also let Google Translate read a text for you (thanks, Manuel, for this idea).
For the loyal die-hards who have read this far, I have a special offer... €100,- discount for the Total Immersion 1 course starting January 7th or €50,- discount for the Total Immersion 2 starting January 22nd. This is to help you with your New Year's Resolutions ;-) The discount code is "SNEEUW". (Write this on your registration form).
Everyone is welcome to our Coffee Morning to meet other Dutch Learners: January 25th, 10:30-12:00, in my house, €5,- pp.
And if you happen to be a dentist: Theme Based Immersion (level 1.5-2) for dentists coming soon!
Merry Christmas and a Happy New Year!
Syl