"Overseas starts just over the road"
"Overseas starts just over the road" in these great new illustrations from Serial Cut. The Madrid-based studio have been incredibly busy collaborating with Grey London and HSBC on this mammoth of a project, and we can finally reveal one of the first layouts featuring the London and Shanghai skylines. Watch out for many more cities to come across this worldwide campaign.

---
In celebration of UAE's National Day, Laszlo Bordos was invited as lead 3D designer and supervisor for the unbelievable projection mapping on the gigantic Burj Al Arab. Official video will be available soon to see the amazing visuals of epic proportions. Laszlo also recently participated in the Screen City Festival in Norway, with another impressively hypnotic display on Stavenger's Domkirke.
---
Simen Johan - Jameson Select Reserve
Simen Johan was selected by TBWA London, and Creative Director Walter Campbell, to shoot the latest print campaign for Jameson Select Reserve whiskey. Shot on location in an old mill outside of Dublin, the idea was to capture the sensuality and richness of the matured whiskey, and the barrel burning process undertaken to infuse the flavours. The flames, smoke, and sparks were all needed to produce an inviting atmosphere of intense alchemy - that of burning wood and whiskey. Barrel-end artwork was produced by master model-maker Tim Weare, and local production courtesy of Yoke Productions. Working with the legendary talent of Walter Campbell, it was an incredible shoot that was amazingly executed by Simen and the team.
---
Bjorn Lie - Jackson + Rye

Bjorn Lie has finally completed the branding for Jackson + Rye, a new restaurant and cocktail bar serving heritage American menus in the heart of London's Soho. Bjorn's charming characters populate the menus, coasters and all promotional materials for the new chain. The restaurant is now open and eagerly awaiting your visit.

---
Cruschiform - The Parisianer
Cruschiform was invited to participate in the famous group exhibition "The Parisianer". The goal was to include illustrators from all backgrounds and invite to them express their vision of Paris for imaginary magazine covers. The exhibition will run from December 20 - 23 at the Cité Internationale des Arts,18 rue de l'hotel de ville, Paris. Along with a very nice catalogue, original works will also be for sale.
The Parisian designer was also commissioned by Esquire to create this wonderful map of Sao Paulo. This formed part of their travel guide, featuring some of their favourite hotels, landmarks and places to party. We love her vibrant, graphical realisation of the city. The illustration appears in Esquire's January issue, and is on magazine stands now.
---
Jessica Dance - Wonderland Magazine

Jessica Dance, London-based Set Designer and Art Director extraordinaire, recently collaborated with photographer Benedict Morgan to shoot these new Fendi 'bug bags' for Wonderland magazine. We can't get enough of these vibrant and highly creative shots; particularly the clever mixing of textures. To see more of Jessica's portfolio, which showcases her playful imagination and work with top clients including Mulberry, Nike and Google, click here.

---
Kyoko Hamada - Wall Street Journal

According to the Wall Street Journal, if plumes aren't your bag (or dress), it might be time to reconsider. This year's feathered looks are a far less flighty and frivolous flock. Kyoko Hamada's lovely shot of a model and peacock staring each other off captures her humour to approach to the subject of feathers in fashion. Sidestepping the stigma attached to wearing fur, feathers have made a somewhat sophisticated and understated comeback in the fashion world.
---
Olaf Hajek - Cacharel Amor Amor

Cacharel Paris commissioned Olaf Hajek to illustrate this special floral packaging for their Amor Amor fragrance, one in a series of three different designs for their three fragrances. It's not too late to get those last minute presents! Grab yourself an Olaf Hajek artwork (fragrances included!)
Andrew Holder - Observer Books of the Year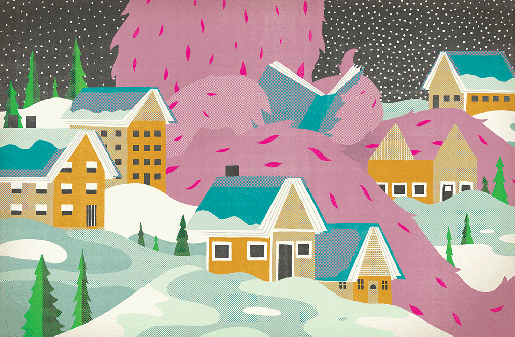 We love this new illustration by Andrew Holder for The Observer's writers books of the year. Taking a slightly more playful turn from his usual work, this beautiful piece certainly makes us feel like settling in with a good read and a cup of tea. To view The Observer's books of the year click here, and to view more of Andrew's fantastic portfolio click here.
---
Cirkus - Castrol Viral Film
How do you feel when you ride? Cirkus and Ogilvy present the grandest ever throttle spectacle for Castrol. For Cirkus there's always Bigger and Better, so when Ogilvy Singapore briefed the Cirkus troupe to not hold back, they happily obliged. The client needed a fun epic viral film as a call to arms for bikers to share their motoring experiences in the Castrol Facebook communities around the world. They used the authentic approach of capturing the unique "motorbike speak" by interviewing bikers about what they feel when they pull the throttle and accelerate. The film is over-the-top and spectacular in typical Cirkus fashion.
---
Dave Anderson!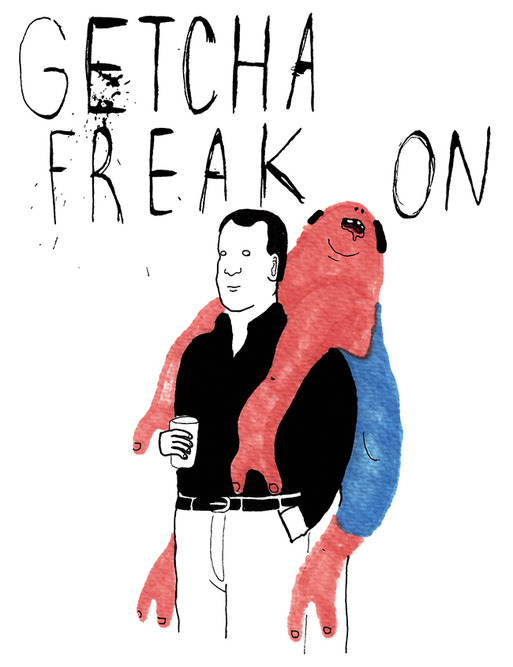 We've been following Dave Anderson's work for some time, and are delighted to include him in our Illustration and Motion & Interactive roster. Dave was born and raised in Abergavenny, South Wales but moved hurriedly to London when he heard the streets were paved. Described by his university lecturer as "occupying his own unique cultural space", he started doing illustrated stand-up performances at various dives across the city whilst at Wimbledon School of Art. Dave then graduated with distinction with a Masters from Central St Martins. Since then Dave has worked with many of the world's largest and most respected advertising agencies and production companies. He was a member of a 2011 Gold-winning team at the British Television Advertising Awards and won Best Animation at the Pokes in 2012.