DAN E-NEWSLETTER | MARCH 2014
Included in this e-newsletter:
2014 DAN Membership Details:  New logon details

Resource Deal:  All 6 films from EthicsOnline for $565 (a 30% saving on individual film price)

New MA in Religious and Values Education, Charles Sturt University

Unearthing DAN Resource Archives:  Origins of the Universe - Creation Myths

Launch of world first Jewish Online Museum (in NZ)

Minds, Bodies and Persons

: exploring what makes us human through film

Survey:  

What attire is appropriate for women in Muslim countries to wear in public?

Video clip:  Bear Grylls and Stephen Fry talk about their beliefs

Academy Conferences Student 'Thinking Days' with Julie Arliss 5-19 May

June-August 2014 Professional Development:

REThinking Critical & Creative RE 
DAN would love to connect with more RE teachers in Australasia through our journal, website and PD. Please do mention DAN to your colleagues in other schools and encourage them to check out the DAN website.  I am more than happy to send a back issue of 
Dialogue
 Australasia journal to any interested teacher.
 

2014 DAN MEMBERSHIP - NEW LOGON DETAILS




Passwords to access online resources on the DAN website have been reset.  New details will be advised to 2014 financial members with their May 2014 Issue of Dialogue Australasia journal.  If you have any difficulties accessing resources in the interim, please contact the DAN EO.

 

Thank you to those members who have renewed for 2014 and we look forward to hearing from the rest of you!  Please contact the DAN EO if you have any queries regarding your Membership status, or for a copy of your 2014 DAN/Journal Invoice.



 

PACKAGE DEAL March-April 2014:

All 6 films and teaching resources from 

EthicsOnline for $565  

(30% off the individual film price)



EthicsOnline have now produced 6 highly regarded films and accompanying classroom resources:
This is a great opportunity to purchase all 6 films with ready to go resources
"I've taught for 17 years in England and Australia and during this time I've not found better resources to complement these topics". 
Dominic Hodnett, Head of Philosophy, Christ Church Grammar School, Perth
 

2014

 

MA in RAVE (Distance Education) - Charles Sturt University 




The new MA in Religious and Values Education through CSU offers an excellent, flexible, online study option for teachers looking to acquire and extend their knowledge in RaVE.  

 

The course begins with a study of recent national and international trends in RaVE, and then focuses on recent developments in major curriculum areas within the broad field of RaVE including 

teaching the Bible, philosophy of religion, religious ethics and world religions.
Students complete a semester of reflective professional practice before proceeding to advanced studies in either philosophical and ethical enquiry, or in media, popular culture and the arts. The capstone subject for the course is an individual research project in religious and values education.
 

DAN Resource Archives:  ORIGINS OF THE UNIVERSE

(from the DAN Beginners Sample Curriculum)




You know your DAN Membership gives you access to resources on the DAN website, but do know what resources are buried deep in the archives?  Over 2014 the DAN EO will unearth some of these resources for you to (re)discover.  Please do contact me if there is any area of your RE curriculum that you are particularly keen for resources in....we may just have something online to assist!

 
To model the pedagogy DAN exists to promote, a sample
5 Stands Beginners Curriculum for Yrs 7-9
was written by Dr Felicity McCutcheon (Head of Philosophy & Religion at Melbourne Grammar School) as 
one possible way
 into teaching RAVE for new and non-specialist teachers.  The model contains a curriculum matrix and schemes of work which are available to DAN Members on the
DAN website
.  Additional resources including teaching notes, assessment tools and two stand alone units are also available on a CD for $55.  
Several of those additional resources are offered to DAN Members for download from this e-newsletter.
Within the Yr 8 Scheme of Work is a Unit on
Origins of the Universe - Creation and Science
(6 lessons) which includes:
Lesson 1. Introduction to Myth:  the aim of this lesson is to introduce students to the idea of myth as a literary genre and to develop a distinction between mythical accounts of creation and scientific accounts of creation.  
Lesson 2. Ways in which worlds came into being:
the aim of this lesson is to explore creation stories from other traditions in order to consolidate understanding of the nature of myth. 
Lessons 3-4.  Context and content of Genesis 1 &2:  the aim of these lessons is to learn how the context of the writers of Genesis 1& 2 shaped the content of their version of the creation story.  
DOWNLOAD for DAN Members (using your 2014 Password):   
If you have any difficulties accessing these resources (using your 2014 Password), please contact the DAN EO.
 

NEW:  JEWISH ONLINE MUSEUM 

 

The recently launched Jewish Online Museum is New Zealand's first Jewish museum, and the first online Jewish museum in the world.  It is a beautifully curated repository compromised of a wholly digital database of images, texts, photographs, animations, films, video interviews, audio and musical files and more, all grouped under five main sections:
HISTORY - including online exhibitions, oral histories, archives, and a section exploring the early beginnings of Australian Jewry.  
LIVES -

Did you know that Karl Popper wrote much of his seminal work, 

The Open Society and Its Enemies

 whilst in Christchurch, NZ?
ARTS - includes sections exploring 'What is Jewish Art?', Jewishness in Contemporary Art, The Visual Arts, Writers, Music, Performing Arts and Food
FAITH - includes What is Judaism?, Daily Life and Rituals, Kashrut, Conversion, a Jewish Glossary, Festivals
HOLOCAUST - includes Anti-semitism, Soundscape, Oral Histories and interviews, Shadows of the Shoah Exhibition
Please do spend some time exploring the JoM - it is an accessible, engaging resource for you to use with your students. The first Curator, Keren Cook, would welcome any feedback on this protean project.
MIND, BODIES, PERSONS: A couple of film resources to explore the issues
 

1. Movie:  Her

 

Los Angeles, the near future.  Theodore Twombly (Joaquin Phoneix) works for a company which produces personalised love-letters for other people.

When he downloads a super-intelligent computer operating system (OS) to help him organise his life, Theodore is surprised to discover that 'Samantha' (Scarlett Johansson) – as she calls herself – understands him better than anyone. As their connection deepens, he realises that he's falling in love, and that she seems to reciprocate. Can their relationship be real, even if Samantha isn't?
Her poses and explores many
questions familiar to the RE & Philosophy classroom. The
Damaris Film Blog
has a useful Study Guide to assist you explore such issues as:
1. 
What characteristics fundamentally define a human being: a physical body, mortality, our desire for relationship, or something else? Is it important to be able to clearly define what makes a human being, as opposed to a computer or machine, and why, or why not? In what ways, if any, might drawing this distinction become more difficult in the future?
2.

'She's not just a computer.' – Theodore





'It's in this endless space between the words that I'm finding myself now. It's a place that's not of the physical world.' – Samantha
What does the film have to say about the question of consciousness – what it is, and where it comes from? What happens to Samantha and the other OS's at the end of the film? Do you think we will ever be able to explain consciousness, and will it always be a uniquely human attribute? What would be the philosophical implications if machines could develop true consciousness?
3. 
'I can overthink everything and find a million ways to doubt myself. And since Charles left I've been really thinking about that part of myself and, I've just come to realise that, we're only here briefly. And while I'm here, I want to allow myself joy.' – Amy
How do Amy and Theodore each find their way to living a fuller, freer life? What might it entail to overcome fear, self-doubt and self-criticism and 'allow ourselves joy'? Is it possible to do this whilst fully acknowledging the reality of our flaws and failures?
 

2. Minds, Bodies and Persons - Senior Philosophy




In a special Campfire Spark, Dr Janette Poulton uses short films to explore the questions:




- Are human beings more than their bodies?

- Does an individual remain the same over time?



Click here to read a brief examination of these questions.  You can download all the films referenced for three months' use in your schools for $59 - read how by visiting the excellent Campfire site.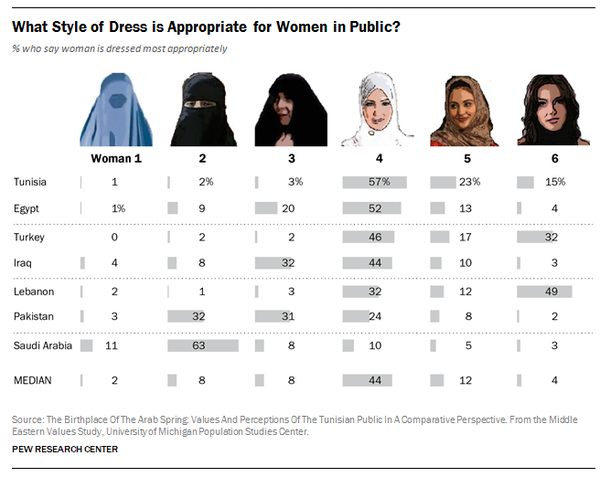 An important issue in the Muslim world is how women should dress in public. A recent survey (Dec 2013) from the University of Michigan's Institute for Social Research conducted in seven Muslim-majority countries (Tunisia, Egypt, Iraq, Lebanon, Pakistan, Saudi Arabia and Turkey), finds that most people prefer that a woman completely cover her hair, but not necessarily her face. Only in Turkey and Lebanon do more than one-in-four think it is appropriate for a woman to not cover her head at all in public.  Even as those in many of the surveyed countries express a clear preference for women to dress conservatively, many also say women should be able to decide for themselves what to wear. What the survey leaves unanswered is whether respondents think social or cultural norms will guide women in their choice to wear more conservative, or less conservative attire in public.  Read more about the findings of the report...
 

Video Clip: Bear Grylls and Stephen Fry talk about their beliefs

 

A neat little 2.25mins clip accessible on youtube where Bear and Stephen reflect on their beliefs.  It's not academic in any sense, but would make a good conversation starter with your students.
Gifted & Talented Student Conferences with Julie Arliss, 5-19 May 2014, Australian and NZ Venues
 

 

 

Academy Conferences will be offering another provactive series of 'thinking days' to extend and challenge students.  Topic covered include:

Chaos and the Origins of the Universe

Justice, Truth, Beauty and Mathematics

Oxbridge Question, 'Do you believe that statues can move, and how might you justify such a belief?'
Emotional Intelligence, 'All learning has an emotional base' (Plato)

The BIG Debate

Click here for more information and registration details.
 

June-August 2014 DAN Professional Development




REthinking Critical and Creative RE:

Encouraging rigorous, philosophical and creative thinking in the RE Classroom

 

Brian Poxon,

Head of Philosophical, Religious and Ethical Perspectives at Wesley College, Perth, will conduct day long professional development seminars in all capital cities in June-August 2014.

 

Dates and registration details will be confirmed on the DAN website and e-newsletter soon.