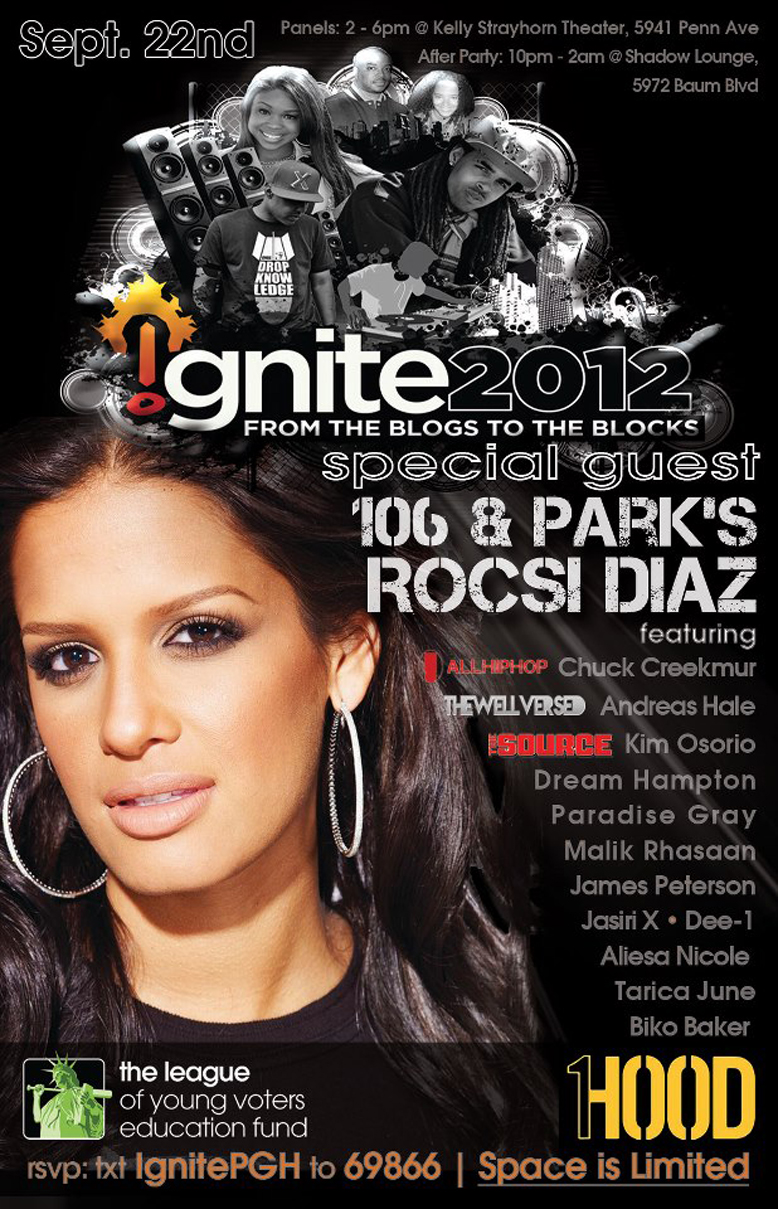 WHAT
With less than 60 days until the 2012 presidential election, the national #Ignite2012 tour is blazing through Pittsburgh to address critical issues affecting youth between the ages of 18-35. The tour will provide a platform for local leaders and the nation's most dynamic celebrities, bloggers, and activists to discuss both what it will take to move Pittsburgh forward and proactive strategies to engage urban Millennials in the democratic process. The national #Ignite2012 tour will encompass grassroots training, expert panelists, and live musical performances by Dee-1, Aliesa Nicole, Tarica June and Jasiri X. The goal of #Ignite2012 is to reignite the youth vote and inspire 100,000 young voters to participate in the 2012 election.
WHO
Several groundbreaking activists and national tastemakers on the panel include:
Rocsi Diaz

,

Co-host of BET's 106 & Park

Jasiri X

,

Co-Founder of One Hood Media, Pittsburgh hip-hop artist and activist

Chuck Creekmur

, Founder of AllHipHop.com

Biko Baker

,

Executive Director of the League of Young Voters

Andreas Hale

, Founder of The Well Versed

Malik Rhasaan

,

Founder of #OccupytheHood

Paradise Gray

,

Co-founder of One Hood Media, Pittburgh activist

Kim Osorio

,

Editor-in-Chief of Source Magazine

Dream Hampton

,

Jay-Z biographer, hip-hop journalist

Dr. James Peterson

,

MSNBC commentator
WHEN
Saturday, September 22, 2012
Livestreaming Panel: 3-5 p.m.
Concert: 10 p.m. @ Shadow Lounge
WHERE
Kelly Strayhorn Theater, 5941 Penn Avenue Pittsburgh, PA 15206
Livestreaming from YoungVoterLive.com.
Concert: Shadow Lounge, 5972 Baum Boulevard

CONTACT INFORMATION
Contact Jasiri X, jasirix@gmail.com, 4129564795 for media credentials or inquiries
The League of Young Voters Education Fund empowers young people nationwide to participate in the democratic process and create progressive political change on the local, state and national level – with a focus on non-college youth and youth from low-income communities and communities of color. The League meets young people where they are, works on issues that affect their lives, and provides them with tools, training, and support to become serious catalysts for change. Visit us @ YoungVoter.org.
All Events Are Free To The Public, Limited Seats Available!