Scotland Island & Offshore Children's Services Update


Long Day Care Centre
Tuesday, Wednesday, Thursday 7.30am to 5.30pm
Our Centre has a new Director! Shona Forsyth has joined us as our Authorised Supervisor. Shona is responsible for the management and administration, supervision and support of staff and the planning, implementation and evaluation of a quality educational program for all children in the Centre.

Shona is known to most of us at the Centre, living here on the island and Mum to Joel and Asha. Shona brings to our Centre extensive experience in the field of pre-school and high school education. Shona's professional accomplishments in the pre-school area are as a teacher at an International School in Taiwan, where she was responsible for preparing and implementing the educational program with a number of support staff. Shona is closely engaged with this stage of child development and we look forward to Shona bringing her passion and experience to the Centre.

Shona, in conjunction with Mena Johnson our Assistant Supervisor are implementing an exciting new program in the Centre. If you would like to know a little more about the Centre please come along to our
Annual General Meeting.



Annual General Meeting




Wednesday 20th May




7.30pm to 9.00pm


Scotland Island Children's Centre

We would like to invite you to a wine and cheese evening to provide you with an update of the Centre and to meet Shona Forsyth our new Director; and hear Shona's exciting new plans for our Centre.

This is a great opportunity to come and meet Shona, hear her vision for the Centre, ask questions and make any contributions.



Please RSVP by Tuesday 12th May to Nikki in the office on 9979 7856 or email your confirmation of attendance

.
We look forward to seeing you all there.



Playgroup/Mums' Every Monday 10am to 12 noon


Pop by and say Hello. We have a small group of Mums who get together for a cup of tea and a chat. And we have a mix of babies, crawlers, toddlers and walkers who all have fun.

It's also a great way of getting the little ones use to the Centre and meeting some friends before coming to Long Day Care.

It's only $3 which covers, tea, coffee, biscuits etc.
If you would like to know more please call Emma on 0415 192 08


---



Expression of Interest




Watermarks Open Studios September 19 and 20





Event:

"Watermarks" is a weekend tour of open studios and homes exhibiting the work of artists living on Scotland Island and the Western foreshores of Pittwater.

Artists might include painters, photographers, printmakers, illustrators, sculptors, performance artists, musicians, poets, writers, filmmakers etc.

Listed open homes and studios display visual arts and might include artists' talks, live performance, demonstration, workshops and refreshments.

Studios and homes open between 10am – 4pm on September 19 and 20.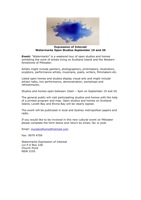 The general public will visit participating studios and homes with the help of a printed program and map. Open studios and homes on Scotland Island, Lovett Bay and Elvina Bay will be clearly signed.

The event will be publicised in local and Sydney metropolitan papers and radio.



If you would like to be involved in this new cultural event on Pittwater please complete the form below and return by email, fax or post.





Note that this call for expressions includes non artistic types too - we have many roles for volunteers to get the whole community involved.





Click to download the form




---
WOW – Women on Water




WOW is on again next week, Wednesday May 13.




Where: Marie's place


Waterfront, 3rd house (second jetty) from Bells Wharf heading towards Carols
Wharf.
There is access from Richard Rd but Marie says it is slippery and it would be best to come down the Bells steps and enter from the waterfront.



Time: Midday (as usual)



Bring: Something to eat to share and something to drink (tea and coffee will be provided)
Since Marie has only recently moved in please bring a wine glass and a fork!

Topic: What is the nature of "love"?
How does "love" and "in love" differ?
Is there platonic love between men and women?
When we say we "love someone" what are we really saying?
How about loving our animals? Does that equate to love between humans? What about their love for us? Is it just "cupboard love"?
And let's not forget the love of inanimate objects, concepts or activities, for example what do we really mean we we say I love chocolate or music or sailing?

Thanks Marie for a topic that is sure to encourage a stimulating discussion.

If you get lost (although that's pretty difficult since we all know where Bells Wharf is), Marie's phone number is 9979 5037.

Hope to see you all on Wednesday at Marie's.

Kerry Borthwick
Director , Quality of Working Life Pty Ltd
Ph: 02 9999 4092


---
East Timor Fundraiser in Avalon with
Kirsty Sword Gusmao
(The Australian wife of Timor's PM)


Invitation


Dear Friends,


Please accept this rare invitiation to meet Kirsty Sword Gusmao, the Australian born wife of Xanana Gusmao, the Prime Minister of Timor Leste.

Maria Regina Catholic Primary School in Avalon is holding a fundraising evening on Thursday 14 May, with Kirsty as the keynote speaker, followed by the

film "Where the Sun Rises" also known as "A Hero's Journey".



Tickets are $15.

All money raised will be donated to the Alola Foundation which was established in 2002 by Former First Lady, Kirsty Sword Gusmão to provide help in advocacy, education, employment and maternal and child health to the women of East Timor.



"If we can forgive, We liberate ourselves." Xanana Gusmão





Click to download the flyer
---
Author Talk@ Mona Vale Library




Thursday 14 May – Author Mary Moody


"Sweet Surrender. Love, Life and the Whole Damn Thing". a memoir



Thursday 28 May – Author Donna Gibbs


'When I'm 64. The New Retirement"
Bookings essential on 9970 1600 and payment within 3 days required to confirm bookings.

Cost $7.50, $5.50 – concession (Friends of Mona Vale Library/ Pensioner/student cards must be shown.

All talks will be held at Mona Vale Library, Park Street, Mona Vale at 6.30pm.
Bookings tel. 9970 1600



---
Local Council Notices







ONLINE SURVEY ON WATER USE


Pittwater Council is seeking the views of its residents on how they use and save water so it can plan the Council's water needs in the next ten years.

The survey is being held as part of the NSW Government's Water for Life campaign, which seeks to promote water conservation education across the state.

Coordinator Jennifer Pang from the Council said the online survey would take about 5 minutes to complete and can be found at www.pittwater.nsw.gov.au

Survey participants also have the chance to win one of three prize packs containing a year's subscription to the sustainable living magazine Renew and the book Water – not down the drain.

The survey will be available for completion until 31 May 2009, with results to be analysed and reported on Council's website.

For more information about water conservation in Pittwater visit www.pittwater.nsw.gov.au/environment
Media contact: Jennifer Pang, Pittwater Council Ph: 9970 1209




DESIGN A LID FOR SAFE STUDENT CYCLING


Pittwater and Warringah Councils, Bicycle NSW and ABC Radio are joining forces to offer school students the chance to design artwork for a new bike safety campaign.
The design competition asks students to come up with a winning illustration for the 'Ride2School' campaign, to be featured on bike helmets distributed across NSW.
The competition is open to all primary and high schools students across the state.

The Ride2School campaign is run by Bicycle NSW, supported by local councils and is aimed at encouraging young people and their families to walk and cycle more often, thereby increasing daily physical activity and improving health.

Co-ordinator James Adams from Bicycle NSW said the safe cycling aspect of the campaign targeted primary and high school students who cycled to and from school.
"Statistics show that young people under the age of 16 are the most frequent offenders when it comes to not wearing a helmet," he said.

"This is concerning given that wearing a helmet significantly reduces the risk of severe head injury or death in the event of an accident."
Mr Adams said the competition aimed to find a design 'that's bright and stands out from the crowd, making being safe cool for students.' The winning entrant will have their artwork made into a new helmet which will be distributed statewide through the Bicycle NSW Ride2School program.
To enter the competition students should submit their entry on the design sheet which can be downloaded from www.bicyclensw.org.au/content/ride2school. Full details of the competition are also available on the website. Entries to the competition close on 29 May and the winning design will be announced across ABC Local Radio stations and by Bicycle NSW at the end of June 2009.

Media contacts: James Adams / Ride2School Program Manager
Ph: 9218 5405
Michelle Carter, Pittwater Council Ph: 9970 1196
Shannon Lanser, Warringah Council Ph: 9942 2447



---