---
Offshore Choir Afloat - Thursday December 22
Frog Hollow for a 7.00 pm start, then on to a Church Point Performance..



The Performance




The performance is on Thursday, December 22.



The Laurel Mae will be anchored almost on-shore in Frog Hollow at 6:30 for a 7.00 p.m. start. If people would like to listen, they should pack a picnic, bring their bells to shake during jingle bells, fire up the tinny and make sure they've got a stern anchor or, if they are available, they can raft up on any spare moorings.



When the program is completed at Frog Hollow, the choir will continue to Church Point, where a repeat performance will be held, followed by a party at the The Gone Fishing Gallery.





Song Sheets, Music, Sound files available to download here..





Words


CAROL WORDS.pdf



Music&Words


Awayin PTS.pdf
Carol of the Birds.pdf
Once in PTS.pdf
STILLE NACHT.pdf
WE WISH.pdf
WHILE SHEPHERDS.pdf



Sound files (mp3) zipped


AwayinaMangerAltoBass.zip
CaroloftheBirdsAlto.zip
Once in Royal AltoBass.zip
Stille Nacht AltoBass.zip
We wish you AltoBass.zip
While Shepherds AltoBass.zip


---
Note to ALL Choir Members


Final choir practice this Tuesday night the 20th at the usual spot.

Also all choir members are to

meet at the Pasadena at 6.00pm on the 22nd

to board the barge to Frog Hollow.



---
Scotland Island Dog Race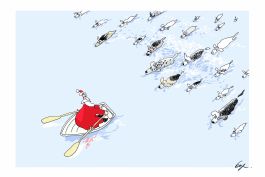 It's on again!
Same time same place!
Christmas Eve 6pm @ Church Point



DETAILS:


Register your Dog before 5:30pm
Entry fee is 1 Longneck (Cold) and 1 x Large Tin Dog Food

Official starting time 6pm (or thereabouts)



PLUS




The Sly Dogs performing at Gone Fishing Gallery - 5pm onwards


An amazing line up of local talent will be performing for you

before and after

the Dog Race at the Gone Fishing Gallery.

Chuck, John, Tim, David, Matt, Matt, Andrew, Rachel, Graeme, Gordon, Phil, Tabatha, Basil, Cheryl, just to name a few, will be getting together to bring you the very best of the island musicianship all for nothing. Bring along a picinic and join in the celebrations...



---
Letters to the Editor




Re - Jenny Hill



Dear Editor,

So sad to hear of Jenny's passing through your thoughtful tribute.

Jenny was a great ambassador for Pittwater, a strong campaigner for the environment and in particular the Bayview/Church Point area.

Jenny was a strong advocate for the foreshore scenic walkway and was thrilled to be one of its first users. This took away the former only access to walk along the beach at low tide.

I have fond memories of having a chat with Jenny as she would be painting a foreshore scene at Winnererremy Bay.

Jenny was always so pleasant and so accommodating with the interest of others foremost in her actions.

On behalf of Pittwater Council I pass on our sincere condolences to Jenny's family and many friends.

May Jenny rest in peace in God's care.

King Regards,

Chris Hunt
Director, Urban & Environmental Assets


---

Anybody who knew Jenny Hill, will know that she was an extremely gifted water-colourist, her paintings of the area were absolutely beautiful. A devoted wife and a very caring person.

Proud to have known you Jenny. You will be sadly missed by all whose hearts you have touched over the years.

Phillippa Thomas



---
Follow the PON
---
Missed out on a Newsletter?




Go to the archives to download previous notices



A complete set of past electronic newsletters since May 2000 can be found and read at https://ymlp.com/archive_gesgjgm.php


---
The Online Local Contact Guide

Click HERE to load
The views expressed in this newsletter are not necessarily the views of the Scotland Island Residents Association (SIRA), or the Western Pittwater Community Association (WPCA)
---