Soccer-playing bears and computers.
As I mentioned in my last update, the schools throughout Kabul are closed until the Loya Jirga concludes in a few days, so we took advantage of an empty school to work with our Afghan partners and get some much needed prep work done without interrupting the kids' studies.
We hit the school grounds running first thing this morning. After first saying a quick prayer of thanksgiving and blessing over the school and its dedicated staff, our two left-brain engineers tackled the task of getting all the computers for the new computer learning lab up and running while the rest of us manned paint brushes and rollers to beautify the dining area downstairs.
Jake and Jim somehow found a way to get 11 computers running all at the same time. That may not sound like a big achievement, but given the age and condition of these donated computers and the power limitations within the classroom, what they accomplished was huge! And we only smelled a little smoke! Just kidding. (We smelled a lot of smoke! ;) Hopefully we'll be able to get the last few computers online on Saturday when we're going back to finish up.
The rest of the team, joined by a few of our Afghan partners, sanded, dusted, washed, cut-in, and rolled a fresh coat of paint on more than 2,000 square feet of wall space to brighten up the dining area. (And we got to listen to music from Randy Pearce and Brian Davis while we worked!) The fresh white walls seemed like a perfect opportunity to liven up the otherwise stark environment so we enlisted Dan to illustrate some giant animal caricatures – the same animals the kids are using in their classroom upstairs to learn their colors and count in English.
Dan first sketched out a soccer-playing bear, kitchen utensil-wielding octopus, artistic elephant, computer-programming bird, volleyball-playing snake, and a few other critters and then we painted his sketches onto the walls. And when I say "we painted," it was a bit like when we sat on our dad's lap when we were 9 years old and "we drove" the car on the freeway even though we couldn't reach the pedals and could barely see over the steering wheel. With one notable exception (an Afghan staff member with real artistic talent) it was more about Dan keeping us from messing things up too badly… which he did, because they turned out great!
But the best part of all of this was getting to work alongside and spending time with our Afghan brothers while helping them and the street kids of Kabul achieve
their
goals.
I've included a few photos from the day today as well as some another team member from our partner organization shot about a month ago when the school first opened. If a picture is worth a thousand words, I think a photo of a Kabul street kid now going to school is worth two thousand words. ;)
OK… gotta hit SEND now and hit the sack. The team sends their love to everyone back home. We ask that you please continue to pray for the Jirga, peace in Kabul, and for effectiveness in our work here. Thank you for keeping us in your thoughts and prayers!
--Bob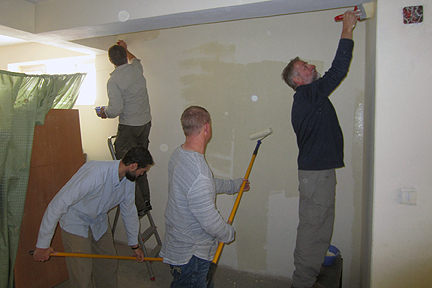 Brightening up the dining area which will also double as an art training studio.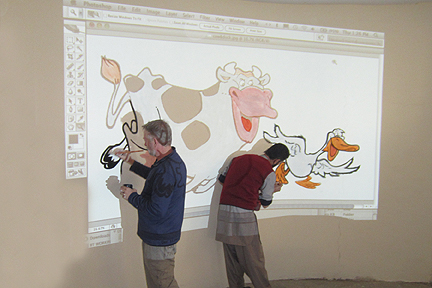 Making eating and learning a little more fun.
(more photos of the finished product in couple days)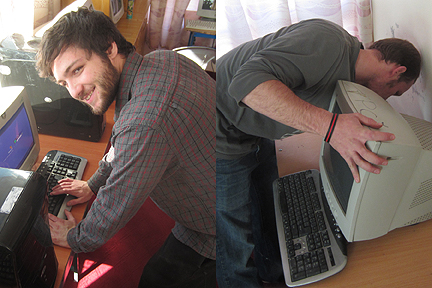 Jake and Jim... they may look like nerds, but... OK... they are.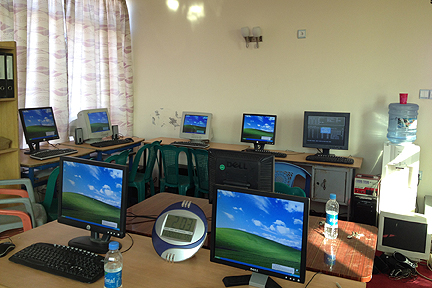 And they did a terrific job of setting up an excellent computer learning environment!
Taken a month ago... the way things are meant to be.
Off the streets of Kabul and into the classroom.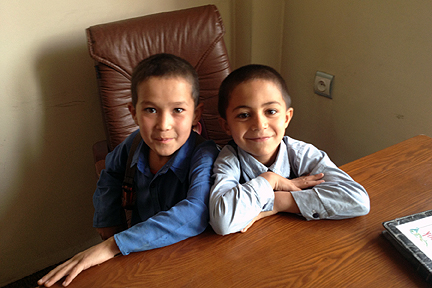 Rescued from the street... now preparing for the Board Room.