---
---
SIRFB Fireshed
Christmas in July Dinner
14th July from 7pm
We are only going to accept advanced bookings for this event with a cut-off date of Tuesday 10th

It's that time of the year again - the start of the Scotland Island Fire Shed Dinners was kicked off in style with our Spit Roast Feast. This dinner was huge success with over 100 attendees with 83 booking online.

The next Fire Shed Dinner will be 'Christmas in July' on 14th July hosted by Nathalie Muir who will recreate the Christmas feast that she and Julian hosted at the Fire Shed on Christmas day, including a visit by that very special person. Parents are encouraged to bring a small inexpensive gift for their young children.

To make the organising and catering more predictable for our hosts

we are only going to accept advanced bookings for this event with a cut-off date of Tuesday 10th July.



Please help by registering here Fireshed Dinner - Christmas in July

(you can still pay at the door with cash or EFTPOS if that's easier, but please register in advance by 10th July)

.



If you have problems booking online you can always send us an email with your booking details to

secretary@sirfb.org.au


All funds raised help provide fire, medical and other emergency services to the Scotland Island community.





---
Reminder
Scotland Island Annual Rego Day
Inspections Saturday 14 from (9am to 1pm)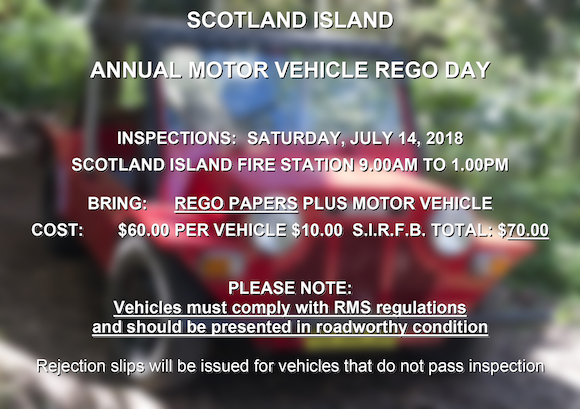 ---
Success for Motorcyclists!
Council is currently reviewing the allocation of spaces in the Church Point Car Park with the view to installing several motorcycle spaces by the end of July 2018 to cater for residents who use motorcycles to get around the local area.

This was an oversight in the original decision and we have now had multiple requests for this type of parking on the lower level of the new carpark.



---
Nominate The Next NSW Woman Of The Year
Northern Beaches residents are being encouraged to highlight the brilliant women in their community, with nominations now open for the 2019 NSW Women of the Year Awards.
 
Member for Manly James Griffin said the Awards recognise women who have demonstrated excellence in business and society or made outstanding contributions, both personally and professionally.
 
"So many local women pour their heart and soul into their careers, families and volunteer work, which strengthens and enriches our local community," Mr Griffin said.
 
"I urge locals to submit a nomination and let the women in their lives know how much they are valued and appreciated."
 
Minister for Women Tanya Davies officially opened statewide nominations ahead of the 2019 Women of the Year Awards program, which will be celebrating its eighth year.
 
"These Awards are our chance to recognise exceptional women across the State, particularly those who have excelled despite adversity or made contributions that improve the lives of others," Mrs Davies said.
 
"Women from all walks of life make outstanding contributions to our communities while overcoming gender inequity to pursue their personal and professional goals."
 
The 2019 NSW Women of the Year Award categories include:
 

NSW Premier's Woman of the Year Award
NSW Aboriginal Woman of the Year
Community Hero
Harvey Norman Young Woman of the Year
Rex Airlines Regional Woman of the Year
NSW Business Woman of the Year
First State Super Lifetime Achievement
Nominations for 2019 close on Sunday, 11 November 2018. For more information or to nominate visit www.women.nsw.gov.au.
The winners will be announced at an Awards ceremony on Thursday March 7, the day before International Women's Day


Source:
Pittwater Online News
http://www.pittwateronlinenews.com/community-news.php
July 8 - 21, 2018: Issue 367



---
SIRA

NEWS
UPDATE ON GROUND INVESTIGATIONS AT CAROLS WHARF
We have just been advised that the ground investigations that were due to commence on

Monday, 9th July at Carols Wharf will be delayed by a day

. Predicted weather conditions over the weekend mean the barge won't be able to be transported to the area in time for a Monday start.



The work will now take place on Tuesday, 10th and Wednesday, 11th July.



Please keep the Carols Wharf area clear of vessels and watercraft as much as possible on these dates.

We apologise for any inconvenience caused by the change and thank you for your co-operation.

Ausgrid and Scotland Island Residents Association



---
Wanted Boat shed
I'm looking for a boat shed that someone would be willing to rent out on an hourly basis to be used as a therapy room.
 
If this arrangement might suit you please contact  me to discuss further.

Rowena Dubberley 0431 214 461


---
HOUSE FOR RENT
Four-bedroom house (let as three-bedroom) for rent at the top of Scotland Island (facing NE)

Brand new timber floor, handcrafted fittings, easy access, open views across Pittwater

Available approx mid July 2018 to June 2019 (while I am on sabbatical in Europe)

All terms negotiable

Contact Roy Baker: roybaker99@yahoo.com
0420 557334



---
---
---
A complete set of past electronic newsletters since May 2000 can be found and read at https://ymlp.com/archive_gesgjgm.php  or by clicking here or by visiting the Mona Vale Library.

The Island website is at www.scotlandisland.org.au



---
To Contribute
If you would like to contribute to this newsletter it's easy!. Send an e-mail to the editor (editor@scotlandisland.org.au) or by clicking here. Type your contribution (100 words or so would be fine) and assuming it is of general interest to the community, does not include matter of a political nature and is not offensive, it will appear next month.
Subscription Information
To get on and off this newsletter,

click here

or got to:

http://www.scotlandisland.org.au/signup .


To change your address, click the 'modify' link at the bottom of this newsletter or send an email to the

editor@scotlandisland.org.au


---
Follow the PON
---
The Online Local Contacts Guide
Click HERE to load
---
T

he

Editor

and the publisher disclaim responsibility for any injury to persons or property resulting from any ideas, articles or products referred to in this publication. Further, t
he views expressed in this newsletter are not necessarily the views of the Scotland Island Residents Association (SIRA), or the Western Pittwater Community Association (WPCA)
---
---