| | |
| --- | --- |
| BHAF Newsletter | 1st October 2018 |

Please have a good look around! Most of the old information is still included but it is much more accessible and easy to find.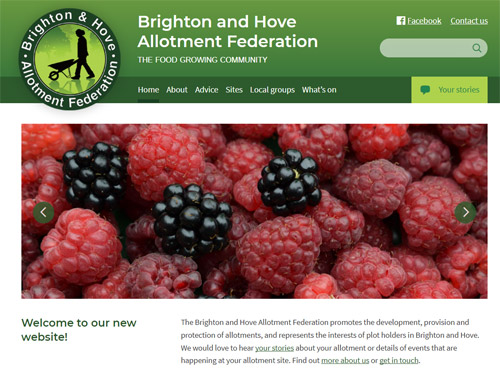 This is a 'community website' it belongs to all of us, and it is very easy for you as a plot holder to add content. Follow the links to 'Add your story'. You can also easily upload photos without the need to 'log on'. Try it! It is much easier that the old system. You can also 'add comments' about any page by simply clicking the link at the bottom of each page.

We would love to hear your stories and see your photos on any allotment related topics; pictures of your harvest, your plot and association gatherings, wildlife and pondlife! We would also love to hear your growing tips for new and experienced growers alike. Also reviews of crops or varieties, or even books you found useful.

We would particularly like to see some historical pictures of Brighton and Hove allotments if you have any! Let's get creative, this is a great platform for sharing ideas and information.

Allotment Associations and Community Groups can easily have their own page, some already have, we can add information about your group to your page, so please go ahead and add your story. If you represent a group and want a page for your group then please get in touch.
---
As you are probably aware we have been in talks with the Council regarding the idea of asking for donations towards the allotment budget. A letter will be accompanying the invoices you receive in the next couple of weeks explaining how to make a donation if you wish to do so.
The allotment service currently costs more to run than is raised by allotment rents. It is hard for us to justify the Council meeting this deficit when other essential services are having their budgets cut.
Over the last couple of years we have been implementing savings. The Site Reps have increased the rate of turnover of plots which has bought in more revenue, we have been encouraging water savings and reducing rubbish. There has also been the introduction of a fee to join the waiting list. All of these measures have reduced the deficit, but we still have some way to go.
Plot holders' incomes vary greatly; we have high earning professionals and working people on minimum wages. Unfortunately it is not possible for us to 'means test' tenants, so everyone currently pays the same rate. Some plot holders feel that allotments are cheap and that they could pay more, while others say any rent increase would be hard for them to meet. If at all possible, please consider making a donation towards the service. BHAF are keen to keep allotments as cheap as possible and accessible for all, we want to avoid any large rent rises. Any donations will be ring fenced to the allotment budget, and you will be helping plot holders on low wages who would struggle if a large rent rise was introduced.
---
Keston plot holders have recently formed an Allotment Association. They applied to the Federation's development fund for money to buy a Community hut to act as the base for their Association. The new hut has been erected and plenty of ground work done by volunteers and the shed was officially opened on Sunday 30th September by the BHAF Chairman Mark Carroll. There was a good turn out and plenty of cake!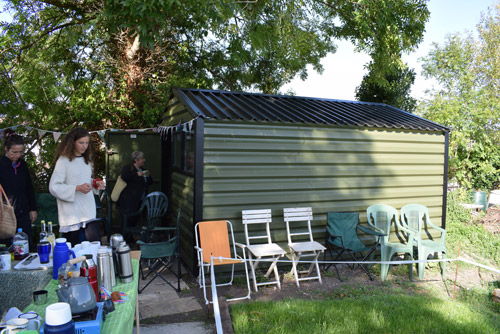 The hut is a very secure construction and will be a great asset to the site. It will really bring the community together. It can be used for housing stock that the association might sell (seeds and compost for example) as well as communal tools. There is already a talk booked about beneficial herbs. This is a great development!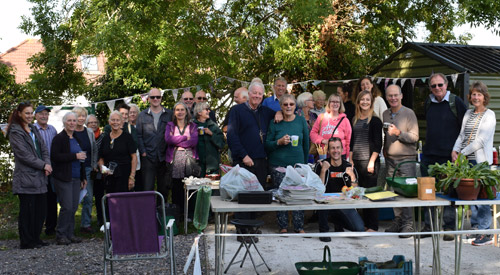 Congratulations to all at Keston who helped get this project together.

Best Regards,
Mark Carroll
for
BHAF Committee.