Interview
ILC is an Italian company with a quite big number of products in your portfolio. Dear Mr. Ceriani, please, provide a brief description of them.
ILC was established in November 1994. The main target was to create a structure to distribute some products in the Italian market, providing the same pre and after-sale services given by the manufacturer itself.
ILC is able to supply any type of component, spare part or complete lifts: electric, hydraulic and MRL gearless. The resources of our technical office are mostly dedicated to the modernization of working lifts or replacement of already existing lifts: a new lift in existing shaft. ILC is now working on three main groups of products:
As far as components, we count on long lasting and reliable partnerships with major European companies manufacturing components for lifts such as FERMATOR (doors), SAVERA (guide rails), EMESA (cabins and car frames), CARLOS SILVA (controllers), DYNATECH (safety components), CEDES (light curtains), HIDRAL (cargo platforms), GEMENEK (Push buttons), DAETWYLER (flat cables), MP (lift components).

In which countries do you have partners?
ILC is exporting to more than 85 countries all over the world and we have many partners. To be a partner means for us to have close cooperation and to give best service to local customers.
We are currently
presented
through controlled companies or distribution agreements – in Poland, Russia, Kuwait, Albania, Bangladesh, Tunisia, Singapore, France and Spain.
We are working hard to set operation in many other countries.
Are you working at the markets of South-East Europe?
Yes, we are exporting standard & special elevators in the whole Balkan area.
Could you tell us more about some of your recent realized projects?
We have recently supplied elevators for Main Train Stations in Milan and Turin in Italy, panoramic elevators and cargo lifts in many shopping centers in Italy and abroad, panoramic elevators for residential houses in Singapore, Switzerland, UK, etc. We are very close to finalize some projects for high speed and high rise elevators in South Europe and North Africa. Most exciting project is a QUADRUPLEX 30 stops at 4 m/s.
What are your aims related with your participation at LiftBalkans 2014 and on which products you will put an accent?
At LiftBalkans we will showcase our range of special elevators and solution for mod's. We are looking for partners also with the aim to make our presence stronger and more active in the East part of Balkans region.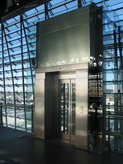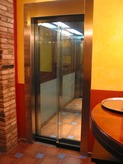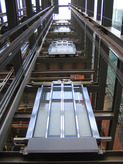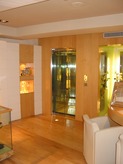 ---
Partner's Presentation

Since more than 35 years the technical journal Lift-Report is accompanying the lift industry and also covers topics such as escalators, horizontal moving walkways, service lifts and components.
As an independent journal, Lift-Report is a valuable source of information for lift industry businessmen and managers. With its well-founded articles it is of equal interest to technicians working in the industry, trade, research and specialized institutes, planning and layout departments.
A modern layout allows readers to quickly find any articles of interest, reports about events taking place in the respective sectors of industry, company reports and product information together with features on the latest statutory regulations and standards. National and international associations and institutions use Lift-Report as an information medium.
Published six times a year, Lift-Report provides topical information on current trade events.