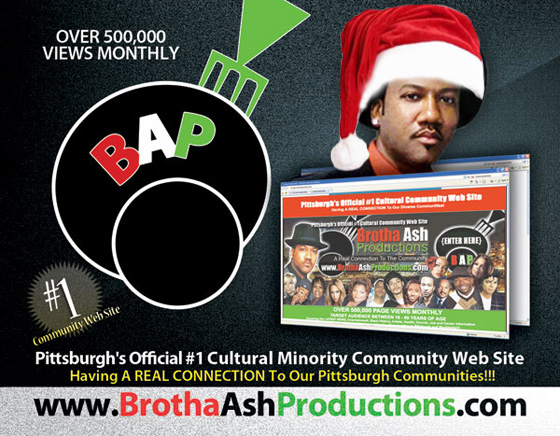 HAPPY HOLIDAYS FROM BROTHA ASH PRODUCTIONS!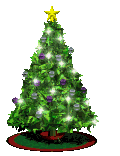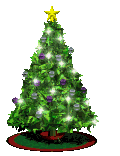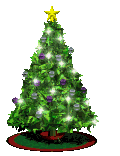 We wish you and your family a Happy Holiday season from BAP. We thank you for another great year and we thank our loyal BAP FAMILY for your continued support. 2012 was a great year, but be on the lookout for new things to come from BAP in 2013. We will be sending out "A SPECIAL HOLIDAY E-BLAST" to keep you informed of upcoming events for you to attend for the next four weeks!
Starting December 7th, 14th, 21st and the 28th we want EVERYONE to know about your Christmas, Kwanzaa and New Year's events.
So if you are having a holiday event that you would like to be included in our next BAP HOLIDAY E-BLAST send your information to BrothaAsh@gmail.com right away.
If you're event is free to the public or $10.00 or less,
we will promote it for free.
All other events that are over $10.00, email us at BrothaAsh@gmail.com or call 412.758.4662 to inquire about our advertising rates!
EXPERIENCE THE DIFFERENCE
IT'S OUR HOLIDAY GIFT TO YOU!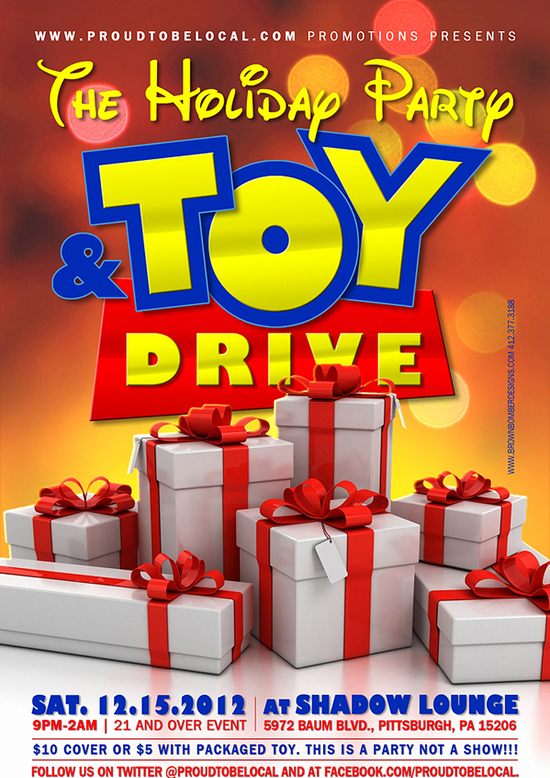 PROUD TO BE LOCAL PRESENTS
THE HOLIDAY PARTY & TOY DRIVE!
SHADOW LOUNGE, 5972 BAUM BLVD, PGH, PA 15206
SATURDAY, DECEMBER 15, 2012 FROM 9PM-2AM

This event will be a little bit different as it will be more of a party than a showcase

Special invited Guest:
Capitol L, Sophisticated Sophia, Sixx Mill, JG/Darkwayne, PK, Gene Stovall, Team GS, HollyHood, Joey Fattz
This is a 21+ event and ID IS A MUST!!! Admission is $10 at the door, or $5 if you bring a NEW toy to be donated to those who are less fortunate. (Please do not gift wrap anything.)

FOR COMPLETE DETAILS AND INFORMATION

CLICK HERE
---
THE COMMUNITY EMPOWERMENT ASSOCIATION, INC PRESENTS
KWANZAA 2012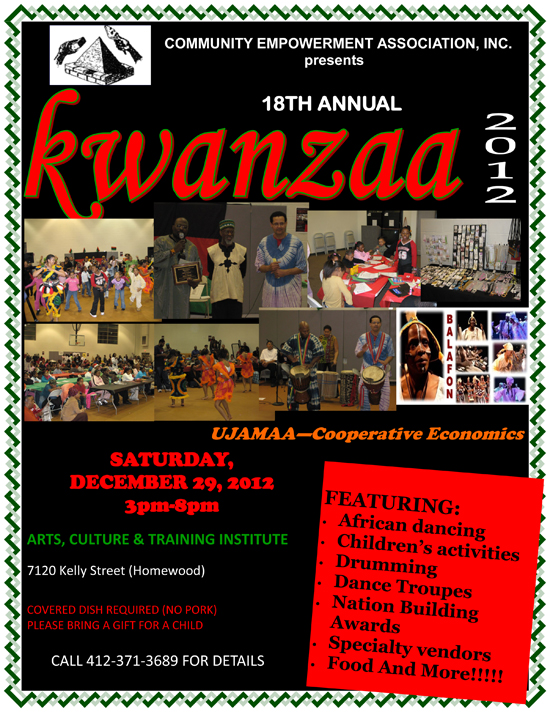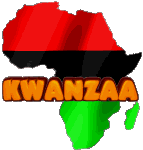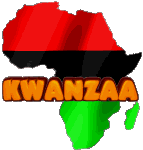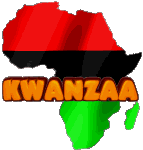 FOR COMPLETE DETAILS AND INFORMATION

CLICK HERE
---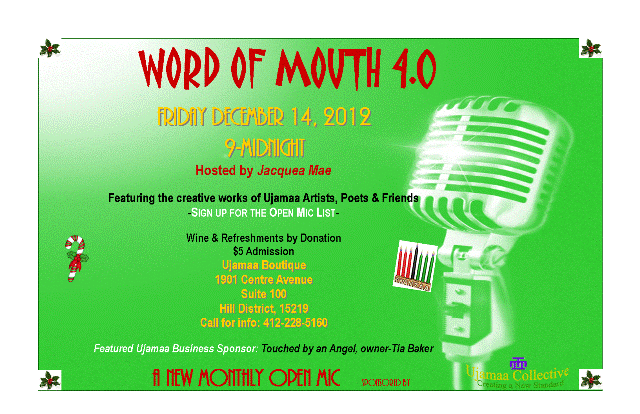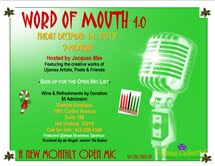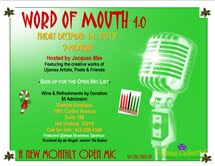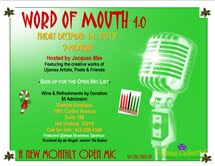 WORD OF MOUTH OPEN MIC POETRY 4.0
THE HOLIDAY EDITION
FRIDAY, DECEMBER 14, 2012
FROM 9:00PM UNTIL 12:00AM
UJAMAA COLLECTIVE
1901 CENTER AVENUE, PITTSBURGH, PENNSYLVANIA 15219
Is there something you've been wanting to say...pent up all year? Bring it out on the mic! This is the last open mic of 2012 and let's make it rock for certain with creative words, songs, and stories. If you missed the first three dates, don't let this one slip by. Add on to the dynamic synergy of the night. Hosted by the stunning Jacquea Mae, who will keep the evening jolly and bright!

Your $5 cover charge supports the non-profit mission of Ujamaa Collective- creating spaces, opportunities, networks and support for women of African descent to grow as entrepreneurs, artists and servant leaders in the community. Refreshments and wine by donation. See you there!
---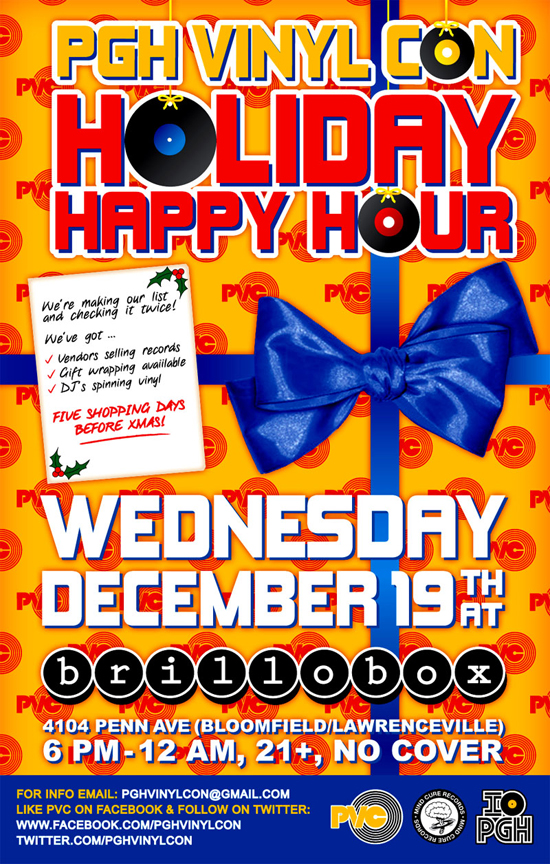 Pgh Vinyl Con Holiday Happy Hour @ brillobox
Wed., Dec. 19th, 6 PM-12 AM, 21+, NO COVER
For info email PghVinylCon@gmail.com
PVC on: Facebook, Twitter
FOR COMPLETE DETAILS AND INFORMATION

CLICK HERE
---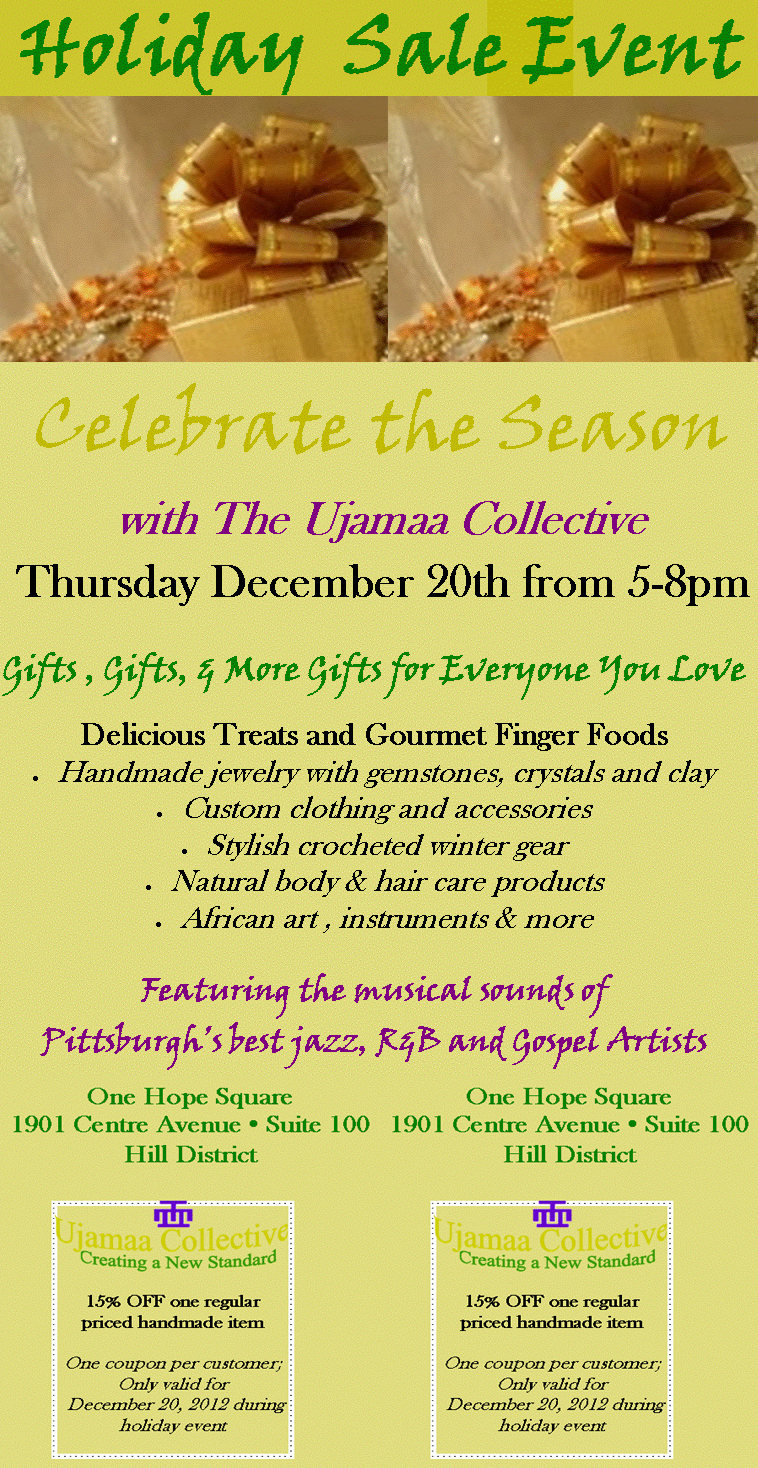 CELEBRATE THE SEASON
WITH THE UJAMAA COLLECTIVE
HOLIDAY SALE EVENT
THURSDAY, DECEMBER 20TH FROM 5-8PM
ONE HOPE SQUARE 1901 CENTRE AVENUE
SUITE 100 | HILL DISTRICT
GIFTS, GIFTS & MORE GIFTS FOR EVERYONE YOU LOVE
FOR MORE INFORMATION
CALL 412.228.5160 OR VISIT UJAMAACOLLECTIVE.ORG
---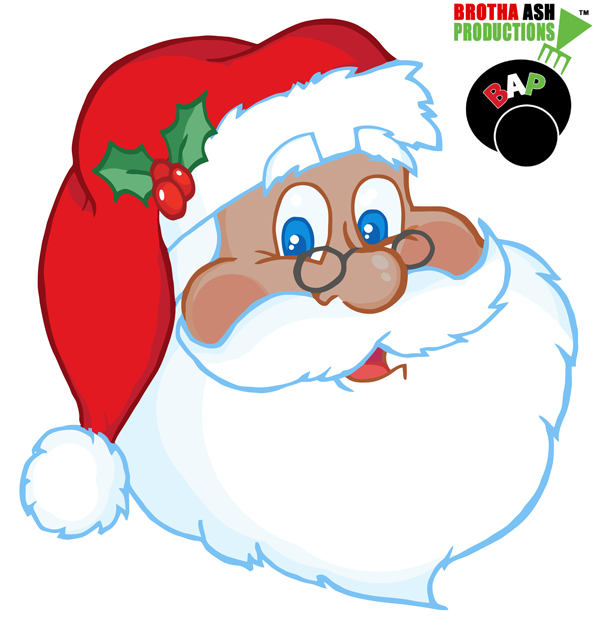 Lunch with Santa!
Saturday, December 8th from 11 a.m.- 1 p.m.
Warrington Recreation Center
FREE PICTURE with Santa, compliments of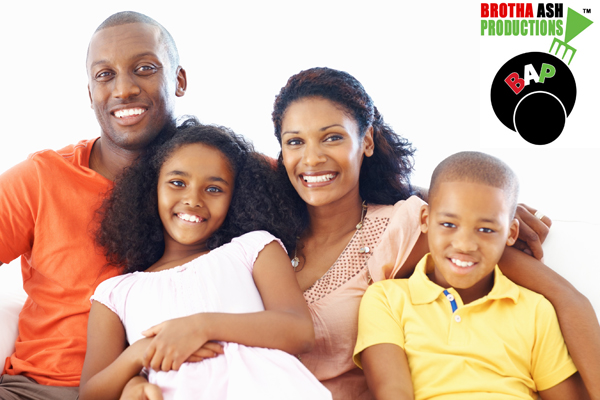 FOR COMPLETE DETAILS AND INFORMATION

CLICK HERE
---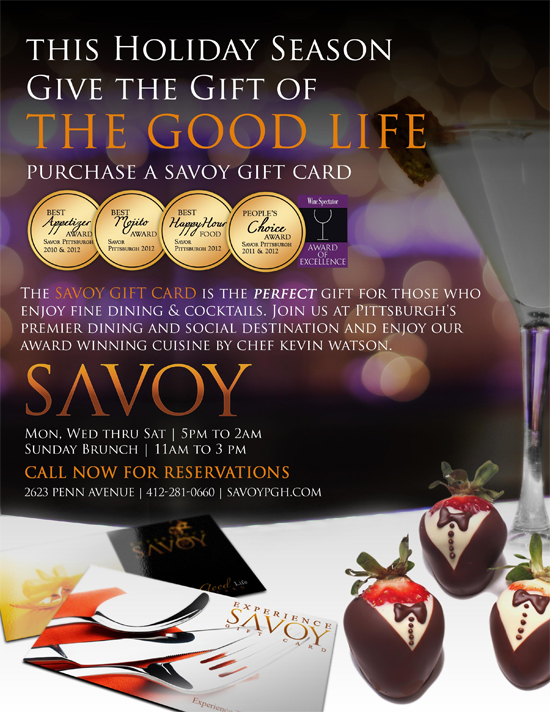 THIS HOLIDAY SEASON
GIVE THE GIFT OF
THE GOOD LIFE
PURCHASE A SAVOY GIFT CARD
THE SAVOY GIFT CARD IS THE PERFECT GIFT FOR THOSE WHO ENJOY FINE DINING & COCKTAILS. JOIN US AT PITTSBURGH'S PREMIER DINING AND SOCIAL DESTINATION AND ENJOY OUR AWARD WINNING CUISINE BY CHEF KEVIN WATSON.
SAVOY
MON. WED THRU SAT | 5PM TO 2AM
SUNDAY BRUNCH | 11AM TO 3PM
CALL NOW FOR RESERVATIONS
2623 PENN AVENUE | 412.281.0660 | SAVOYPGH.COM
---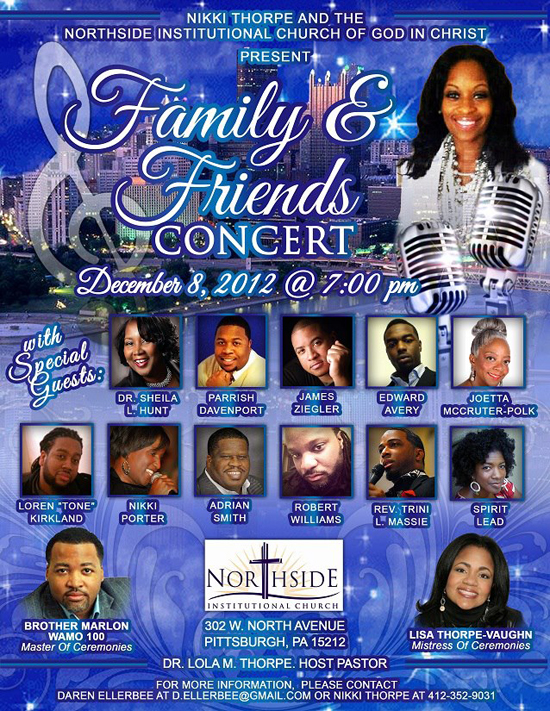 NIKKI THORPE AND THE
NORTHSIDE INSTITUTIONAL CHURCH OF GOD IN CHRIST PRESENT
FAMILY & FRIENDS CONCERT
DECEMBER 8, 2012 @ 7:00PM
WITH SPECIAL GUEST
MASTER OF CEREMONIES BROTHER MARLON OF WAMO 100
MISTRESS OF CEREMONIES LISA THORPE-VAUGHN
302 W. NORTH AVENUE PITTSBURGH, PA 15212
FOR COMPLETE DETAILS AND INFORMATION

CLICK HERE
---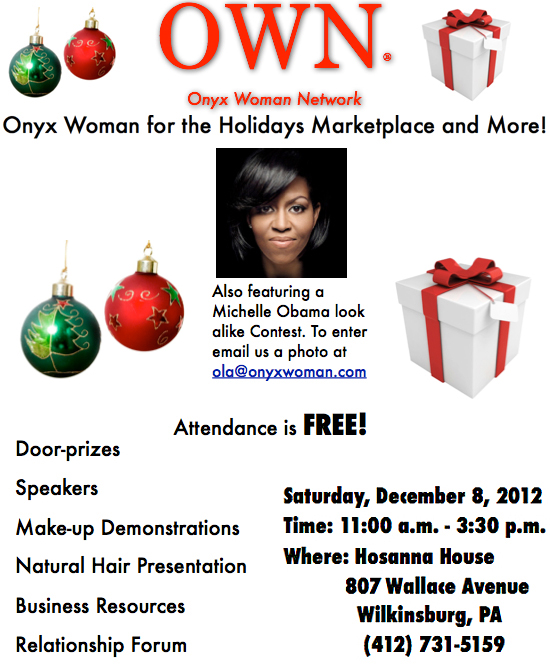 ONYX WOMAN FOR THE HOLIDAYS MARKETPLACE AND MORE!
ATTENDANCE IS FREE
SATURDAY, DECEMBER 8, 2012
TIME: 11:00AM - 3:30PM
WHERE: HOSANNA HOUSE | 807 WALLACE AVENUE | WILKINSBURG, PA
ATTENTION VENDORS: The first 5 that register for vending will get their business card placed on the Onyx Woman web site www.onyxwoman.com. Tables start at only $60.00. Call 412.731.5159.
FOR COMPLETE DETAILS AND INFORMATION

CLICK HERE
---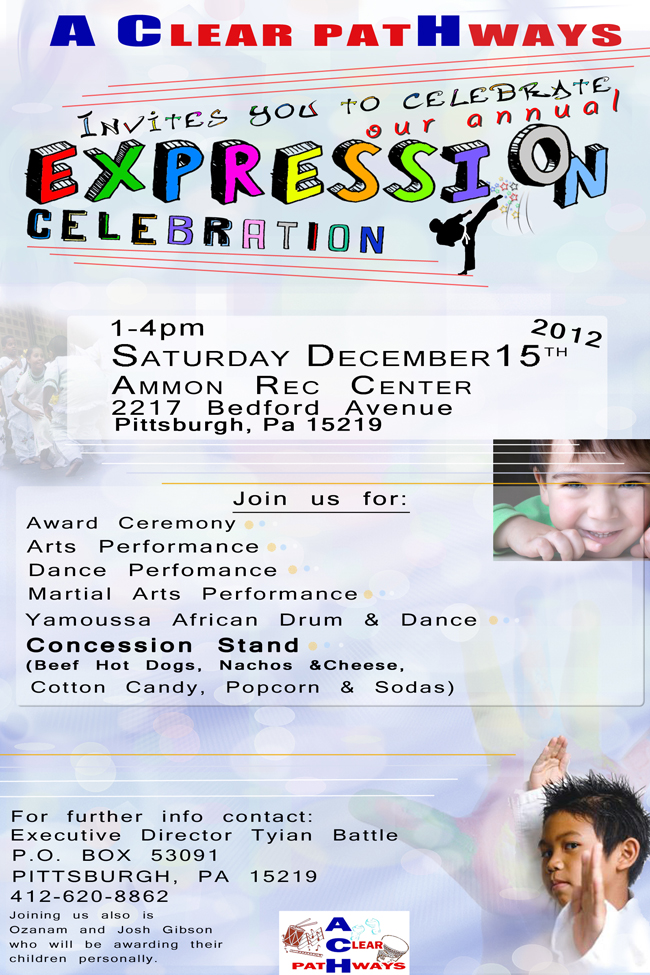 A CLEAR PATHWAYS
INVITES YOU TO CELEBRATE
OUR ANNUAL
EXPRESSION CELEBRATION
SATURDAY, DECEMBER 15TH, 2012
AMMON RECREATION CENTER | 2217 BEDFORD AVENUE | PITTSBURGH, PA 15219
---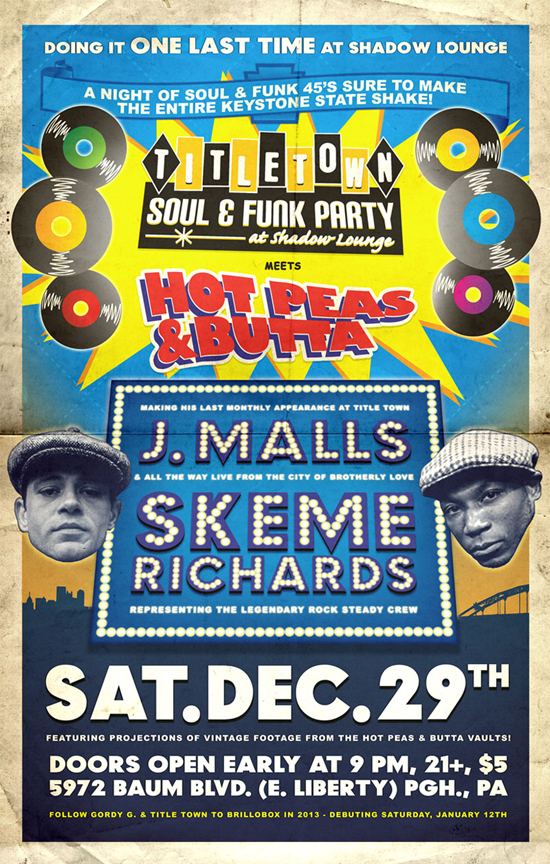 DOING IT ONE LAST TIME AT SHADOW LOUNGE
A NIGHT OF SOUL & FUNK 45'S SURE TO MAKE
THE ENTIRE KEYSTONE STATE SHAKE!
T I T L E T O W N
SOUL & FUNK PARTY AT SHADOW LOUNGE
MEETS
HOT PEAS & BUTTA
J. MALLS
AND THE WAY LIVE FROM THE CITY OF BROTHERLY LOVE
SKEME RICHARDS
REPRESENTING THE LEGENDARY ROCK STEADY CREW
SATURDAY, DECEMBER 29TH, 2012
FOR COMPLETE DETAILS AND INFORMATION

CLICK HERE
---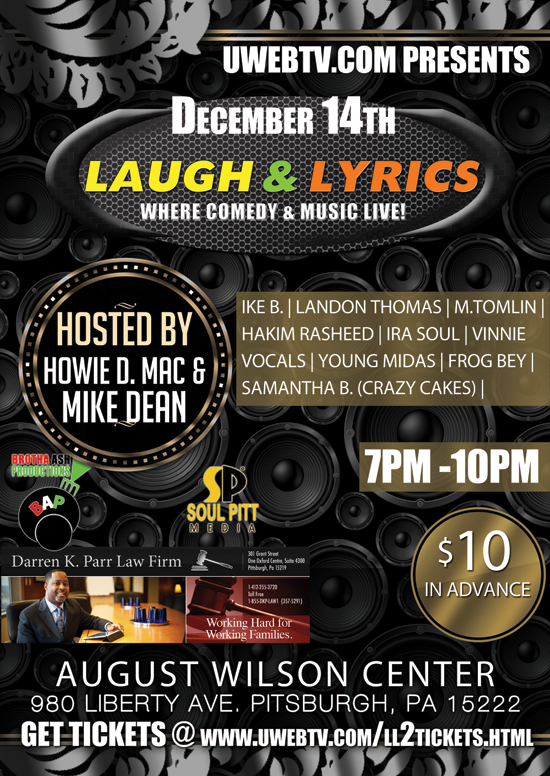 PROMOTIONAL PUSH & UWEBTV.COM PRESENTS
LAUGH & LYRICS
HOSTED BY MIKE DEAN AND HOWIE D. MAC
AUGUST WILSON CENTER FOR AFRICAN AMERICAN CULTURE
980 LIBERTY AVENUE, PITTSBURGH, PA 15222
DECEMBER 14, 2012 | 7PM TO 10PM
FOR COMPLETE DETAILS AND INFORMATION

CLICK HERE
GET YOUR INFORMATION OUT THOUSANDS FOR 2012!!!