---
Island Cafe Reminder





Dear Cafe Chappies,



It's on! Again, some debate about the weather, but it looks generally good. If there is a small trickle of rain, we will shelter on the kindy deck. If there is much more than that, I shall cease to be a fan of Willy Weather, which seems to have been reasonably accurate so far. We have been promised two cakes, and some biscuits, so there should be plenty of sweet stuff, and hot chocolate, as well as coffee, a selection of teas, and chai.

This week's existential exercise is again for those of you struggling to bring up children in today's ugly, untrustworthy world. The cafe is a familiar, friendly place, where the children know the people serving. Why not give your progeny a taste of independence, and let them come and order and pay for their own cake, or a homemade, child-sized, chocolate biscuit? You can be sure they will be sympathetically received. Of course, pirate money is not acceptable - it has to be cold hard cash.

See you Sunday!
The Cafe Crew



---
Scotland Island $15 Fire Shed Dinner
This coming Saturday, 26 June at 7.00pm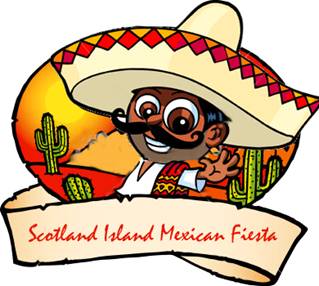 Starting with a Mexican Fiesta sure to delight!


Come along and indulge in a variety of Mexican dishes including Chilly Con Carne, Chicken Chimychanga and vegetarians fajitas ... Yum!



Who will make the BEST dessert?


The much coveted BEST dessert accolade is back up for grabs. Bring along your favorite dessert and let's see who will be victorious.

Winner gets a bottle of bubbles or this could be swapped for a few shots of tequila should that take your fancy.



Saturday, 26 June at 7.00pm Cost: $15




Buy your tickets at the door




No BYO, licensed bar operating



So come along, relax with your friends and enjoy the fine food, a glass of wine or two - we may even break open the tequila.

Spread the word, we look forward to seeing you all there.
The team at the Fire Shed.

Kids welcome - $7 dinners


---
200 YEARS FESTIVAL
Scotland Island



Saturday 11th & Sunday 12th September 2010



2010 marks the 200th Anniversary of the 1st land grant on Scotland Island and recent settlement offshore in Pittwater.



LET'S COME TOGETHER & CELEBRATE – RESIDENTS PAST & PRESENT, OF THE ISLAND AND WEST PITTWATER





GET INVOLVED AND BRING SOMETHING TO THE PARTY!!



DO YOU HAVE OLD/MORE RECENT PHOTOS TO CONTRIBUTE TO A PHOTOGRAPHIC HISTORY? OLD DOCUMENTARY FOOTAGE?
TALL TALES TO TELL?
HAVE A STALL TO SHOW HOW YOUR GROUP HAS CONTRIBUTED TO THE RICH LIFE OF OUR COMMUNITY
GIVE A TALK / WORKSHOP/ DEMONSTRATION
FEED THE HUNGRY MOB
PARADE A LOOK/ CHARACTER FROM THE LAST OR NEXT 200 YRS!
PLAY US SOME MUSIC/ BUSK/ ENTERTAIN
ART/ CRAFTS TO SHOW & SELL?
We aim to create a community festival where we LOOK BACK and laugh, but also THINK FORWARD and consider where we go from here. It will be a Heritage / Eco Festival- a bicentenary with a twist! Think old style fete/country show meets mediaeval carnivale with modern ideas for the tasting. Old world, dress ups, slowing down, remembering, imagining, learning and FUN will be strongly encouraged.



JOIN US TO TELL THE UNIQUE STORY OF OUR WONDERFUL COMMUNITY





CONTACTS:



| | | |
| --- | --- | --- |
| Emmie Collins | 0405 330 781 | emstar@tpg.com.au |
| Tracy Smith | 0400 311 157 | tracysmith@estudioeditions.com.au |
| History display/stories etc - Jenny Cullen | 9997 8536 | amjmcullen@spin.net.au |
| Stalls - Lisa MacDonald | 0432 893 590 | lisalovingness@yahoo.com.au |
| Entertainment - Ruth Tedder | 0430 208 433 | ruth@climaterisk.com.au |
| Children's Fest - Barbara Labram | | barbaralabram@yahoo.com.au |
| Eco Fest - Maria Mackiewicz-Turner | 9999 6526 | dzindzi@hotmail.com |
| Volunteers - Annette Ritchie | 9979 7122 | ritchieannette@yahoo.com.au |
---
Invitation to join Bush Regeneration event at Morning Bay, 26, 27 June.



Come along and help remove Asparagus fern from the Ku-ring-gai Chase National Park at Morning Bay.
The work will run from 8 am to midday on the Saturday and Sunday.

Join in for the free morning tea and bbq afterwards at the Pittwater YHA.

Please book by phoning the Pittwater YHA so we know tool allocation and catering numbers.

Michael and Sarah,
Pittwater YHA
Ph 9999 5748 (8 -11am and 5-8pm )


---
Go dry. Help adults living with cancer.



A few of us islanders have raised our hand and pledged sobriety in July. Crazy you think. A lovely glass of red on a chilly winter evening… not for 31 days? Yep, we're off the sauce for a cause.

Find out more: DRY JULY (www.dryjuly.com).

And we're going further. We're challenging YOU to join our Dry July team to help a most worthy cause. Think about it. Bet you know someone who is living (or has lived) with cancer. Dry July is all about making those lives just a little bit better.

This cause is close to my heart. My husband Iain's Mum died of cancer. I never got to meet her. My father-in-law was a survivor. I have friends who suffered, some didn't make it, some did. One is waiting to find out. Plus, two friends of mine started Dry July and have worked unbelievably hard for it.

Join our team "SIPPS" (aka Scotland Island Party Poopers, name courtesy of Tracy Smith).

If you just can't do it, donate a few dollars at www.dryjuly.com/groups/sipps.

Tracy Ponich (and Iain Smale, Tracy and Paul Smith)


---
FREE





FREE to take, no hold-till-laters;


Double slat bed with excellent mattress
Single ensuite bed very good condition
2 high IKEA bookcases birch colour
1 as new Breville breadmaker, mechanically A1, needs minor repair to mixing dish
Pip 0414496414 (near fire shed)



---

---
The Local Guide - Community Information


Click HERE to load
---