---
Wade Battles Cancer

Shocked and saddened has been the reaction of those who've learned of Wade's health battle. He underwent a lengthy complex surgery to remove cancerous tumors from his colon and his liver. The surgeon stated that he was able to do more than he expected, and that he got everything he was going for. Wade will undergo 6 months of chemo once he has healed.
Cards may be sent (please, no gifts, Wade is adamant about that)
I've set up a new e-mail account for those who might wish to e-mail their support:
BestWishes-to-WadeHayes@comcast.net
I'll print those for him.
The book "A Country Music Christmas," by Cathie Pelletier, Patsi Bale Cox and Jim Glaser was published in 1996. The book, now out of print, had comments about Christmas made by country music artists, who also contributed a recipe. I can vouch for the broccoli casserole Wade's mom makes. As a new artist, it was an eventful year for Wade. He tells what that Christmas meant to him. This year he won't be traveling to Oklahoma. His parents are here with him.
---
Dosey Doe's - The Windlands (Houston, Texas)
Dosey Doe's is a charming, fun venue. Built from an old barn, it has warmth and character. It's an excellent site for an acoustic show, and there's no better artist doing an acoustic show than Wade. He started off with his acoustic "warm-up" song, "Don't Make Me Come to Tulsa." He had several of his hits on the playlist. Remarking on "I'm Still Dancin' With You," he teased the crowd that he recorded it when he was 12. "They just think Justin Bieber was something new."
He introduced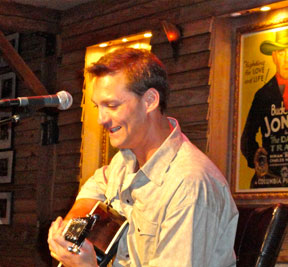 us to a couple of new songs. The first one, "I'm a Wrecking Ball," spoke of breaking down the barriers that have been built against love. The second one began with a warm baritone "Good Morning, Baby!" For me he could have just repeated that phrase several times. I think the likely title will be, "I Can't Get Close Enough to You." He performed some of those great Gary Stewart songs that he does so well: "An Empty Glass," "I See the Want to in Your Eyes," "Flat Natural Born Good-Timin' Man," (I keep plugging for him to do a tribute album to Gary.)
We heard several songs from the latest album, "Place to Turn Around." Tongue in cheek again, he told the group that he'd written "God Made Me to Love You" for his dog, Jack. The audience couldn't help being tickled over some of those lines as would relate to a dog - especially "when I look into your eyes." Wade tried to protest that it was a serious song, but eventually everyone was laughing. He did the crowd pleaser, the as yet unreleased, "I'm Gettin' Too Old for This." Wade at Dosey Doe's - you got to be there!
---
News Page - Wade Plays the Country Music Hall of Fame

News Page - Wade Battles Cancer