SA AMBASSADOR IN BELGIUM ON 3 DAY (72 HOUR) HUNGER STRIKE FOR PALESTINIAN PRISONERS
STARVING WITH THEIR SONS: PALESTINIAN  MOTHERS GO ON HUNGER STRIKE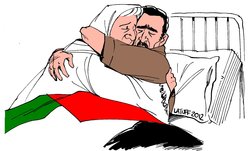 Palestinian mothers have gone on hunger strike in solidarity with their sons who are political prisoners in Israeli jails and who are refusing to take food, for 34 days now, in protest against Israel's policy of detention without trial among other human rights violations. One such mother is Latifa Humaid. Humaid's family is worried about her health are are trying to convince the 70-year-old that she should start eating again. But Latifa is determined to continue refusing food in solidarity with her sons who are themselves on a hunger strike behind Israeli bars. Latifa puts it simply: "I cannot eat while my sons are starving." S

ince 2002 f

our of Latifa's sons have been in Israeli prisons. All four have joined the mass hunger strike launched on 17 April by prominent Palestinian leader 

Marwan Barghouti (

dubbed the "Palestinian Mandela"). All nine of Latifa's living sons have been jailed by Israel. A tenth, Abd al-Munim, was assassinated by Israeli forces in 1994. Click here for more info.
SA MINISTER OF TRADE ON HIS SUPPORT FOR PALESTINIAN POLITICAL PRISONERS
South Africa's Minister of Trade and Industry, Rob Davies, with other government officials recently embarked on a 24 hour fast in solidarity with #PalestinianPoliticalPrisoners who are on a hunger strike for 34 days in protest against Israeli human rights violations. On completion of his fast Minister Davies wrote to organizers saying that: "This is a very small gesture of solidarity with those brave freedom fighters of Palestine struggling for the very same rights many of us now take for granted in South Africa, but which were in fact won through the same spirit of selfless commitment." Click here.
JOIN BDS SOUTH AFRICA'S EMAIL MAILING LIST
To join BDS South Africa's email mailing list (& receive these newsletters) send a blank email message to alerts@bdssouthafrica.com
VIDEO: ISRAELI SETTLER DISTRIBUTES SWEETS TO "CELEBRATE" MURDER OF 23 YEAR OLD PALESTINIAN YOUTH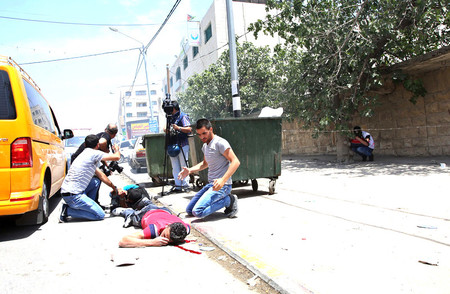 On Thursday this week (18 May 2017, an Israeli settler distributed chocolates to "celebrate" the killing of a Palestinian youth, Muataz Shamsa (23). The Israeli settler can be seen, in a video posted online, saying: "We killed a Palestinian vandal today...I am distributing candy to celebrate the killing. I want to congratulate the Israeli people for the vandal's death."

Shamsa was shot dead earlier in the day by another Israeli settler who also shot an Associated Press photographer in the hand. 

Shamsa was part of a picket in solidarity with #PalestinianPoliticalPrisoners who are on day 34 of a hunger strike launched 17 April demanding an end to Israel's detention without trial among other Israeli human right violations. 




After shooting Shamsha and the AP journalist, the Israeli 
settler fled the scene, running over several Palestinians and crashing into an ambulance on his way. 
Israeli police, notorious for not apprehending perpetrators of violence against Palestinians, have said that the Israeli settler who shot dead 
Muataz 
Shamsha is not being considered a criminal suspect. Instead, the Israeli authorities arrested the Palestinian man who was driving the ambulance that the Israeli shooter ran into, claiming that the ambulance blocked the Israeli settlers escape. Israel has also seized the Palestinian ambulance. Click here for article with video.
WHAT HAPPENS TO ONES BODY ON A HUNGER STRIKE - IT EATS ITSELF [INTERNATIONAL RED CROSS DOCTOR]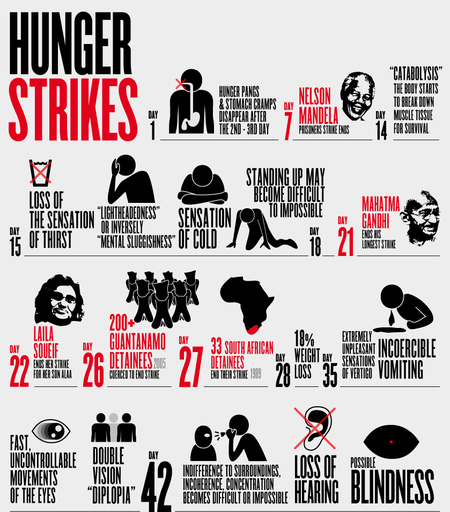 The Eritrean-Dutch doctor Zeratzion Hishal from the International Committee for the Red Cross (ICRC) is one of the few foreigners granted access to the 1500 #PalestinianPoliticalPirisoners who are on hunger strike (for 34 days now) in Israeli jails protesting against Israeli human rights violations.

Dr Hishal explains that during the first 2 or 3 days, the body desperately searches for food, leading to extremely sharp stomach pains. However,
"after three days there is no food coming in. The stomach says there is no food and the brain accepts it." 
Thereafter, instead of searching for new food, the body begins eating reserves of fat inside itself. 
After two weeks, hunger strikers start to experience dizziness, joint pain across the body and headaches.
In the third or fourth week, hunger strikers typically vomit uncontrollably several times a day for three to four days, due in large part to their body's natural balance deteriorating. "Every time they drink they can vomit.
Sleep is rare. The intense joint pain involved in even tiny movements also makes it harder to sleep. Dr Hishal adds that: "The sleep doesn't come...every day they sleep less."
But it is around 30 days, the point at which the #PalestinianPoliticalPrisoners are currently, that the risks increase significantly. Around this point strikers have often lost between 18 and 20 percent of their body weight. 
After more than a month, having consumed all fat reserves, the body starts eating its own proteins — meaning muscle and later even organs. 
"On a hunger strike, you eat yourself," Dr Hishal said.

Over 1500 #PalestinianPoliticalPrisoners are on day 34 of the their hunger strike demanding an end to Israel's detention without trial among other human rights violations. 
There are currently over 6500 #PalestinianPoliticalPrisoners detained by Israel. Over the past 50 years, more than 800 000 Palestinians have been imprisoned or detained by Israel. Virtually every single Palestinian family has been affected by Israeli imprisonment of a loved one. Presently there are more than 500 Palestinians held under Israel's "administrative detention" (equivalent of Apartheid SA's "detention without trial"). 25 Palestinian journalists and 13 Palestinian parliamentarians are also currently being incarcerated in Israeli prisons. Israel is also holding 300 Palestinian children (some as young as 13 years old). 
Click here for more info.
BDS SOUTH AFRICA

BANK: First National Bank
NAME: BDS South Africa
NUMBER: 62273997943
BRANCH NAME: Rosebank
BRANCH CODE: 253305
SWIFT CODE: FIRNZAJJ
 
BDS SA, is a registered Public Benefit Organisation (PBO) with Section 18A tax-deductible status. This means that any donations made to us can be used to apply for tax exemptions. Kindly send copy of proof of payment to finance@bdssouthafrica.com / 0866664995 for receipt.