Why not bookmark this AMPS Newsletter and read at your leisure!

AMPS Newsletter June 2015
Cinema birthplace reopens, AIR Studios under threat, how to record dinosaurs, Sgt. Peppers on the curriculum, Anna & Rob & Eleanor, AMPS website redesign, digital Journal, new AMPS members, praise the sound recordist, Hearing Dogs for Deaf People…
THE DEGREE SHOW

17-19 June 2015
Ravensbourne, London SE10
Beerd, 157-159 St Michaels Hill, Cotham, Bristol BS2 8DB, 7.00pm on the last Wednesday of each month is the place to meet up with other AMPS members and like-minded people! Apparently there's great craft beers and amazing pizzas!
London Social
Make sure that you attend the AMPS Social at the De Lane Lea bar in Dean Street on the first Tuesday of every month - be social with your AMPS members! The first Tuesday in every month - 6.30pm.
… not in Bristol or London?
Want a regular Social near you? It's easy to arrange one - contact us to find out how. Email
admin@amps.net
Cinema Birthplace Reopens in Regent Street

The Regent Street Cinema, one of the most famous locations in the early history of film and a key part of the genre's story in London, has just been reopened as a modern, state-of-the-art boutique cinema.
Most people have seen the very early motion picture film of a steam train moving towards camera, and read about the terrified reaction of audiences who were, we're told, apparently in genuine fear of being run over by a train. The hyperbole used to describe modern audience reactions to stereoscopic filmmaking might make us a little suspicious as to exactly how terrified viewers really were, but nonetheless, this was clearly a key moment in the development (ha!) of motion picture photography as a commercial artform. And yes, that remains true even though the first performances were actually a lockoff of three guys playing cards, as opposed to the more action-packed public transport subjects which made the famous headlines.
The event has become an urban legend of avowedly Victorian proportions, but one of the forerunning candidates for where it might have happened was the Regent Street Cinema, in London's West End, in 1896. The show was the Lumière brothers'
L'arrivée d'un train en gare de La Ciotat
(yes, those Lumière brothers) and people paid good money to see the 50 second short; a concept which has, sadly, been lost to progress, at least in the experience of the average modern short filmmaker. The building itself was put up in 1848 as part of the Royal Polytechnic Institution, which had been founded in 1838 and was the first organisation in the UK to bear the term "polytechnic", probably before it the word had become notorious as a description of an educational establishment that really wanted to be a university but sort of wasn't. The popularity of science in the Victorian era meant that exhibitions of new technology were popular and deliberately spectacular lectures were sometimes publicised as public entertainment, so the venue was well chosen. Would that education were so popular now.
The Westminster institution was upgraded to be a university proper in 1992, but by that time the Cinema had ceased to be used as such, and had fallen into use as a lecture theatre. Happily, though, though the recent application of a large quantity of money – about £6m – the Regent Street Cinema has been brought back into use, with equipment to project 16mm, 35mm and 4K digital media. Despite the up-to-the-moment facilities, though, the opening show was the 1939 feature
Only Angels Have Wings
, directed by Howard Hawks and with cinematography by Joseph Walker who went on to shoot
It's a Wonderful Life
in 1946. There is, we're told, no intention to exhibit a solely historical programme, though; with
Princess Mononoke
and a double bill of
Alien
and
Blade Runner
, there should be something coming up to keep anyone happy.
For camerapeople, though, it's worth bearing in mind that some of those old black-and-white movies have a lot to teach us about composition and lighting, without the crutch of colour as a way to separate subjects and backgrounds; one thing that could be on the list but isn't is
Citizen Kane
. Still, it's nice to see that someone will be projecting important recent film as well as greats of the more distant past, even in a field with such a comparatively short history.
More information about the film programme and associated events can be found at
www.regentstreetcinema.com
.
Legendary Air Studios Under Threat!

Air Studios, London needs support concerning a proposed development by their neighbours who have applied for planning permission for an extensive underground development to their property.
It would mean that the studios would not be able to operate for around six months or more, due to severe noise pollution and underground vibration.
You can view the application here.
This could directly affect producers, engineers and musicians if the studios are forced to close and have much wider implications, with loss of income across the music recording community.
What a Dinosaur's Mating Scream Sounds Like!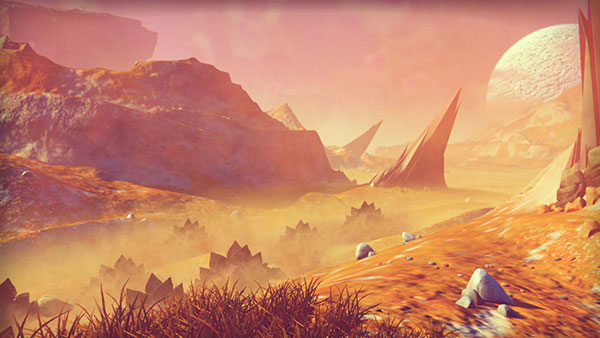 Composer and Sound Designer (and AMPS Member!) Paul Weir specializes in the creation of audio for films, games, banks and large stores, like Harrod's - but his latest project has been an ambitious game; a fully explorable digital cosmos, called No Man's Sky.
The game will make use of a wide range of atmospheric sound. Fly past a cluster of stars in its 3-D galactic map, and you will hear a shimmering noise that gives the universe a bejewelled quality. The game also contains a soundtrack by the band 65daysofstatic, recorded in an old church. Some of the band's music is fragmented into micro-segments, which the game's algorithms will recombine into ambient soundscapes uniquely tailored to what players see.
Paul commented,"No Man's Sky's biggest audio challenge was the creatures. Vocalizations for the dinosaurs in Jurassic Park were amalgams of field recordings: distorted utterances of whales or terriers - the Tyrannosaurus Rex's roar was from a baby elephant. But we didn't have the budget to make high-quality field recordings of exotic animals, and it didn't make sense to do so, since there was no way to predict what individual animals in the game would look like, or do, or even what environment they would be in. Instead, we decided to give each creature a unique digital vocal tract, to simulate sounds consistent with its appearance."
The Beatles' iconic Sgt Pepper album to be taught to GCSE music students. Eee, when I was a lad…
Everyone knows that Sgt Pepper taught the band to play; now, it seems, he will teach children to learn music as well.

Britain's biggest exam board, the AQA, is to make Sgt Pepper's Lonely Hearts Club Band a central theme of a refreshed GCSE music course.

It is insisting that all students study three songs from the album – Lucy In The Sky With Diamonds, With A Little Help From My Friends and Within You Without You.

They will be asked to study the melody, harmony structure and rhythm – and the meaning of the lyrics which, in the case of Lucy In The Sky With Diamonds, have been debated by Beatles' fans for years. Some have argued the title – which includes the letters 'LSD' – refers to drug-taking but Lennon always maintained it was based on a girl called Lucy who was a friend of his son's.
AMPS Members Anna Sulley & Rob Walker Discuss their Work with Eleanor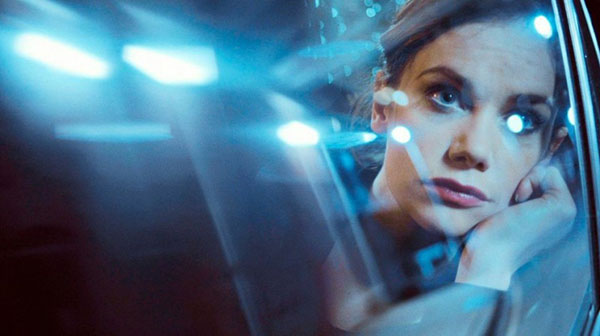 Anna Sulley, Supervising Sound Editor/Sound Designer and Re-recording Mixer Rob Walker on the project Eleanor, an installation shown at Camden Cobb Gallery and repeated at Soho Revue in May this year.
Anna Sulley - Knowing from the start this film was primarily for a three screen installation the obvious partner was re-recording mixer Rob Walker. Rob had previously designed a custom 9.1 speaker mixing array for an Ambisonic recording project alongside extensive conventional mixing work. Rob had the right skill set for the most complicated part of the project bringing it to life in a non-standard audio environment. The ambitious and visually stunning project follows the lives of three separate characters all played by actress Ruth Wilson. The three-screen interplay allows us to play scenes from different angles and explore interactions within the film.
The first thing we did was have a conversation about the technicalities. There were many unknowns. Due to budget restraints we would never be able to mix or even preview in the exhibit space with the actual speaker array being finally used. The mixes would have to be sent off to the installation company to make the mov files and the equipment was only being hired for a limited amount of time. There was no budget to re-print if something didn't work and even if there was, there wasn't the time as the gallery would already be open. So it was essential not to over complicate.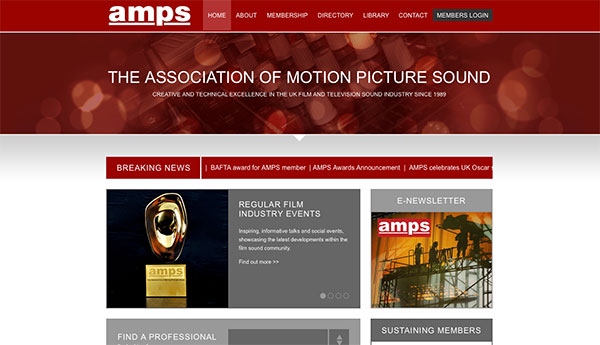 Matthew Gough gives us an update:
Introduced at the AGM, the updated AMPS website is soon to go live. We've listened to the feedback provided in the questionnaire at the end of last year and, with the help and guidance of our designer and programmer, have made some significant improvements to the site in terms of its appearance, functionality, and security. A lot of the improvements are behind the scenes and involve major software upgrade so won't be obvious to to the outside world, but they will significantly reduce the work load and streamline the administrative functions of the Association.  

Some of these behind the scenes improvements are: integrated and automated membership application system that will handle automatically the bulk of the work John has laboriously doing by hand; a new Content Management System (CMS) that will allow easy and significant content changes to the site so we can easily keep the site current; integrated email management system that will replace the two independent systems we've been using so far; up to the minute security and anti-hacking protection.

More obvious changes are: a fresh new look; a restructuring of the site to make it more intuitive to find things; a forum; a new events system; an availability calendar that will allow you to enter dates (and a search function that searches by this availability); a members demographic map that will allow you to show, for example, 1st AS and where they are in the country so you can easily contact people for local jobs.

All the great features of the old website are still there, such as the library, sales and wants, details about the Sustaining Members, etc, but most have been given an overhaul based on your feedback to improve and streamline them.
We're aiming to go live before the next newsletter and there will be an email shortly before we do so containing specific details of how the new features will work and other relevant information.

This has been a very exciting process and has been a great collaboration between many members of AMPS. As AMPS gets bigger and more significant on the international stage we hope this site will reflect the history of the association whilst helping to propel the organisation forward. We're looking forward to sharing it with you all!
 

 

 

 

 

I'm sure that everyone has now received their latest edition of the AMPS Journal - Summer 2015!

 

If you haven't already read every word of the print edition, then it is available as a digital publication for your desk/laptop computer.

 

Sorry, this Flash application won't work on tablet or mobile.

 
New AMPS Member 1 - Ben Newth

 

 

I'm a senior dubbing mixer at Clear Cut Pictures, where I'm known for work in documentary and drama-documentary. This has led in recent years to work on mockumentaries and TV dramas, as well as lower budget theatrical releases.

As a dubbing mixer principally, I enjoy all aspects of post sound, from dialogue editing to sound-design and final mixing. This way (and under short time constraints), I feel I get to understand the film or programme best. I prefer naturalistic or ambient sound wherever possible.

 
I graduated from Bournemouth Film School in 1998 and went straight to work at Gemini Audio with Nigel Read and Lance England. I owe a lot to them. In 2001, I moved to Holland and worked within the Dutch TV and Film industry. I returned in 2004 as a freelancer, and having done the rounds in London, I took a full time job at Clear Cut Pictures in 2009.
New AMPS Member 2 - Deian Humphreys

 

 

Hi, I'm a Production Sound Mixer based in Cardiff. With over twenty years experience in the professional sound industry I've been fortunate enough to gain valuable experience working in various genres - live studio, documentaries, film and television drama. I'm currently working as the Sound Mixer on series 9 of Doctor Who - the fourth year of his tenure there, racking up three BAFTA Cymru Nominations for Best Sound.

 



Blessed with a great team, I pride myself on getting great results in challenging circumstances whilst still maintaining a sense of humour! I'm very privileged to become a member of AMPS and looks forward to being part of the family.
In Praise of the

Sound Recordist
Now this may seem weird coming from someone who's been a cameraman for most of his working life and maybe it's bit late to make amends, but I think it is time to reassert the importance of the sound recordist.
In what is regarded as a visual medium, sound recordists are traditionally the butt of jokes (eg What's the difference between a genny and a sound recordist? Answer - You can stop a genny whining). You can't help feeling sorry for them — audio seems to have the lowest priority during a shoot but is the very first thing that people notice when it isn't right; people will put up with fuzzy pictures better than they will put up with fuzzy sound.
Now with budgets squeezed (well, budgets for crews squeezed, I haven't seen so many producers in the dole queue) there is a trend to regard the sound recordist as dispensable. With the advent of low cost, good quality and reliable radio mics, it is all too easy to clip a mic onto the subject and think the job is done. And, to be honest, if you are mostly doing interviews a lot of the time that works okay. But it should go without saying that in any 'real' documentary situation (by that I mean, something that is not based just on interviews) a sound recordist is essential. We need sound recordists. Not only is it great to have someone whose whole attention is concentrated on sound to not miss out on all the extraneous noises and rustle, but often a personal mic is a compromise. In so many situations, the classic 416 on a boompole is still the best way to record sound. The problem with personal mics is that everyone tends to sound the same, wherever they are in the room and however far they are from the camera. We lose sound perspective, we forget that the actual tonal quality of the sound can be almost as important as lighting in establishing mood.
As a historical note, one of the great landmarks in documentary development was when, in the late 1960s, crystal sync enabled the sound recordist to be independent of the camera. The liberation of the sound recorder and recordist came to an end when video took over and the sound recordist became connected to the camera again. Admittedly, there was a particular advantage for a separate recorder when film was expensive and tape cheap - the sound recordist had no restraint when recording wild tracks. As every editor will confirm, you can never have too many wild tracks (or, for that matter, cutaways).
With the rise of the DSLR, sound took second place to an obsession with picture quality but, because of the more or less unusable audio you get on a camera that is really designed to take still pictures, a separate sound recorder became commonplace again. However, ironically and unnecessarily, the recorder is now often attached to the camera.
Does having a recorder independent of the camera really make a difference? Certainly, from a camera operator's point of view, to be able to take the camera and run with it without worrying about cables can be a huge advantage. But more than that, I think an autonomous sound recordist, freed from the umbilical connection to the camera, allows greater emphasis on the creative possibilities of sound. Sound should be a creative element in itself, not just something that comes with the picture.
Okay, sound recordists, do you forgive us for all those jokes now?
Oooo! As they say -
Sound & Picture
, a crew-centric magazine you should be reading. Read and subscribe here -
http://soundandpicture.com
AMPS Donation to Hearing Dogs for Deaf People

AMPS is extremely proud to confirm that it has recently transferred £812 to the charity Hearing Dogs for Deaf People! 
But, all our thanks must really go to Meg Theakston and her husband Michael who took the effort to continue the raffle at Pinewood screenings during the period October 2014 to May 2015. Thanks also to everyone who donated.
Did you know that the Directory pages on the AMPS website are some of the most frequently visited?

 

Make sure that your profile is up to date - you never know where your next work enquiry will come from!

 

 
Can we help with your Professional Development?
We're keen to hear from you with ideas for seminars and training sessions which would contribute towards Continuing Professional Development.
We're very aware that keeping up with techniques and updates can be a full time job in itself, so if there's any way that AMPS can contribute towards maintaining and developing your industry knowledge and skills, please get in touch.
AMPS Address & Phone Number
Contact details to use are -
27 Old Gloucester Street
London
WC1N 3AX
Tel: +44 (0)1753 669111
AMPS, 27 Old Gloucester Street, London, WC1N 3AX
www.amps.net / +44 (0)1753 669111