SHOP HOURS
Monday: CLOSED
Tuesday: 12 - 6
Wednesday: 12 - 6
Thursday: 12 - 6
Friday: 12 - 6
Saturday: 10 - 6
Sunday: 12 - 4

 

It is officially summer in Lexington, folks! We've moved on from warm weather into just plain sticky and hot. And you might think it's too hot to knit and crochet during those dog days of Summer, but you'd be wrong. Summer is the time for little and light weight projects: Socks, linen shawls, or pick up a new yarn skill, like tapestry weaving. We have so many knew things in the shop right now and we are so excited to see you come in! Now is the perfect time to start a new project.

 

Speaking of new projects, we have some great Summer project classes coming up if you need inspiration. We are really excited to welcome Susan Winkler and Joyce Marshall who will be teaching Summer classes as well as Dorothy Apple who will be teaching private lessons over the Summer and classes starting in the Fall.

 

Finally, here is your big reminder that we will be closed from June 30-July 5. We will be spending that time working on shop repairs and a few upgrades. We will reopen on July 6 rested, refreshed and better than ever!!
First up we have July's Sassy Holiday colorway from Knitted Wit- Itsy Bitsy in honor of National Bikini Day on July 5. Whether you like your swimsuits to be one piece or two, this colorway is gonna bring some sunshine into your life.
Speaking of Knitted Wit, we are participating in their "Knit the National Parks" challenge which means we are getting four new National Parks colorways every month this summer. When you buy these yarns you will get a passport to collect stamps for each one. Buy 4 colorways and you will get a free "Knit the Parks" patch, collect all 16 and you will also get a "Knit the Parks" enamel pin. So far we have loved every single colorway delivered, we can't wait to see next month's parks!!
Are you tired of Knitted Wit yet? Yeah, neither are we. Anyway in addition to the yarn clubs we also added quite a few colorways in their Fingering yarn. We cannot say enough good things about this yarn, but judging by the rate it flies off the shelves, you already know how great it is.
We just added 17 new colorways of Tosh Sock and we couldn't be more excited about it. We love this yarn for everthing from socks to sweaters, it's soft, durable, and beautiful.
In addition to new colors in Tosh Sock, we have 8 new colors of Vintage for your knitting pleasure. Unfortunately, all of the colors had not arrived before we left for vacation so only half are shown here. All of the colors are in the shop now so swing by and check them out.
Looking for a new project to take on? Try out Black Sheep Goods tapestry looms!!!
It's a great way to use up odds and ends of yarn in a way that you can enjoy no matter what the weather is like. These laser-cut looms by Nashville's Black Sheep Goods come with everything you need to weave your first wall hanging and when you are finished, the loom and the tools can be used over and over again with yarn from your stash. We have a fresh selection of kit colors right now so why not give it a try? On a related note, we also carry 6" tapestry needles should you find yourself in need of one.
Our Yarn of the Month for July will be Zooey by Juniper Moon Farm. We love this slightly thick and thin DK weight cotton/linen blend, it strikes a great balance between softness and durability. The neutral colors are great, but we also really love the bright colors. There are a few projects around the shop in this yarn- Robyn made two
Cross Hatch Shawls
with Zooey as the background color, Susan made the 
Clara Sweater
 that she will be teaching this month in this yarn, and Sarah knit up some items for her kids: 
Gavrosh Pants
,
Summer Tank
and 
Cherry Bomb Skirt
(down one needle size). This yarn is also a perfect choice for our July KAL so it is a great time to pick up a few balls.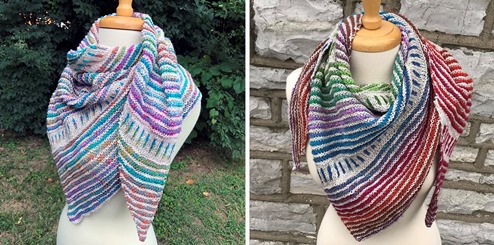 For July we will be knitting the Vine Street Vest by Joyce Weida of NorthbroKnits. This vest can be worn in several ways to creat different looks and it is the perfect summertime garment carrying you from hot outside temps to coll inside temps or for a little extra protection on a cool night. 
The project knits up quick on US10.5 needles and used 2-3 skiens of Juniper Moon Farm's Zooey yarn, but if that doesn't fit your style, we have several other compatible yarns for this pattern including Kelbourne Woolen's Mojave if you happen to be doing thier summer KAL challenge (
more info on that here.
) 
All ReBelle knit alongs are free and open to the public. You are welcome to attend as many or as few of the KAL sessions as you like.

Friday, August 2- Sunday, August 11

 

This will be our fourth year participating in the I-75 Yarn Crawl and we couldn't be more excited. For those of you who are new to the I-75 Yarn Crawl, it is an event that spans I-75 from Tennesse to Michigan and includes more than 50 yarn shops. This year the I-75 Yarn Crawl spans two weekends so you have extra time to explore shops near and far. A passport is only $6 and gets you access to Crawl exclusive sales, deals, and prizes.

 

At ReBelle, we have been planning some really great events for both Yarn Crawlers and regular customers. Helena from Oink Pigments will have a pop-up shop at ReBelle on August 3 & 4, come by and browse her stunning selection of yarns including a custom colorway created just for us. August 5-8, we will have a Knitted Wit trunk show featuring their National Parks colorways, and finally, August 9 & 10 we will be joined by Erin of Rock and String Creations who will bring along her full selection of beautiful hand dyed yarns.

 

 

 
Featured Upcoming Classes
 

 

Double knitting is used to create a two-layer fabric with knit stitches on both sides and can be used to make reversible colorwork which is what we will be doing! In this class you will choose from several designs to make either a coaster or a hot pad with a design on both sides.

 

For this class you will need 1oz of worsted weight wool in each of two solid colors. You will want to chose colors with a nice contrast. 

 

Thursdays 7/11 and 7/18. 10am-12pm

 
 

The Clara Sweater is a light-weight, drapey sweater flattering to most body types and knit out of one of our favorite yarns- Juniper Moon Farms Zooey. It is a perfect summer project. Whether this is your first sweater or your tenth, the shaping and construction of this design will provide you with enough of a challenge to keep you interested, without so much that you will want to set it aside.

 

This is an intermediate class, students will need to be comfortable with knitting fundamentals- knitting, purling, increasing, decreasing, and knitting in the round. 

 

Thursdays 7/25, 8/8, 8/29, and 9/19.

 

 
 

 

Come learn to crochet 3 different styles of granny squares with Raellyn. You will need to bring a size H or I crochet hook and worsted weight yarn. Beginners welcomed, but basic crochet experience is needed.

 

1 Session, $20

Saturday, July 27. 4-6pm

 
 

Ready to knit your first sweater or found a great sweater pattern but feel a little unsure about going at it alone? Then this class is for you. This class will be a workshop -- you pick the pattern and yarn you want (with our help if you need it) and bring it to class.  While we knit, we'll learn from each other's patterns by discussing techniques found in your individual patterns.

 

This is an intermediate class, students will need to be comfortable with knitting fundamentals- knitting, purling, increasing, decreasing, and knitting in the round.

 

Five sessions, $60

Wednesdays 7/31, 8/7, 8/21, 9/4, and 9/18.

6-8:30pm