---
SIRA
News

Island Vision Drop-in
In support of the theme of the upcoming Winter Solstice Festival, the Community Engagement and Communications Committee is hosting an Island Vision Drop-in CE event in the hall.
Come along and record your vision (through words, art music or any other form) for this wonderful place we call home. Everyone welcome.
When: This Sunday 22nd June from 10am
Where: Scotland Island Community Hall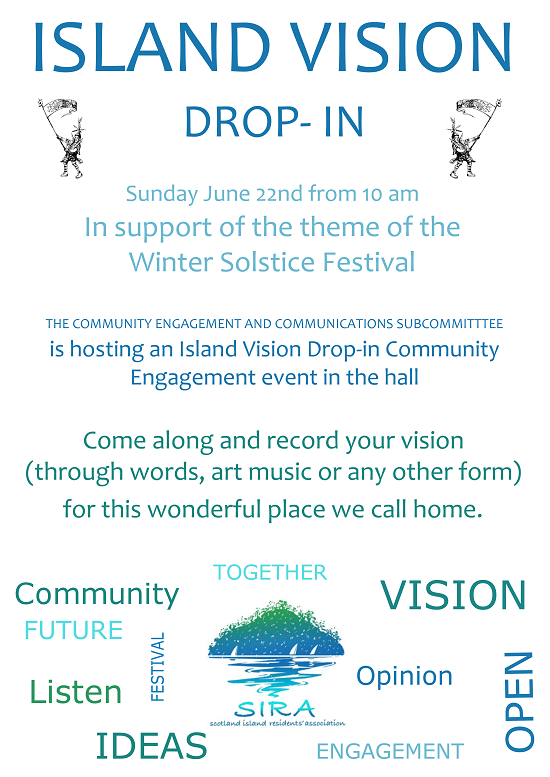 click to load pdf
---
Report on CECS Community Discussion
On Sunday 4th May 2014, the
SIRA Community Engagement and Communications Subcommittee
(CECS) hosted a Community Discussion, attended by a small but enthusiastic group of both SIRAC and community members, to discuss various issues related to Parks & Reserves and Water & Wastewater.
Bill Gye welcomed participants followed by brief introductions from Judy Readman and Jenny Frazer (CECS). Group facilitators Sharon Kinnison (Parks & Reserves) and Judy Readman (Water & Wastewater) gave brief introductions, after which the participants chose a topic and engaged in thoughtful and frank discussion of the issues and possible solutions, with comments recorded on the paper tablecloths provided. The discussions concluded with a summary from both facilitators.
Following best practice in Community Engagement processes, a draft of the Comments Summary was distributed to participants for their final input along with an event evaluation form to complete.
Thanks to everyone who participated especially Emmie Collins for refreshments and Leanne McLean for colourful decorations both of which contributed to the welcoming atmosphere.
SIRA would like to welcome everyone to our Island Vision Drop-in in the Hall, next Sunday 22nd June from 10am as part of the Winter Solstice Festival. Come along and share your vision for this wonderful place we call home.
Please click on the links below for:
---
WINTER WARMER SOLSTICE FESTIVAL
in CATHERINE PARK, SCOTLAND ISLAND
on

SUNDAY JUNE 22
10am – Sunset

GAMES STALLS MUSIC FOOD CAFÉ
RECYCLED / UPCYCLED TREASURE
WORKSHOPS COMMUNITY DISPLAYS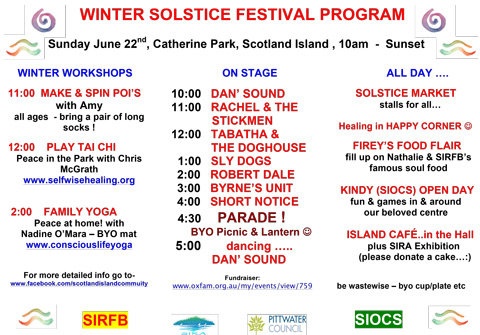 Click the flyer to load PDF file
---
Scotland Island Kindergarten - OPEN DAY
Sunday 22 June - 10am - 3pm
---
Red Shield Appeal 2014 - THANKYOU



Hi everyone,

Thanks to everyone who gave so generously to the Red Shield Appeal this year and to my small, but enthusiastic band of collectors (Emmie, Shona, Sylvia, and Greg). Together we raised $1200, which will certainly make a difference to the lives of those in need. Thanks also to Penny Gleen and the ferry drivers (Taylor, Kieran, Chad, Dave and Michael) and water taxis (Rod, Alex and Michael), Mary and Joe Romeo from the Church Point Waterfront Café and Quays Marina for their generosity of deed and spirit.

Thanks again,
Jenny Frazer



---
Nurses and Midwives
You are invited to a meeting convened by the Northern Beaches Community Union Alliance
Thursday 26 June 2014 7 pm
Dee Why RSL, 932 Pittwater Road, Dee Why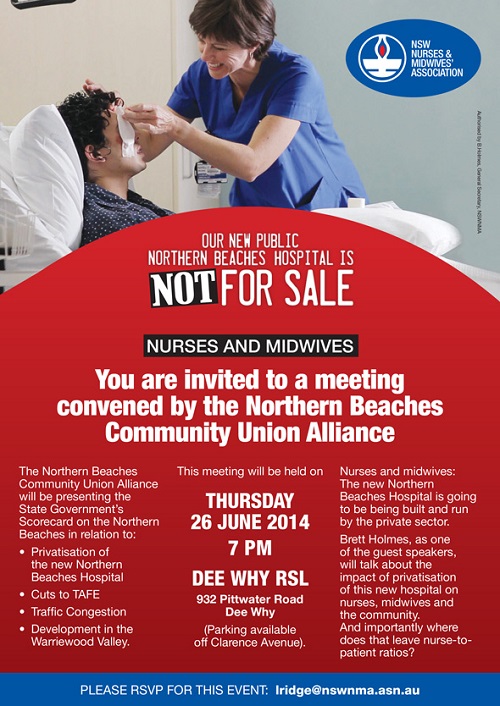 ---
Artspot 2015




Artist Call out JUNE 2014!



Our hugely successful first group exhibition under the Artspot brand in January 2013 attracted thousands of visitors and sold thousands of dollars worth of art. It was held in the Avalon Recreation Centre and saw a mix of artists including photographers, printmakers, painters and ceramicists.

Artspot 2015 will be a larger and more diverse exhibition and will consist of: !

Printmakers, photographers, painters, ceramicists!
Sculpture (both small and large)!
Video artists!
Children and Masterclass Workshops!
Artist Forum Event!
Graffiti artists in laneway behind Centre with Chamber of Commerce!
Applications Close 30 June 2014
---
---
Join SIRA
You can now join the Scotland Island Residents Association by
clicking here.
Please print the page and return the completed form to SIRA at this address:

The Treasurer, SIRA, PO Box 70, Church Point 2105.
Please NO CASH.

Contact SIRA at
sirac@sira.org.au
Join WPCA

To join the Western Pittwater Community Association
www.wpca.org.au
, contact Michael Wiener at

treasurer@wpca.org.au
---
Archived Newsletters


A complete set of past electronic newsletters since May 2000 can be found and read at https://ymlp.com/archive_gesgjgm.php or by clicking here or by visiting the Mona Vale Library.

The Island website is at www.scotlandisland.org.au


---
To Contribute


If you would like to contribute to this newsletter it's easy!. Send an e-mail to the editor (editor@scotlandisland.org.au) or by clicking here. Type your contribution (100 words or so would be fine) and assuming it is of general interest to the community, does not include matter of a political nature and is not offensive, it will appear next month.

Subscription Information


To get on and off this newsletter,

click here

or got to:

http://www.scotlandisland.org.au/signup .


To change your address, click the 'modify' link at the bottom of this newsletter or send an email to the

editor@scotlandisland.org.au


---
Follow the PON
---
The Online Local Contacts Guide
Click HERE to load
The views expressed in this newsletter are not necessarily the views of the Scotland Island Residents Association (SIRA), or the Western Pittwater Community Association (WPCA)
---