---
SIRA

Notice
UPDATE ON POWER OUTAGE – MONDAY, APRIL 13
Ausgrid staff have today advised that work has been postponed and there will be no power outage this Monday.


The postponement is due to access issues identified for the crane truck and another site meeting will take place, in conjunction with Pittwater Council staff, to assess the situation and any preparatory work required.

The high voltage wire underneath the trees has been isolated without loss of power to properties. Ausgrid anticipates that

work will commence later in the week

, but will send out a media release as soon as a determination has been made.

The area still remains closed as a safety precaution until work been completed so please use an alternative access route.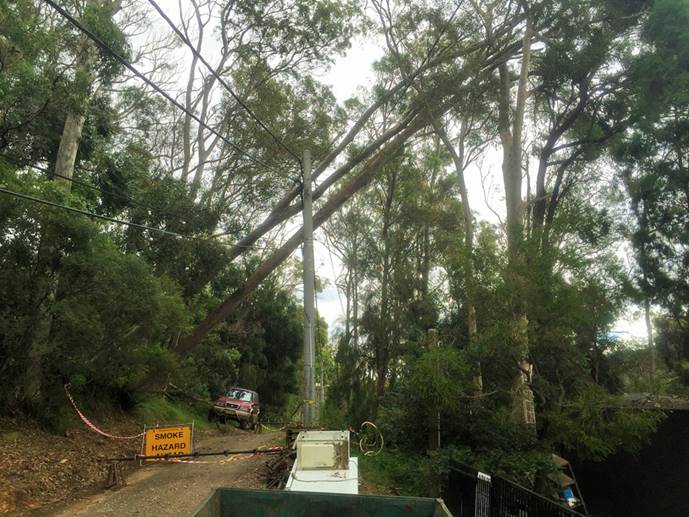 ---
Scotland Island RFS Fire Shed Dinner
1st for the Season and a little bit different !

Saturday 9th May 2015 from 7pm
---
---
Scotland Island Weather Station
Readers might be interested in a website that gives them free Scotland Island Actual Weather reports every two minutes.

Our latest station (Scotland Island East) was commissioned today and is available on.. http://scotise.pittwaterweather.com/

The Quays Marina was commissioned last month on 20th March.. http://quays.pittwaterweather.com/

Our first station was commissioned at Observation Point, Palm Beach on 21st February.. http://observation.pittwaterweather.com

There will hopefully be another three stations commissioned in the future including Barrenjoey Lighthouse.

Rohan Walter
rohanwalter747@gmail.com


---
PITTWATER WEATHER BACKGROUND

An idea was born
Frustrated at being unable to obtain Local Pittwater Actual weather from any public source - the means to achieve such information was investigated.




(All current internet weather sites give Terrey Hills weather even when you request one anywhere around Pittwater)



Through the Federal Minister for The Environment, referred to the Bureau of Meteorology to be told that just one station would cost $29,000 and that no funding was available – that was a red rag to a bull.

This is despite the fact that there are no BoM Coastal Weather Stations between North Head and Norah Head – a distance of 67Kms.



Going south there are stations every 11 – 30Kms to Kiama.



Without any Government assistance, private equity was volunteered by a very generous local willing to give back something to our idyllic Pittwater.

Not only is he funding one station – the aim is to eventually have 5-6 around Pittwater.

This data will benefit sailors, fishermen, power boats, seaplanes, Marine Rescue, Maritime, Water Police, National Parks, the Rural Fire Service and yacht clubs.

On Saturday 21st February, 2015 the first station was commissioned at Observation Point, Palm Beach.

http://pittwaterweather.com/Cumulus/Observation/index.php

This website is most comprehensive with the data available in various formats including gauges that give analog & digital readings.

Webcams will be incorporated subsequently to give a birds-eye-view.

Permission is pending from Rob Stokes – State Member for the Environment – to position one station on Barrenjoey Lighthouse.

This will give both coastal and Pittwater coverage.

Other sites will follow when siting permission is obtained.

For further information -

Rohan Walter
Coordinator, Pittwater Weather Team
9997 2600 0404 803 747
rohanwalter747@gmail.com



---
Stark reminder of consequences of not following safe boating rules



A 30-year-old Narara man received a nine-month suspended jail sentence in Woy Woy Local Court today after pleading guilty to serious offences under marine legislation.


Roads and Maritime Services Director of Maritime Angus Mitchell said the man had been boating alone near the Woy Woy Channel in Brisbane Water in July last year when he fell from his small fibreglass runabout and was hit by the boat's propeller.

"He was not wearing a lifejacket, as required by law and his boat which had a 30 horsepower motor should have been registered and was not," Mr Mitchell said.

"He was rescued by Marine Rescue NSW and was taken to hospital with serious injuries, where routine blood tests found his prescribed content of alcohol (PCA) was 0.0159 - well above the 0.05 limit.

"After pleading guilty to charges of high range PCA, failure to wear a lifejacket in a small vessel when required and operating an unregistered vessel, the man was sentenced to nine months imprisonment, suspended under Section 12 of the Crimes Sentencing (Procedures) Act partially due to the serious nature of the injuries he received in the incident.

"He was disqualified from holding a boat licence for three months, fined $500 for failing to wear a lifejacket and fined $1500 for operating an unregistered vessel.

"This is a stark reminder to anyone going boating to ensure they follow the rules carefully.

"Registration is required for vessels which are powered with an engine of more than four kilowatts or five horsepower, longer than 5.5 metres, all boats on a mooring or at a marina and personal watercraft such as jetskis.

"Lifejackets are an important piece of safety equipment and there must be one available in the right size for every person on board. Lifejackets must be worn on boats less than 4.8 metres long, at night, offshore, on alpine waters or when alone. Children less than 12 must wear one at all times on board a boat.

"The blood alcohol limits are the same on the water as on roads. A person in charge of a vessel must keep under the 0.05 blood alcohol limit and for commercial vessel operators and persons under the age of 18, the lower blood alcohol limit of 0.02 applies.

"A great day on the water is a safe day which is why it is so important the estimated two million people who enjoy our waterways each year follow the basic rules for safe and responsible boating. All skippers need to know the rules and ensure they follow them," Mr Mitchell said.

For more information on safe boating, visit www.rms.nsw.gov.au/maritime


by Roads and Maritime Services Apr 1, 2015, 01:34:00 (AEDT)





---
Lost paddle
On Tuesday 7 April lost kayak paddle, black handle and orange blades. It was a very windy day and seems that the paddle was blown off the jetty into the water on the south side of Scotland Island.

If anyone found it please call Conor:
0410 578 686



---
Looking for a Rental
I am a single mother with a beautiful one year old looking to rent a child friendly home near a ferry stop (preferably Bells).

Looking for short term or long term leases.
References available.

Contact Kate Walsh on mskatewalsh@gmail.com or 0423 138 357



---
Boat Tie-Up Needed
We are new residents to Scotland Island having purchased and soon to move to 15 Thompson St.
We currently are in need of a place to tie up our boat.

If anyone could see fit to rent us space on their Warf Please contact Jean-Paul on (0412) 475 119 or email jderonse@bigpond.net.au





---
---