South African Church backs Palestinian struggle and adopts BDS boycott of Israel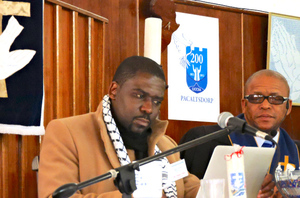 Reverend Thulani Ndlazi, Secretary of the

UCCSA

South African Synod


14 July 2016


The UCCSA, at its recent 8th South African Synod Conference in George this past weekend, passed a robust resolution in support of the Palestinian struggle and the international BDS boycott of Israel. The UCCSA resolution reads:


"We recognize that the Palestinian struggle is not simply a conflict, but an asymmetric struggle between an oppressor and the oppressed. The oppression entails a decades' long institutionalized discrimination against Palestinians in the occupied territories of Palestine and also against those within Israel and those in the diaspora who are not allowed by Israel to return.


We do not take an anti-Semitism position...we call on all Christians to read the Bible responsibly so as to not trample on the human rights and the dignity of the Palestinians.


We ask Christian pilgrims to the Holy Land to meet with and to listen to the Palestinians in Bethlehem, East Jerusalem and other cities in the occupied Palestinian territory.


We acknowledge with gratitude the support of our Palestinian sisters and brothers in South Africa's anti-apartheid struggle.

With this resolution we join other churches in the world...with them we stand in public solidarity with the Kairos Palestine's appeal for help and the Palestinian civil society's call for creative non-violent resistance.


We pledge our support to the international Boycott Divestments Sanctions (BDS) campaign."
The UCCSA, importantly, draws attention to the conflation between "the Biblical Israel with the modern state of Israel" and between Israelites (of the Bible) and Israelis (of the modern Apartheid State of Israel created in 1948).
The UCCSA has over 1000 local churches across South Africa, Namibia, Zimbabwe, Mozambique and Botswana.
------------------------------
In recent years there is an increasing awareness of the plight of the Palestinian Christians living under Israeli Apartheid. Palestinian Christians insist that they, together with Palestinian Muslims, Palestinian Jews and all other Palestinians, share the same suffering under Israel's regime of Apartheid. Their crime is that they are Palestinian. Palestinian Archbishop Theodosios Atallah Hanna explains that: "Israel desires to conceal the Christian dimension of the Palestinian issue. Israel attempts to present this conflict as a Jewish-Muslim religious conflict, and it also attempts to neutralize the Christian position, and therefore it is irritated by the growing Christian voices raised on the Palestinian issue."
Previously the Pension Board of the Methodist Church (click here), the Presbyterian Church (click here), the United Church of Canada (click here) and United Church of Christ (click here) took resolutions and adopted actions in support of various forms of boycotts against Israel. The Methodist Church in South Africa has also previously in 2013 called for its "Circuits to study the Palestinian Kairos Document that calls for divestment of Israel to end the occupation by Israel in Palestine ([2013 Yearbook, 3.4, pg. 93-95]" (click here).

We salute the UCCSA for their bold resolution in support of our dear Palestinian and Israeli friends working toward justice and an end of Israeli Apartheid.


- Kwara Kekana, National Spokesperson of BDS South Africa: +27 (0) 74 054 3826 or kkekana@bdssouthafrica.com
- Reverend Thulani Ndlazi, Secretary of South African UCCSA Synod: +27 (0) 11 764 1096, +27 (0) 73181 6617 or secretary@sasynod.org.za

BOYCOTT, DIVESTMENT AND SANCTIONS AGAINST ISRAEL IN SOUTH AFRICA (BDS SOUTH AFRICA)
5th Floor | Mishumo House | 77 De Korte Street | Braamfontein | Johannesburg
PO Box 2318 | Houghton | 2041 | Johannesburg
T: +27 (0) 11 403 2097 | M: +27 (0) 74 054 3826 | F: +27 (0) 86 650 4836
W: www.bdssouthafrica.com | E: media@bdssouthafrica.com
BDS South Africa is a registered Non-Profit Organization. NPO NUMBER: 084 306 NPO
BDS South Africa is a registered Public Benefit Organisation with Section 18A status. PBO NUMBER: 930 037 446