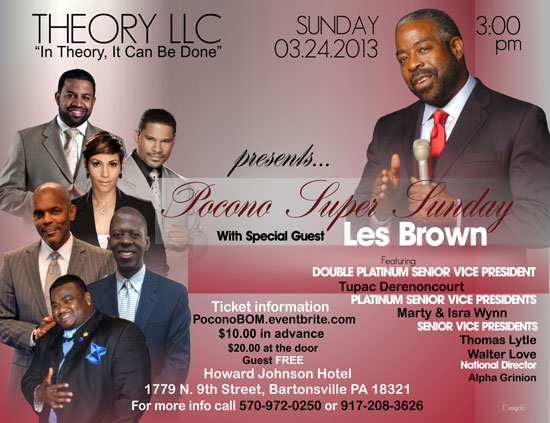 5LINX ENTERPRISES IN CONJUNCTION WITH THEORY LLC PRESENTS
POCONO SUPER SUNDAY
WITH SPECIAL GUEST
LES BROWN
FEATURING TUPAC DERENONCOURT | MARTY & ISRA WYNN | THOMAS LYTLE & WALTER LOVE | ALPHA GRINION
SUNDAY, MARCH 24, 2013 @ 3PM
HOWARD JOHNSON HOTEL
1779 N. 9TH STREET, BARTONSVILLE, PA 18321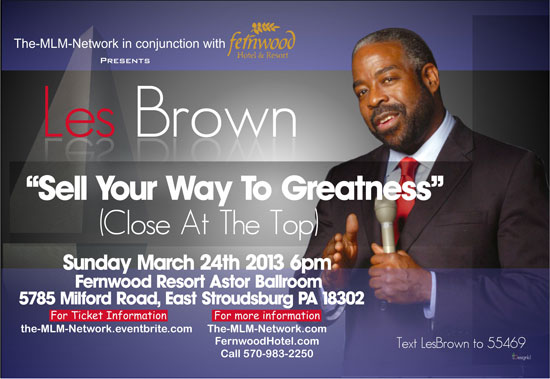 AND
THE-MLM-NETWORK IN CONJUNCTION WITH FERNWOOD PRESENTS
LES BROWN
"SELL YOUR WAY TO THE GREATNESS"
(CLOSE AT THE TOP)
SUNDAY, MARCH 24TH, 2013 6PM
FERNWOOD RESORT ASTOR BALLROOM
5785 MILFORD ROAD, EAST STROUDSBURG, PA 18302
FOR COMPLETE DETAILS AND INFORMATION

CLICK HERE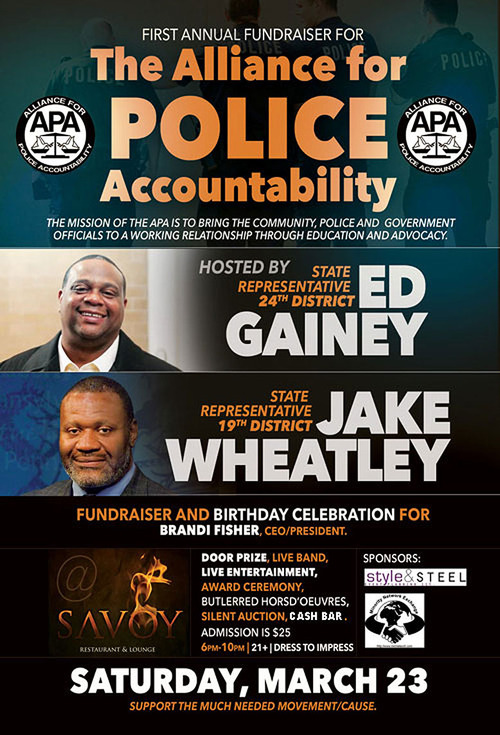 State Representatives Ed Gainey and Jake Wheatley partner to host
1st Annual Fundraiser for the Alliance for Police Accountability
Saturday, March 23rd, 2013 | 6pm-10pm
Savoy Restaurant 2623 Penn Avenue, Pittsburgh, PA 15222
FOR COMPLETE DETAILS AND INFORMATION

CLICK HERE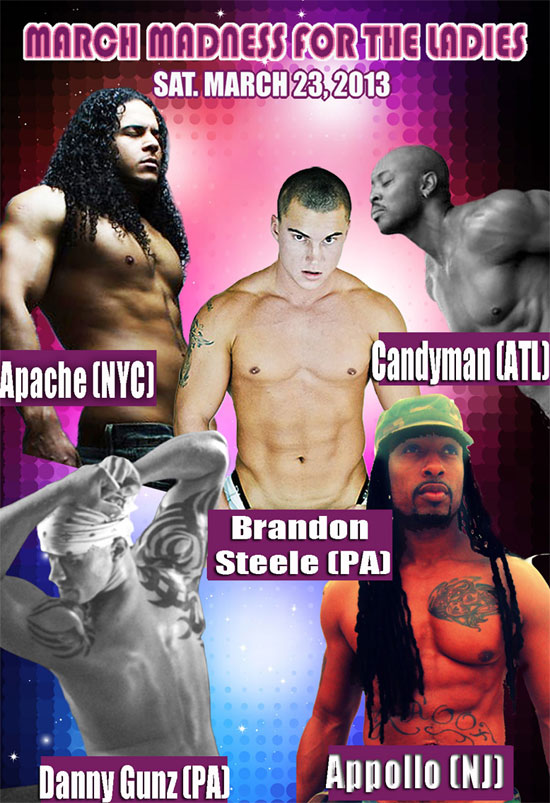 CHANGING ENTERTAINMENT
PLUS FAMILY AND FRIENDS PRESENTS
MARCH MADNESS FOR THE LADIES
SATURDAY, MARCH 23, 2013
@JT'S THE CLUB SPORT AND HEALTH
ONE RACQUET LANE MONROEVILLE, PA 15146
BRING YOUR GIRLS!!
FOR COMPLETE DETAILS AND INFORMATION

CLICK HERE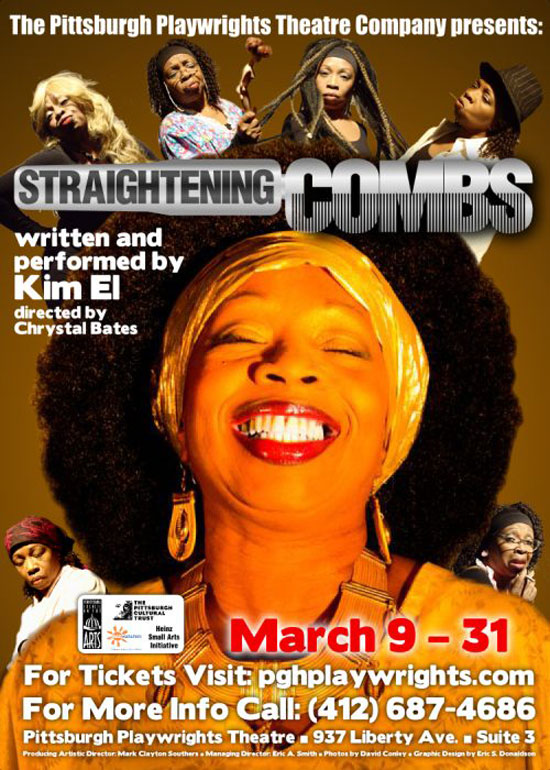 Straightening Combs
By Kim El | Directed by Chrystal Bates
March 9 – March 31 2013
Playwright/actor Kim El shares a story of the repercussions of low self-esteem and overcoming depression in urban America in her solo performance, Straightening Combs. Her spoken word poetry, songs, and short vignettes in six different personas take the audience on an intimate life journey seen through the eyes of an African-American female coming of age.
FOR COMPLETE DETAILS AND INFORMATION

CLICK HERE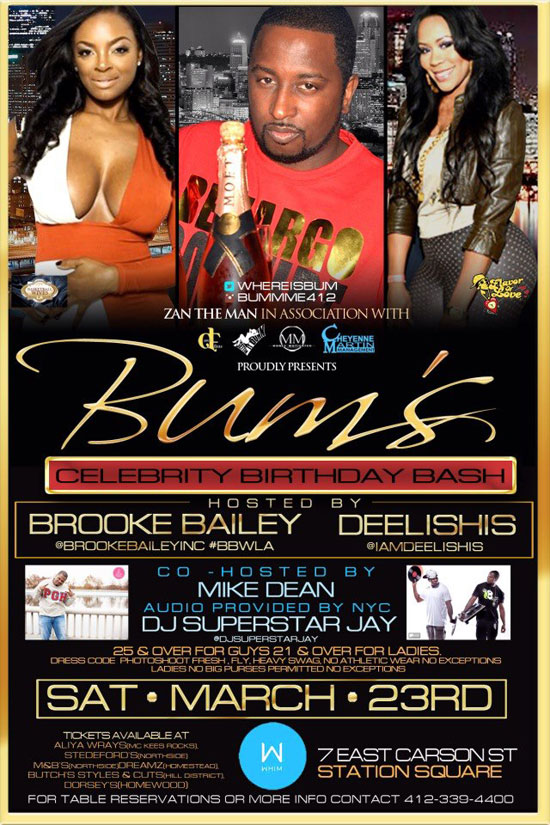 ZAN THE MAN,CHEYENNE MARTIN MANAGEMENT,GETTIN IT DUNN & DAWK FILMZ PRESENTS
BUM'S CELEBRITY BIRTHDAY BASH
HOSTED BY DEELISHIS & BROOKE BAILEY FROM BASKETBALL WIVES LA.
CO-HOSTED BY MIKE DEAN
AUDIO PROVIDED BY NYC'S DJ SUPERSTAR JAY
25& UP FOR GUYS 21 & UP FOR LADIES.
NO ATHLETIC WEAR,NO ECESSIVELY BAGGY CLOTHING,DICKIE SUITS
LADIES NO BIG PURSES.
FOR TABLE RESERVATIONS OR MORE INFO 412-339-4400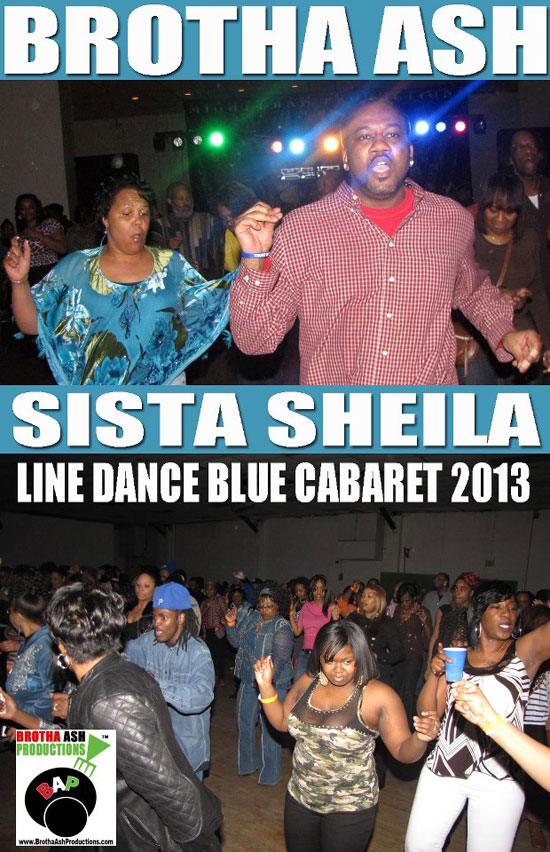 THE FINAL PERFORMANCE
BY BROTHA ASH
I WOULD LIKE TO THANK "EVERYONE" THAT CAME OUT TO THE LINE DANCE BLUE JEAN CABARET PRESENTED BY LEMINGTON COMMUNITY SERVICES FEATURING MIGHTY MAN, ROLAND FORD AND ME (BROTHA ASH). IT WAS A "MAJOR SUCCESS" AND I HAD A GREAT TIME AND I'M GRATEFUL THAT MY FAMILY CANDICE, RASHONDA, SHANIKQUA, TEE-TEE AND THE LARIMER CREW CAME OUT TO REPRESENT ALONG WITH ANGIE AND MAYA AND "THE FLORENTINE AND BLACK BEAUTY CREWS". I HAVE TO SHOUT OUT MY SISTER GRACE DIXON-KIZZIE FOR PUTTING ON THIS EVENT AND MY BROTHERS BRYAN AND ANTHONY DIXON FOR PERFORMING WITH ME AFTER 30 YEARS AND TO MY GIRL SHEILA CLEMONS FOR MAKING THE DANCE ROUTINE "PERFECT" BECAUSE I COULDN'T HAVE DONE IT WITHOUT YOU OR THE LINE DANCE KING MR. ROLAND FORD AND ALL OF MY SUPPORTERS.







TO CHECK OUT THE EXCLUSIVE PHOTOS

CLICK HERE

TO LET US KNOW WHAT YOU THINK ABOUT BROTHA ASH PRODUCTIONS, LLC CLICK HERE