IAHF List: "Be the Change You Want to See in Others!" Commit a Random Act of Kindness Today- Several Thoughts on how and why:
We live in a world where too often there is sadness and pain, where too often people are trying to use and abuse others. Too often it seems like evil is winning over good, and there is not enough love in the world. "Be the change you want to see in others." I was blessed to grow up with a mother and father who was constantly helping everyone around them. Every day I try to commit as many random acts of kindness as possible in an effort to counteract the darkness that seems omnipresent.
Doing this helps me feel calm, grounded, and happy no matter what might be happening in the world around me.Its like doing push ups with your heart. The more you love, the easier it is to love more!
Doing this has enabled me to keep going with my health freedom work and in my efforts to maintain optimal health and to help others to do the same despite attempts that have been made on my life and despite those who will always ridicule and attack anyone with a controversial message.
When I was 16 years old I survived a tree falling on me in a tornado while camped for the night on a canoe trip. I had a life changing out of body experience that makes me fully aware that we're all going through a test here on this planet, but that this isn't all there is. I was on the edge of crossing over to the other side. Beings were shining with white light, and it is a place of unconditional love, but I wasn't ready to go. I was given a chance to return to my body, and so I did. I was in a body cast with a broken hip and pelvis. I had to go through physical therapy to learn how to walk again. I could not have recovered if not for the help of a lot of people who I can't pay back, so I do my best to "pay if forward."
After that, I was forced out of college by suicidal depression and so called "schizophrenia". I ran a gauntlet of state and private psychiatric hospitals where they almost killed me with toxic drugs out of shear ignorance, not knowing anything about orthomolecular medicine, the suppressed alternative treatment mode that was to later save my life. I was forced to smuggle vitamins into the last hospital I was in and to hide them in a cavity gouged out from the underside of my foam mattress and to take the supplements secretly while mouthing their toxic drugs which I spat down the toilet where they belonged. After only three weeks of taking the orthomolecularly prescribed supplements, I was doing so much better they gave me a full medical discharge while scratching their heads, wondering which of their drugs were "finally helping me". It was NONE of them.
This experience launched me on a career built from creating random acts of kindness every day since I have no other way to pay back all the people who risked being strippede of their medical licenses to help me. I also have no other way to save people from the forces of darkness who seek to commit mass genocide against us. I need your help to expose the Club of Rome, the UN, the Vatican, and all of the evil forces alligned with them as they do the bidding of the world's most evil people in an effort to turn us all into non reproducing cyborgs. I need your help to teach more people how they can be their own doctors, so they can give Big Pharma a very wide berth!
Many hands make light work. Please join me in committing the following acts of kindness- the life you save could be your own!
By being aware of this information, you can learn to detoxify and protect yourself, your family, your friends, and even total strangers who you can learn to communicate this informaiton to!
When I think about this effort to hijack my natural biology and to turn it synthetic, I feel outraged, and I want to educate as many people as possible so that I can protect them by teaching them about whats going on, why its happening, who is doing it, and how we can protect ourselves! I can't do this effectively unless a lot more people help me by committing random acts of kindness so we can awaken far MORE people to the dire need to detoxify themselves!
1. The first thing to do is to show people these documentary films about geoengineering, people need to know that our biosphere is being sprayed with billions of metric tons of toxic heavy metals including aluminum, barium, strontium, cadmium, arsenic, also chemicals including ethylene dibromide and mycoplasma, but they need to especially be aware that our biosphere is being sprayed with weaponized parasites such as calembola and others that have been tweaked in a bioweapons lab at Stanford University via nanotechnology for the purpose of altering and weakening our internal biology in order to turn us into non reproducing cyborgs.
Show people these documentaries:
Explain to people that the aluminum being sprayed is causing a huge increase in early onset Alzheimer's disease and overall problems with cognition, this is by design! The elite don't want us to be able to figure out what they're doing to us, and they don't want us to be able to figure out how to protect ourselves!
* You need to drink sulfur water twice a day to chelate the aluminum to pull it out of your body so it can't hurt you! Sulfur is a mineral that MUST EXIT the body, and because it contains 16 unpaired electrons in it's outer shell, it will form a chemical compound with ANY of the toxic heavy metals being sprayed on us and remove them from the body so they can't cause Alzheimer's, Cancer, Heart Disease, etc!
* If you buy 10 or 20 lbs you will get my best prices, and be able to commit random acts of kindness by GIVING SOME to friends, family members, coworkers, etc..... Some people band together with a group of people to do this and that way save money!
* Tell your friends that sulfur was intentionally removed from the soil along with all the other trace minerals back in the 40s-50s when Big Pharma committed a massive crime intended to radically increase their business by making us all very sick! They did this by going to the US Dept. of Agriculture and by saying "Go to the farmers! Tell them they'll get INCREASED CROP YIELDS and make MORE MONEY if they'll just STOP USING MANURE as fertilizer and INSTEAD use synthetic petroleum based fertilizers!
* The farmers heard that word "money", didn't understand the implications of what was being told to them, and Big Pharma created a gigantic increase in cancer, heart disease, mental illness, arthritis, every sort of illness you can think of enabling them to sell far more toxic prescription drugs which superficially address symptoms, without even getting anywhere NEAR the ROOT CAUSES of the symptoms!
* You can prove this to your friends and family by showing them this government chart: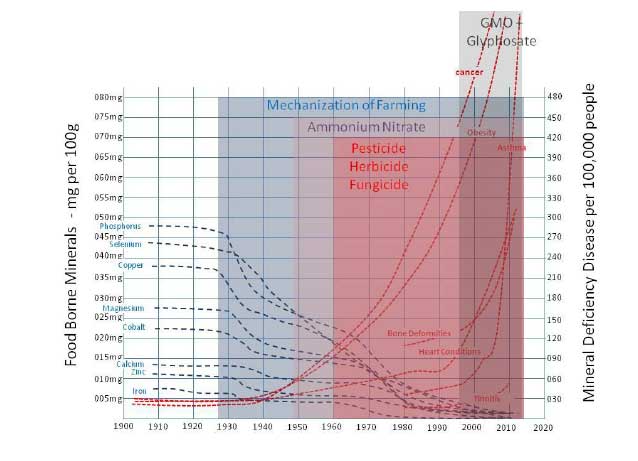 Friends- Can you imagine how it makes me feel when I sell sulfur to people who have cancer, and they drink many glasses of sulfur water per day and cure themselves by properly oxygenating their body to create an internal environment in which cancer cannot live? Can you imagine how it makes me feel when I help people get OFF just about ANY toxic pharmaceutical drug you can NAME just by helping them reintroduce the sulfur cycle to their body and by teaching them a few OTHER basic things about detoxification?
When you have this experience, you want to shout it from the rooftops, especially if you went through the hell that I did when I spent 4 straight years locked up in state and private mental hospitals where they almost killed me with toxic prescription drugs which did NOTHING to address the underlying nutritional causes of my imbalances!
S
See this chart: it illustrates what happens when you take sulfur which helps the cells be more permeable (diagram on right) allowing enough OXYGEN to flood into the cells- pushing the toxins out, helping you maintain an optimal ph of 7.35-7.4: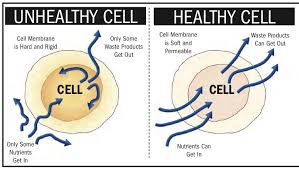 JETTISON THE CONCRETE LIKE MUCOID PLAQUE THAT HAS BUILT UPON THE WALL OF YOUR SMALL INTESTINE
** BLOCKING PROPER NUTRIENT ABSORPTION,
**PUTRIFYING INSIDE YOUR BODY MAKING IT TOO ACIDIC,
** WEAKENING YOU- SETTING YOU UP FOR EVERY SORT OF DEGENERATIVE DISEASE!
BY REMOVING YOUR MUCOID PLAQUE- YOU CAN INCREASE YOUR ENERGY LEVEL BY 70% andADD YEARS TO YOUR LIFE! YOUR MUCOID PLAQUE HOLDS WITHIN IT TOXINS FROM ALL THE RX DRUGS YOU'VE EVER TAKEN, ALL THE OTC DRUGS, and ALL TOXINS YOU'VE EVER INGESTED!! WHEN IT EXITS YOUR BODY, YOU WILL FEEL HUGE RELIEF! DOING THIS IS IMERATIVE IF YOU WANT TO PREVENT THE HIJACKING OF YOUR BODY BY WEAPONIZED PARASITES THAT WE'RE ALL BREATHING IN!
Along witth sulfur, I strongly recommend that you detox all your organs of elimination, starting with your SEWER, your BOWEL!
Most people have NEVER JETTISONED the thick cement like coating of mucoid plaque that lines the walls of our small intestines blocking the proper absorption of NUTRIENTS from the food we eat, and supplements we take! Unless you get RID of this toxic sludge, this mucoid plaque that has been building up inside your body over your whole LIFE, you will NEVER experience optimal health!
Learn how to increase your energy level by 70% by jettisoning your mucoid plaque HERE!
Questions? Call me at 1-800-333-2553 H&W Pacific or email me at jham@iahf.com

Before forwarding this to friends and family please don't forget to delete the unsub link at the bottom

, otherwise someone you forward it to might delete you and you wan't continue receiving my newsletter!