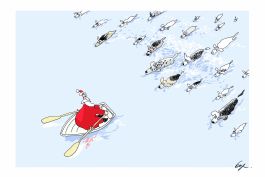 DETAILS:
Register your Dog from 2:30 to 5:30pm
Entry fee is 1 Longneck (Cold !) and 1 x Large Tin Dog Food
Official starting time 6pm (or thereabouts...)
Tell your kids, tell your friends, tell everyone to come and see Santa at Scotland Island.


Two performances under the direction of Choirmaster Rod Heard


7 pm at the Lovett Bay Boatshed.
Come by foot, ferry or in your boat, raft up and listen to the carols echoing around Salvation Creek.
8.30 pm from the old ferry wharf, Church Point.
Loudspeakers will be placed around Thomas Stephens Reserve or book a table at the Waterfront Restaurant.
Pittwater Carols thank our supporters:
CHURCH POINT FERRY SERVICE,  WATERFRONT RESTAURANT,
LOVETT BAY BOATSHED,  RICHARD AND MEREDITH RASDALL
---
Here are the words for the you all to sing with gusto! (PDF download)
To change your address, click the 'modify' link at the bottom of this newsletter or send an email to the
T

he

Editor

and the publisher disclaim responsibility for any injury to persons or property resulting from any ideas, articles or products referred to in this publication. Further, t
he views expressed in this newsletter are not necessarily the views of the Scotland Island Residents Association (SIRA), or the Western Pittwater Community Association (WPCA)