Phew! What a scorcher. There are probably not many growers around who remember such a long hot and dry spell of weather. Was it 1976? These conditions have been great for sun worshippers but challenging for allotmenteers. There has been the bonus of lots less slug and snail damage, and no sign of blight yet either which is good news, but the dry hot weather has bought its own challenges, mainly in keeping enough moisture in the soil for the plants to thrive! Some of our sites sit on clay soil, however most sit on chalk.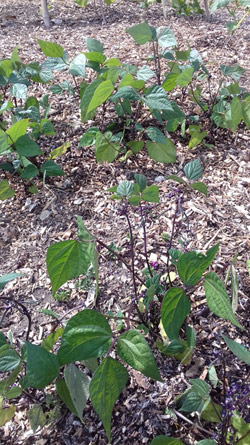 The' water savings tips' document we produced for the AGM (and linked below again) turned out to be rather fortuitous. I hope many of you heeded the advice! Especially the tips regarding mulching.
All the beds that I mulched have fared very well. The soil under the mulch has remained damp and aerated despite the drought. Areas that were not mulched have sadly become very dusty and will take months to recover.
Here is a picture of my Purple Dwarf Beans growing happily under mulch!

As you are probably aware I am a big fan of growing green manures. The green manure that grows best on the chalky soil at my site is 'Phacelia' (purple tansy). It grows abundantly and thick and is easy to dig in to add nutrients and organic matter to the soil. I always leave a patch to go to flower as the bees absolutely love it. Sitting next to a patch of Phacelia once it has started flowering is a remarkable event. So many pollinators use the Phacelia for nectar it really is incredible to see the number and diversity. Allan Brown, our former Chairman, took some photos which you can see on our Facebook page.
It's not just pollinators I want to encourage on my plot, I want predators too! So it was a joy a few weeks ago when I turned up at the plot to find my Broad Beans hosting a variety of 'ladybirds' happily muching on blackfly and other aphids. Finding that natural balance is the 'Holy Grail' of organic gardening, it can take a season or two, but once you lay off the insecticides, natures predators will inevitably step in.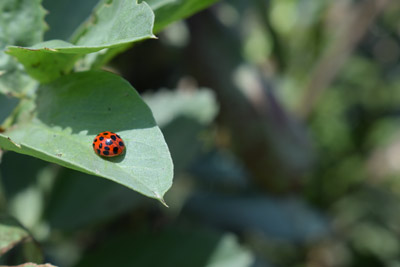 I've spotted this before but think it's a great idea to share again.
There has been an upsurge in the number of trampolines that have appeared on sites for the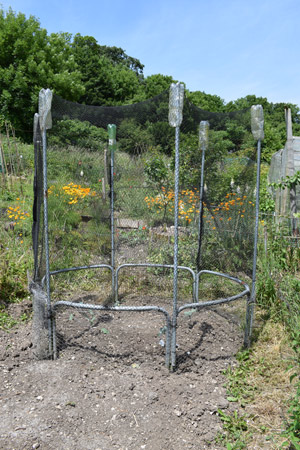 purpose of entertaining the kids. While this has had a mixed reception on some sites, no one can argue with the benefit of an old broken trampoline frame being turned into a brassica cage! A few plastic bottles and some netting and away you go. It has the advantage of being easy to move to a new spot each year. If you make the bottom two feet out of wire netting and the rest in nylon netting it will also last a lot longer. Allotmenteers are the original recyclers in the respect that they make good use of the things that everyday folk leave behind! Remember you're a womble.
We are trying to address the perennial thorny problem of allotment costs and allotment rents. As you are all aware, according to the Council its costs more to provide the service to us than we raise in allotment rent. There is a deficit which we have been trying to reduce. Allotments in the City in general will be in a much safer position if they are cost neutral to the Council.

Whenever we ask plotholders the question about the amount of rent they pay we are presented with two opposing views. Some plotholders tell us that they already struggle to pay the fee each autumn, and any increase along with the other costs of compost, tools and seeds could possibly make them give up their allotment. They point out that allotments were intended for people on low wages and should be kept as cheap as possible.
We also have other people telling us that allotments are

unbelievably
cheap and that they would gladly pay double! Allotmenteers these days come from a much wider spectrum of society than they have historically. We have plot holders who work on the minimum wage and on zero hours contracts and we also have allotmenteers who are doctors and lawyers earning substantially more, but they all pay the same rent.
While it is impossible to 'means test' people to work out their allotment rent, we feel that people who would 'gladly pay double' should perhaps consider making voluntary over payments in order to keep allotments affordable for all sections of society. To this end, and after consulting Site Reps on the idea, we have approached the Council and asked them to look at a payment system that would allow people on higher wages to voluntarily over pay their allotment rent. The amount would be ring fenced to the allotment service and would not disappear into wider Council coffers! Some people are sceptical that many people would overpay, however I am optimistic and I think we should at the very least test it and see what happens.

A preliminary look shows that if just 15% of tenants voluntarily overpaid by £40 a year it would raise around an extra £15,000! Together with our water savings, improved letting rates and the money raised from the waiting list payments, it's possible that we could see the deficit shrink to almost nothing or even disappear.
Finally, after my last newsletter, I received a number of communications in defence of 'straight lines'! Not just from Romans either. It seems that my article was not as clear as it could have been and left people thinking that I was against planting in straight lines. I'm not! I plant in straight lines myself, it aids weeding watering and hoeing. What might have not been clear enough was that I was talking about how, in the past, in allotment competitions, people were awarded points for the 'straightness' of their lines of vegetables. The score sheet I saw deducted points if a single carrot was even a centimetre out of line with the others. It was that kind of what I see as over the top regimentality that I was referring to! Please keep planting in straight lines! It makes sense.
Here's wishing you all a great summers growing and harvesting, please keep in touch with your ideas and comments and photos from you plot. Post them on our Facebook Page or email them to us.
---
Water Saving Tips using 'Permaculture' ideas.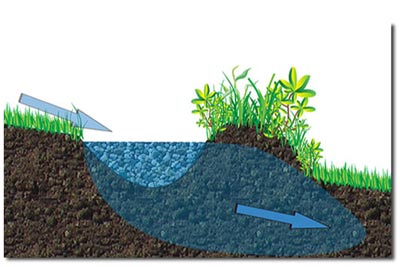 We have put together a little document showing how we can aim to reduce our water bill substantially. From obvious ideas to less well known 'permaculture' ideas like swales and mulching, this little document might help to inspire us to waste less water and use less water. Download it here.
---

Growing tips for July!

By Andrew Tokely, Horticultural Director at Kings Seeds

Many people think when you get to July, and summer has arrived the only need to enter the garden is to sit in a chair relaxing or lighting the barbecue. How wrong they are: July is always a busy month harvesting crops of peas, beans, courgettes and salad vegetables. Once the ground has been cleared, rather than leave it empty there are still plenty of crops that can be sown for later harvests, keeping the soil productive.

Late sowings made this month of dwarf French beans will be ready for a late harvest in September often continuing into October. Seeds can be sown direct outside into seed drills or into pots and planted out later.

Carrots sown in July will be ready to harvest as finger carrots at Christmas, a good variety for this sowing is Eskimo. This variety has good flavour and very good cold tolerance so can be left in the ground all winter. Andrew Tokel, Horticultural Director at Kings Seeds

Remember when sowing seeds direct and when the soil is dry, water the base of the seed drill first, then sow the seed, lightly rake soil over and then gently tamp down using the back of a rake. Watering the base of the drill first traps the moisture below ground where the seeds need it. If the soil was watered afterwards on top, this can cause the soil to cap preventing germinating seeds from emerging.

When the weather is warm, dry and hot, many salad crops like salad leaves, radish and spinach will quickly run to seed. One way of overcoming this problem is sowing these crops in between taller crops like sweetcorn, so they get a little dapple shade. Once germinated keep moist at all times until they are ready to harvest.

Lettuce can be sown little and often, these are best sown a few seeds in pots every two weeks and pricked out and planted out into spare gaps on the plot. Lettuces won't germinate well if the temperature is above 20C: a handy tip is to put the seed packet in the fridge the night before sowing as this cools the seed down and germination will be much improved.

Not forgetting the flower garden, this month is also ideal for sowing some biennials and perennials, to flower next spring into early summer. Sow foxgloves, Canterbury bells, hollyhocks and delphiniums so the plants are large enough for planting out in October. These are sown in trays of compost in a cool greenhouse or cold frame.

You can also sow wallflowers and sweet Williams outside in drills on a spare piece of ground. Winter-flowering pansies, bellis and forget-me-nots can also be sown, ready for this autumn's displays.

Happy Gardening for the rest of 2018!