IAW PRESS STATEMENT
Water Minister & ANC NEC member Nomvula Mokonyane speaking at #IsraeliApartheidWeek
and other IAW event updates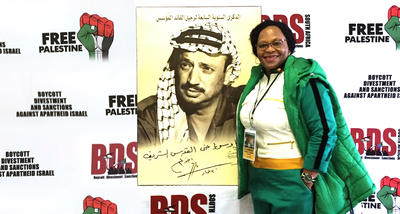 08 March 2017 | http://tinyurl.com/jln6v65
We just can't keep up! More and more #IsraeliApartheidWeek (IAW) events and activities are coming in on a daily basis with the campaign now having over 150 events across the country. On the media front, today alone, #IsraeliApartheidWeek is covered in the Pretoria News,
The Times
, The Star, The Post, The Witness and the Mercury. Other media houses reporting on the campaign include the M&G, Sunday Tribune, DailyVox, SABC, ANN7, Radio 786, ITV, CapeTV, Ifm, Cii Radio, Radio Islam, Radio 1912, Radio 702, Voice of the Cape, Al Ansaar, SAFM, Sirius FM, Salaamedia, Hillbrow Radio among others.
One new announcement is the public lecture by Nomvula Mokonyane, ANC NEC Member and Minister of Water and Sanitation in the South African Government. Mokonyane speaks today (Wednesday 8 March) at 13h00 in Stellenbosch (Arts & Social Sciences Building, Arts 230, University of Stellenbosch, 0832621144).

Click here for info.
For logistical reasons, the #IsraeliApartheidWeek concert at Wits University (Friday 10 March) had to be cancelled. The #IsraeliApartheidWeek comedy show at Tshwane University of Technology (Thursday 09 March) will proceed as planned. The public event at the University of the Free State will now also be joined by the Premier of the Free State and ANC Provincial Chairperson, Ace Magashule.

Click here a full and updated list of events.
The Israeli lobby in South Africa is trying to suggest that the #IsraeliApartheidWeek is an anti-semitic hate festival. This is utterly false and is the usual false accusation made against anyone that speaks up against Israel's apartheid policies. The Israeli lobby
tried
to silence Archbishop Tutu, a supporter of #IsraeliApartheidWeek, when he compared Israel to Apartheid South Africa, similarly they are now trying to crack down on ordinary South Africans. Sheila Barsel, BDS SA Board Member and Member of SA Jews for Palestine (SAJFP) on the occasion of the 13th IAW has written:
"I was raised as an Orthodox Jew in Johannesburg. I have deep connections with Palestine / Israel as my father was born in Safed in then Palestina. But this cannot make me blind to the atrocities committed in Israel against a people who are indigenous to that geographical area. I am opposed to Israel's Apartheid policies – taking land from people who have lived on it for centuries, denying health care to the ill. I am proud to be associated with the upcoming #IsraeliApartheidWeek campaign."
"Being Anti-Apartheid during the Eighties made you anti-white supremacy in South Africa; it did not make you anti-White. Singling out Apartheid South Africa for sanctions in the Eighties did not mean that you had a particular hatred for whites or white South Africans. Likewise, the accusation is irrational that one is anti-Semitic when one criticizes Israel's violations of international law and human rights abuses against the indigenous Palestinians."
Click here for Sheila Barsel's full article originally published in the Sunday Tribune.
For media interviews with the IAW South Africa Team, please contact: Alex Mdakane, National Spokesperson of IAW in South Africa [+27 (0) 785268663] or Nabeela Sujee, National Convener of IAW in South Africa [+27 (0) 726370386].