Advertise in this newsletter and reach thousands!

List your property or activity!
Add your Event to our Calendar
From your "Colorado's Best Deals" Email Announcements subscription.
October is a quiet and beautiful time of year to visit Fourteener Country! With the summer crowds gone you can have the best trails, lakes, fishing spots, and peaks all to yourself. This is a great time of year to hike, bike, explore jeep trails and ghost towns before they are burried under the snow. 
Here are a few of the things happening this October.
ShedFest is the CCFA's annual, end-of-season harvest celebration. It is your final opportunity to buy amazing fresh, local produce, support our local farmers, ranchers, artists and healers. 
Stay for the party after the farmers market! Salida Circus will perform and offer an interactive workshop. Salida Rec. will host all kinds of kids activities, our vendors will offer more in depth info and workshops about what they do. 
Then, we will break bread and enjoy a professionally catered, farm-to-table dinner, live music, dancing and mingling. Partying with you farmer doesn't get any better than this. 
Tickets for dinner as always, include a handmade, hand painted ceramic bowl! Thanks to Maverick Potter and Miramonte studios. 
Thanks to Elevation Beer Company and Lettucehead Food Company for Sponsoring ShedFest 2015 and helping to create connections throughout the local food community. 
TICKETS ON SALE NOW!
AT THE SALIDA & BV FARMERS MARKETS AND ONLINE:
Time: 9AM - 10PM
Location: Alpine Park, Salida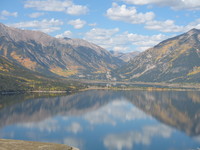 The aptly named town of Twin Lakes lies adjacent to two natural lakes at the foot of Colorado's highest fourteener, Mt. Elbert. The Colorado Trail and the Continental Divide Trail travel along the lakes and are among the most popular trails in the area, and for good reason. The smooth rolling trail contours along the lake providing amazing views the entire time. 
Independence Pass is still open and driving to the top and visiting the Continental Divide makes for a fun and scenic day trip. Whether you like to hike, bike, fish, hunt, or sightsee make sure you visit Twin Lakes for some of the best Colorado has to offer.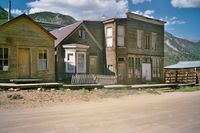 Founded in 1880, St. Elmo lies in the heart of the Sawatch Range and sits at an elevation of 9,961 feet. Nearly 2,000 people settled in this town when mining for gold and silver started. The town was at its peak in the 1890s, when it included a telegraph office, general store, town hall, 5 hotels, saloons, dancing halls, a newspaper office, and a school house. 
Although St. Elmo is considered a ghost town, all buildings are privately owned. Visitors are welcome to wander the boardwalks.  Services operate seasonally and include a store selling souvenirs, antiques and snacks, cabin rentals, ATV and snowmobile rentals and tours, and a bed & breakfast. 
St. Elmo is also a popular place for ATV riding, snowmobiling, mountain biking, cross country skiing and enjoying the fall colors.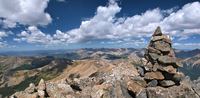 The Sawatch mountain range crosses the Arkansas Valley with 15 mountains over 14,000 feet. Chaffee County, home to Buena Vista and Salida has twelve peaks which rise above 14,000 feet in elevation.
Fall is a great time to get out and exlpore the mountains! Even if you don't intend to summit, hiking on or around these majestic mountains is an experience not to be missed. 

Fall is a great time to get out and enjoy fishing in the Arkansas River or in one of the high alpine lakes in near solitude. The fish are still there, but the crowds are gone. 
The Arkansas River boasts a 102 mile segment of Gold Medal Waters! This is the longest single stretch of Gold Medal Waters in the state. Fourteener Country is home to hundreds of high alpine lakes. Check with the local fly shop for seasonal info on the best spots to fish.

Check out our Facebook page for the latest special offers, amazing pictures, and upcoming event information.