<<Sorry this is late... a power outage delayed delivery..>>
Encouragement and insights. And kebobs by the river.
Side note: One of the things I enjoy and appreciate most about this team is the devotional time led by Dan each morning before we begin our day. The thoughts and ideas shared among this diverse group of men are full of surprises, insights, wisdom, and inspiration.
Due to circumstances beyond our control, we had a last minute change of plans (common when working in Afghanistan) that meant we would not be able to head to the school for street kids as planned. But we were soon able to make arrangements to visit Istalif, a community high above the Shomali Plain north of Kabul where our partner organization helped restore and operate a medical clinic destroyed by warring factions in 2001.
During the 90-minute drive north to Istalif I was encouraged by the tremendous amount of new residential and commercial construction that's evident almost everywhere around Kabul. Many of the main roads, previously little more than a heavily traveled dirt paths with more potholes than actual surface, are now ribbons of asphalt. Of course they're still overburdened with cars, trucks, busses, and an insane number of bicycles, donkey carts, and foot traffic, but at least the roads are in much better condition and traffic flows better than before. And I've never seen the local bazaars so full of goods of all kinds, especially fruits and vegetables. I'm sure much of the produce is still imported, but the mere fact that it's there is very encouraging.
When we arrived in Istalif the assistant director of our partner organization explained how their approach in 2002 was not to provide only financial aid, but a comprehensive approach that included health care, in-home training, and community self-reliance.
One particular element that caught my attention was creating Istalif's first-ever community map. After first providing emergency medical aid and getting the clinic functional and operating again, individuals went throughout the village and far up into the hills taking a door-to-door census and plotting the location of the homes, schools, clinic, mosque, shops, rivers, parks, forests, grazing areas, farmable land, hills, and roads – all the elements that define a rural community. This new map gave the residents of Istalif the first opportunity to see and help them understand how they as individuals fit together collectively creating a sense of community critical for long-term survival. It was fascinating to see how something as simple as drawing up a map could play such a big role in the success of this now-thriving village.
Before we left Istalif we were treated to a traditional Afghan "man meal." It was pretty basic... a dozen American and Afghan guys sitting cross-legged on a giant Afghan rug on the bank of the Istalif River in glorious 65-degree weather, using nothing but our bare hands to down sizzling hot kebobs, naan, and Shorwa (sheep fat) soup. And needless to say there was much belching and passing of gas… could it get any more manly? ;)
We then headed back to Kabul for some debriefing and discussion about what we've experienced during our time here so far, and that led to some great conversations about ways to deepen our relationships with our Afghan brothers and sisters.
The power has been out in Kabul for much of the day, but it just came back on so I'm going to hit SEND quickly while the Internet connection is strong and before the power goes out again and kills the modem.
Thank you all for your prayers and words of encouragement. They mean the world to us!
--Bob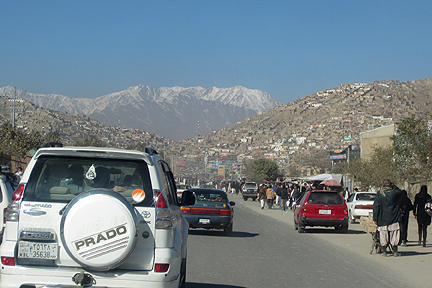 Yep, even on the road to Istalif... you see those things everywhere!
Zeke pauses to reflect on the hundreds of men who were killed in an explosion
and fire set by the Taliban at the Istalif Hotel one horrific night in 2001.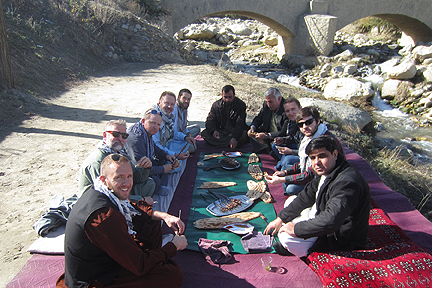 Male bonding Afghan style. (So many potential captions... so little time. ;)