September 2022 Newsletter
SHOP HOURS
Monday: CLOSED
Tuesday: 11 - 5
Wednesday: 11 - 5
Thursday: 11 - 5
Friday: 11 - 5
Saturday: 10 - 4
Sunday: 12 - 4

 

September is upon us and we are already in full on fall mode around here. Not only is it the time to get going on those holiday knitting and crochet projects if you plan to do them, but it is time to slow down and enjoy the changing colors and changing flavors of Kentucky. You might also be thinking "hmmm, isn't September when ReBelle has their amazing anniversary sale?" Yes, it is sale-abration time for us and we will be doing it up right for our Sweet Sixteen!!!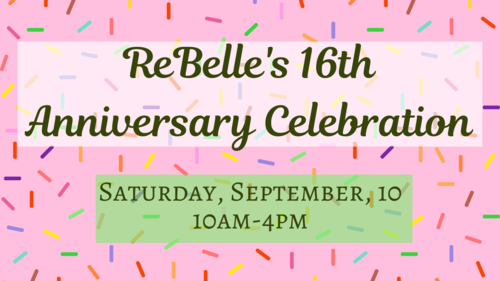 It's that time again, time for another anniversary celebration!! We will be doing all the same shenanigans- 10% off your entire purchase for wishing us a happy birthday, a special sale only yarn dyed for you by us, and some sweet treats from our fabulous new neighbor, Olive's Apron.
This year's sale-only yarn is 100g of sport weight Shaniko wool* yarn that Sarah and I fell in love with. We will have 80 skeins of the special yarn (5 each of 16 colorways,) handdyed by us and all with an extra special notion attached (we aren't ready to ruin this surprise, just know it is cute and functional.) These skeins will be $12 each and will probably go fast so there is a limit of 1 per crafter (and yes, the discount will apply to these!!)
As if that wasn't enough, all ReBelle tote bags will be $6 for the day so if you missed out on a previous tote or just need more yarn storage, now's the time to grab one.Thank you for 16 sweet years!!
*You might be wondering, what is Shaniko wool? Well, Shaniko wool is a sustainable, domestically grown wool from sheep raised in the Great Basin Region of the American west. Generally considered as Merino sheep, (Rambouillet/Merino), these sheep are specifically selected and bred for not only a consistently fine, long staple wool, but for their ability to thrive on the open pasture in range conditions while giving back to the land as they eat their way through harmful flora – helping the land to thrive.The yarn we chose to dye this year is high -twist 3-ply yarn with an amazing bounce. We love it and know that you will too!!
For September's shop KAL, we will be doing another designer focused project this time using the designs of Joji Locatelli. There are tons of designs to choose from including projects from past knit alongs like the Odyssey Shawl and there are tons of new options that we haven't tried. This KAL will be happening at the same time as Joji's Fall KAL so we strongly suggest you jump over to her site and register for that as well. She will be offering prizes, challenges, and additional chatter on a special Ravelry board. You can register for the official KAL here.
If you need help deciding on a pattern, Joji has made it extra simple by providing pattern bundles to help you narrow things down.
All ReBelle knit alongs are free and open to the public. You are welcome to attend as many or as few of the KAL sessions as you like. 
Join us on Zoom every Thursday from 12-2pm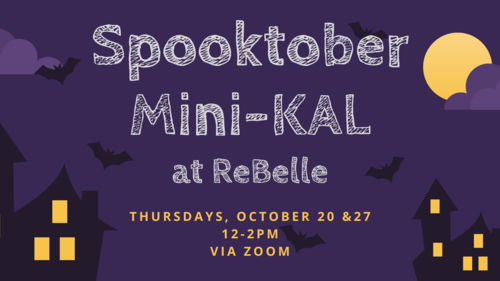 For the last half of October we will be doing a mini knit/crochet along with a Halloween theme. Each person will pick their own pattern for a Halloween or fall themed project and we will knit/crochet them together.
If you need some project inspiration, Robyn created a special bundle of knit and crochet patterns especially for Spooktober. Most are small patterns, but there are a couple of larger projects mixed in for the braver folks. You can find the Ravelry bundle here. 
All ReBelle knit alongs are free and open to the public. You are welcome to attend as many or as few of the KAL sessions as you like. 
Join us on Zoom, Thursdays October 20 & 27 from 12-2pm
Featured Upcoming Classes
 

 

 

Whether you are stuck in the middle of a pattern and want some guidance, need some finishing help, or just need a bit of motivation, join Susan for her Project Help Sessions and get those outstanding projects done. No matter which fiber art you enjoy- knitting, crochet, weaving, felting, Susan can get you and your project back on track. Sessions will take place on the first Wednesday of every month and  each group session is $20 for two hours. Space is limited so register early.




 

 

 

Wednesday, September 7. 6:30-8:30pm

 

Wednesday, October 5. 6:30-8:30pm

 
 

Not just a pattern, but a series of patterns- Summer Sorrel, Gradient Sorrel, Spring Sorrel, and Sorrel mini, all by Wool and Pine on Ravelry. You decide which version you want to make- long or short sleeves, cropped or tunic, fingering weight, dk weight, or worsted weight yarn, so many choices!! All of the versions feature an eye catching dip stitch yoke that Susan will teach you to customize to your pattern and body.


 

 

Tuesdays, 9/20, 9/27, 10/11, & 10/25

 

 
 

 

The Lakemoor Vest by BK Collective and Jann Hoppler features a modular garter stitch construction with flattering diagonal lines. The fit is easily customized and you can choose between buttons or a shawl pin as the closure. The garment only has two seams- one at each shoulder so finishing is a breeze. This project is a great way to use up your fingering-weight scraps or a great excuse to buy a small collection of those mini skeins that are always calling to you.

  

 

Teacher: Susan Winkler




Thursdays, 9/15, 9/22, 10/13, & 10/20

 
 

Join Raellyn to create this little ghost that really glows! Learn amigurumi techniques to make sculptural shapes with increasing and decreasing, as well as how to put it all together to create a cute new friend. Basic crochet skills are required for this class.




 

 

*Materials needed: One ball of Amigurumi Glow yarn, 8mm safety eyes, black embroidery floss for the mouth, size C-2/2.75mm crochet hooks, small tapestry needle, and a small amount of fiberfill to stuff it. One ball of Amigurumi Glow yarn will make 3-4 ghosts with this pattern, so you can make an adorably spooky squad!




 

 

Teacher: Raellyn Hatter

Saturday, October 1, 1-3pm

 

 
 

 

Come learn to crochet 3 different styles of granny squares with Raellyn. You will need to bring a size I crochet hook and worsted weight yarn. Beginners are welcomed, but basic crochet experience is needed.




*Materials needed: Worsted weight yarn in two or three colors and size I crochet hook.

 

Teacher: Raellyn Hatter

Saturday, September 17 from 1-3 pm

1 class, $20