---
---
Thank You to the Scotland Island

Rural Fire Brigade


The Scotland Island residents and particularly the top of the Island residents would particularly like to thank the SIRFB including all the new recruits, with the support of the West Pittwater who spent much of their Saturday carrying out a very successful hazard reduction burn at the top of the Island.

Bill Gye




---
Hazard Reduction Burn Basin & Coasters Retreat
The Rural Fire Service and National Parks and Wildlife will be conducting a 300 ha Hazard Reduction at the Basin and Coasters Retreat starting on

7th March

and continuing up to the 9th March.

This burn will provide future protection to the residents of Coasters Retreat, Currawong and Mackerel Beach and create a safety zone around the camping grounds at the Basin in the event of a Major Bushfire.

Smoke will be seen throughout Pittwater during the 3 days of the burn, but especially Morning Bay and Towlers Bay and especially on Monday 7th March. We ask all residents to be vigilant and if they see a fire that is not being attended by a fire truck or fire boat to please ring 000 to report it.

The attached map shows the area where the burn will take place. If you have any queries regarding this burn please contact the Warringah Pittwater Rural Fire Office during office hours on 9450 3000.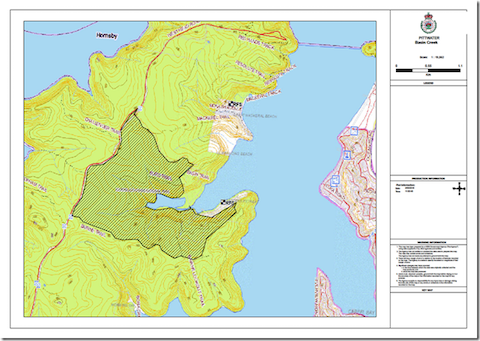 KYLIE STACKHOUSE
SDC and TRAINING OFFICER
WEST PITTWATER RURAL FIRE BRIGADE
kstackhouse5@bigpond.com
0409 936 281



---

Council Communication
---
No Mega Council – Second Merger Proposal– Speak Up Now
The NSW Government has announced a further merger proposal to amalgamate Manly, Warringah and Pittwater councils.

The new merger proposal for Pittwater will again be conducted by the delegate in the same way as the initial merger proposal for Pittwater and (part) Warringah for which consultation has now closed.

Following a period of community consultation on the new proposal for Manly, Warringah and Pittwater, a report will be prepared by the Government's Delegate, Mr Richard Pearson, and submitted to both the Minister for Local Government and the NSW Boundaries Commission.

The merger proposal is not yet available, but links to this will be uploaded once known.

Have your say
Public submissions may be made via the Council Boundary Review website or by mail Council Boundary Review, GPO Box 5341 Sydney NSW 2001 until 5pm, Friday 8 April 2016.

The merger proposal is not yet available, but links will be uploaded once known.

Public Inquiry
The Delegate Mr Richard Pearson has announced today that Public Inquiry meetings will be held:



Date: Monday 21 March




Time: 6-10pm




Venue: Mona Vale Golf Club





Date: Tuesday 22 March




Time: 6-10pm




Venue: Manly Golf Club





Date: Wednesday 23 March




Time: 6-10pm




Venue: Dee Why RSL



The Delegate has confirmed that the same person cannot speak at all three meetings so it will be important that your group coordinates speakers from your group across the three meetings.

These meetings will be well attended so it is important to register as soon as possible as it is first in first served.

We are asking that all groups should be encouraging as many members as possible to attend. It would also be important to have as many speakers as possible.

Submissions
Whilst there is currently no documented merger proposal on the Council Boundary Review website submissions are open and will close by 5pm, 8 April 2016.
https://www.councilboundaryreview.nsw.gov.au/proposals/manly-pittwater-and-warringah-councils/#submission

Jane Mulroney
Manager – Community Engagement & Corporate Strategy

P: 9970 1108
M: 0409 938 472



---
Thank you from the Kindy


A big thank you to all our Scotland island community Volunteers, who helped this Saturday at the sausage sizzle at Bunnings Belrose to raise funds for Scotland Island Kindy & after school care.

We raised over $1600 in 8hours.

Big thank you to you!

Great team work and amazing outcome, we couldn't have done this without you this amazing group of community volunteers.


If you want to find out more about our Scotland islands Kindy activities please like our Facebook page.



---
Spotlight On Sustainability Of Pittwater Estuary
Office of Rob Stokes



Member for Pittwater Rob Stokes today announced the NSW Government is commencing consultation on the future of commercial fishing within the Pittwater estuary.



The NSW Marine Estate Management Authority has put forward a range of management initiatives to help improve marine conservation and maximise community benefits in key coastal areas.

The Pittwater estuary has been identified due to evidence of resource-use conflict between commercial net fishing and other user groups and the threats posed to the estuary's long-term environmental sustainability and social value.

"The Pittwater estuary is our community's most valuable natural asset," Rob Stokes said today.

"Boating, fishing, kayaking, sailing and swimming are key parts of our community's lifestyle and are all supported by this incredible waterway.

"Countless marine based businesses, tourism operators and retail providers also heavily depend on the estuary's attractiveness and sustainability.

"Managing risks and conflicts is vital to help protect this valuable community asset and the continuation of commercial netting is now squarely under the spotlight.

"Various controls such as closures to commercial netting on weekends have been implemented but concerns still remain.

"For the first time an extensive threat and risk assessment has been undertaken and our community is now being asked to have our say on the future of commercial netting and the best ways forward.

"Community feedback will help inform further evaluation of the management responses and final recommendations to the NSW Government later this year.

"Copies of the report, and details on how to provide feedback, are available by visiting www.marine.nsw.gov.au .

"Submissions close on 24 April – so I encourage everyone who uses and enjoys the Pittwater to get involved and have their say," Rob Stokes said.


Information
The
Marine Estate Community Survey
undertaken in 2014 informed the design of the Hawkesbury project.
Key findings
Over 1,700 people across NSW were surveyed. Some of the key findings of the survey are:

the health of the marine estate is considered to be a core value
the marine estate is viewed as integral to the NSW community's social and cultural well-being
benefits are amplified for coastal Indigenous communities as many of their core traditions are linked to the marine estate
the diversity and abundance of marine life and natural beauty of the marine estate are considered key economic values for nature-based and regional tourism
pollution of the marine estate, from littering, spills and land-based runoff, is perceived as the major threat
less than one in five people considered overfishing a priority threat
key management opportunities that were identified included:

addressing pollution
greater public involvement in decision-making
more on-ground environmental action support programs
improved public education
increased public access
actions to rehabilitate coastal habitats and address coastal inundation and erosion
Final reports
Marine Estate Community Survey Final Report (Sweeney Research)
Summary of results from the public online survey (Marine Estate Management Authority) (9pp) – the findings from 152 respondents to a public online survey on the qualitative findings from the survey.
Technical Paper 2 – Surveying the Community's Views on the Marine Estate (Marine Estate Expert Knowledge Panel) (10pp) – describes why and how the survey was undertaken, lessons learnt and how the results should be used.
Source:
With thanks to West Pittwater Community Association web site

http://www.westpittwater.com.au
---
Blue is the Hottest Flame
You are invited to the sunset launch of
Blue is the Hottest Flame,
an EP of romantic new songs by award-winning singer/songwriter Susan Muranty.
Live show featuring Susan and her band "Fyre"
David Richards, Basil Daher, Matt Lakeman and Nic Andersen.
Top Room of the Waterfront Cafe, (next to the Ferry Wharf at Church Point )
Friday Night, March 11 from 6.30 pm.
---
Polycraft For Sale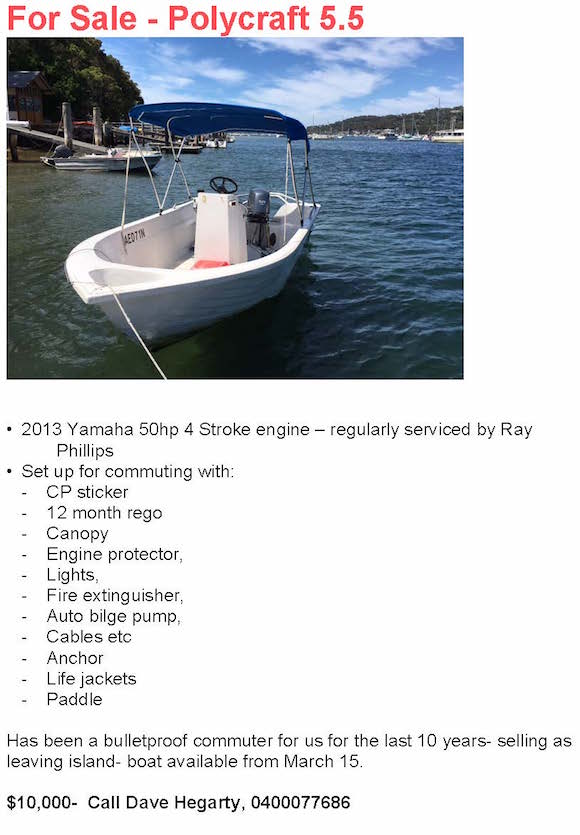 ---
Lost
What: Pair of Ascent black school shoes Mens Size 9 or 10
When: Friday afternoon 26th Feb
Where: Church Point
(swim after school and before departing on the ferry)
or
Bells Wharf



(Could have been assumed they were being thrown away, as they could have been left in the wharf)

Please Phone:
0400 067 722 for any information

Thank you!!



---
Office Job Available
We are looking for a highly organised individual who has strong attention to detail and excellent problem solving skills to help run all aspects of our commercial cleaning business administration.

Looking for a great customer service person who loves getting things organised, well presented and could introduce new initiatives to help the office run smoothly.


Duties & Responsibilities:
Answering incoming calls
Customer Service
Co-ordinate jobs with the cleaning team
Adapt and create office procedures to support the business functions
Maintain Work Health and Safety records, insurances and training
Quoting, receivables, processing of supplier invoices
Maintain job lists and on-line diary
All sort of odd jobs and a bit of bookwork!

Skills & Experience required:
Previous admin/PA or book keeping experience a bonus
Excellent verbal and written communication skills
Great attention to detail and problem solving skills
Excellent customer service and time management skills
Professional and have integrity
A desire to help our business grow



Initial training will be from our home office in Lovett Bay, but we are looking to move office on-shore.
Flexible approach in that some days work could be done from your own home.
Minimum 5 hours per day required Mo - Fr, but could job share if more than one candidate.

Please email Kim@suspenderscleaning.com.au or telephone Sarah on 0410 461 544.



---
Kayak for Sale
I have this kayak for sale.

$150


Please phone Judy
0438074486





---
I'm Moving onto a Boat House Sale
I'm moving onto my boat and really can't take my furniture—in fact I can't really take much so a whole house load of stuff is up for sale.

Come along and see what you want, items include:
Two queen beds and mattresses—one on stilts so you can put a desk underneath, both 3 years old.
Wooden Dining table and Chairs
One kitchen table
Three draw metal filing cabinet
Large HP printer
Large wooden bar stools
Large wood book shelves
Large Freedom Furniture bookshelves (3)
Various work desks (kids and office)
Three door TV stand (black and glass)
Various small book shelves
Various bedside tables and drawers
Lots and lots of other kitchen and house hold stuff
Come in and look all week, open house day on Saturday—everything must go!

We're upstairs at Annette's House on Kevin Street just up from the Fire Brigade

Call Phil on 0411 882064—can send photos on request.



---
Mountain Buggy for Sale
$125 price not negotiable


Mountain buggy swift 2 years old

Including:


rain cover and sun over
Lamb sheep insert cover
Coffee/water bottle holder



Selling as no longer needed little humans grown legs.

Perfect for Scotland island territory - easy to push up heels.

Call Aggy 0424209242 for genuine enquiries






---
---
---
A complete set of past electronic newsletters since May 2000 can be found and read at https://ymlp.com/archive_gesgjgm.php or by clicking here or by visiting the Mona Vale Library.

The Island website is at www.scotlandisland.org.au


---
To Contribute
If you would like to contribute to this newsletter it's easy!. Send an e-mail to the editor (editor@scotlandisland.org.au) or by clicking here. Type your contribution (100 words or so would be fine) and assuming it is of general interest to the community, does not include matter of a political nature and is not offensive, it will appear next month.
Subscription Information
To get on and off this newsletter,

click here

or got to:

http://www.scotlandisland.org.au/signup .


To change your address, click the 'modify' link at the bottom of this newsletter or send an email to the

editor@scotlandisland.org.au


---
Follow the PON
---
The Online Local Contacts Guide
Click HERE to load
---
The views expressed in this newsletter are not necessarily the views of the Scotland Island Residents Association (SIRA), or the Western Pittwater Community Association (WPCA)
---