---
---

 Notice from Scotland Island Rural Fire Brigade
Hazard Reduction Burn on Sunday 25 September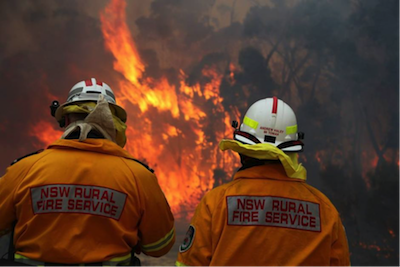 On

Sunday 25th September

, weather permitting, the Brigade is planning a small HR burn next to the newly constructed Elsie path (Between Thompson Street and the top of the Island).
 
Please note that there will be smoke. It is advised that people who live nearby with respiratory problems stay indoors for the duration of the burn.

Thank You
Ian White
Captain SIRFB



---
Kindy News
Now Enrolling
---

SCHOOL HOLIDAY ACTIVITY: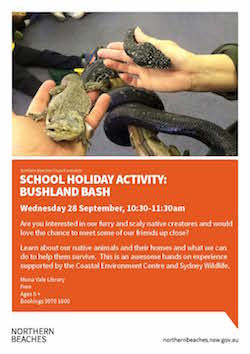 BUSHLAND BASH
Wednesday 28 September, 10:30-11:30am
Are you interested in our furry and scaly native creatures and would love the chance to meet some of our friends up close?
Learn about our native animals and their homes and what we can do to help them survive. This is an awesome hands on experience supported by the Coastal Environment Centre and Sydney Wildlife



Mona Vale Library
Free
Ages 5 +
Bookings 9970 1600








W
ALK ON THE WILD SIDE
Thursday 29 September, 10:30am-noon
Tiger stories, craft and drama with Robyn.




Mona Vale Library




Free




Ages 5+




Bookings 9970 1600











---
Starting again on September 20th
Come and Enjoy
DRU YOGA
in
The Community Hall, Scotland Island
Tuesdays, 9 am to 10.30 am
$ 20 per class, $70 for 4 classes.
Through graceful sequences of movement, pranayama asanas, relaxation and meditation, you can release tension and experience the full joy of life.
Suitable for all fitness levels and ages.
Bring a mat, blanket and a bottle of water.
Beginners welcome. First class is complementary
Ring Katya on 0414 187 916
---
Tutor Required
I'm looking for a tutor for my son Felix in Class 2.
He has additional learning needs in both numeracy and literacy, and requires intensive one on one tutoring.
I would need someone that can work at the school (Kamaroi in Belrose )
Mon - Thurs 1.5 hours per day starting in Term 4.

The times are:

Mon 11.30am-1pm
Tue 11.30am - 1pm
Wed 1.30pm - 3pm
Thurs 1.30pm - 3pm
I would be open to splitting the job between 2 people if need be.
Please email me your details, or send this on to anyone you may think could be interested.

Thanks so much - rachel@smetana.net



---
Property Wanted

Hi, it's us again. Family looking to buy property before end of the year as our current tenancy will expire. Please call us to discuss our budget (not water front). May also consider another rental until we find the right property.

We are 2 professional adults and our 7 y/o son is attending Newport primary.


Please contact
Luigi (0431 086 936)
 or Bénédicte (0415 858 605)






---
Studio to Rent
$200 per week incl bills.
Self contained studio on waterfront property suitable for single person.  Can also be used for storage or artists studio.
Phone 0415058922 for details or to view.



---
Casual Work Wanted
New resident to the Island. I am looking for casual work in and around Pittwater.
Gardening, painting, cleaning, boat renovation / detailing.

Previous experience in all. Resume / references available.

Please get in touch
Annie
0410 688 008



---
Pet Pigeon Found
A few days ago a beautiful pigeon literally flew into our home and our lives.  He won't leave.
He is obviously a pet and is super friendly.
Call me if you have lost him.
Annette.   0410 007 501



---
For Sale
YAMAHA 60 HP 4 STROKE OUTBOARD
2001 MODEL, REGULAR SERVICES – GOES WELL
HISTORY AVAILABLE
 
$1,200.00
 
CALL CASS  0418 220 107
 
Cass Gye
PO Box 52
Church Point  2105
0418 220 107


---
Cleaner Wanted
For 1-3 days for one off house clean.

Phone Antony 0415 393 676 or Kirsty 0405 110 564.



---
Looking for a House to Rent
My partner and I are looking for a short term rental property on the island as a taster to see if we like living there before buying.  We have tried a couple of Air B & B s but with little success for the period we are hoping to come (early November till late December, just when the schools break up).

We have two young daughters, 9 and 7 and are hoping to enrol them in the Newport Public School.

Please contact
melowenbrowne@gmail.com




---
---
---
A complete set of past electronic newsletters since May 2000 can be found and read at https://ymlp.com/archive_gesgjgm.php  or by clicking here or by visiting the Mona Vale Library.

The Island website is at www.scotlandisland.org.au


---
To Contribute
If you would like to contribute to this newsletter it's easy!. Send an e-mail to the editor (editor@scotlandisland.org.au) or by clicking here. Type your contribution (100 words or so would be fine) and assuming it is of general interest to the community, does not include matter of a political nature and is not offensive, it will appear next month.
Subscription Information
To get on and off this newsletter,

click here

or got to:

http://www.scotlandisland.org.au/signup .


To change your address, click the 'modify' link at the bottom of this newsletter or send an email to the

editor@scotlandisland.org.au


---
Follow the PON
---
The Online Local Contacts Guide
Click HERE to load
---
The views expressed in this newsletter are not necessarily the views of the Scotland Island Residents Association (SIRA), or the Western Pittwater Community Association (WPCA)
---